Exploring Ontario's Garden.
Recently I was given the opportunity to visit Norfolk County, which encompasses Simcoe and other primary communities like: Port Dover, Long Point and Port Rowan. Upon driving into this rich region in Ontario's Southwest, I could not help but notice the plethora of different agriculture being grown on vast farmlands.
Turns out, Norfolk County was the centre of the Ontario tobacco belt thanks to an abundance of fertile land, a mild climate and a lengthy growing season. Today, with the decline of the tobacco industry, it has been found that these lands make ideal vineyards. In fact, Norfolk County, among other former tobacco farms in Southwestern Ontario that have become into vineyards make substantially sweeter wines, resultant of their soil. Other principal crops produced in this region include: lavender, peanuts, hazelnuts and ginseng. Did you know Norfolk County exports a significant amount of China's ginseng consumption? No wonder the county is known as Ontario's Garden.
As this was my first visit to Norfolk County, naturally, I wanted to get the full-blown tourist experience of the region. I drove into Simcoe to meet up with my guide and let me tell you, if you're looking for a small, extremely quaint city just to get lost in, go to Simcoe. I met up with my guide and we walked to a pub I had heard about in the area for lunch - The Blue Elephant. I ordered a sandwich with a side salad and a craft beer that's made in house. Everything was exceptional. My only regret was that I couldn't get a strawberry beer, because it was not in season. I will definitely return to this brewpub, solely to enjoy their strawberry beer when it's in season again.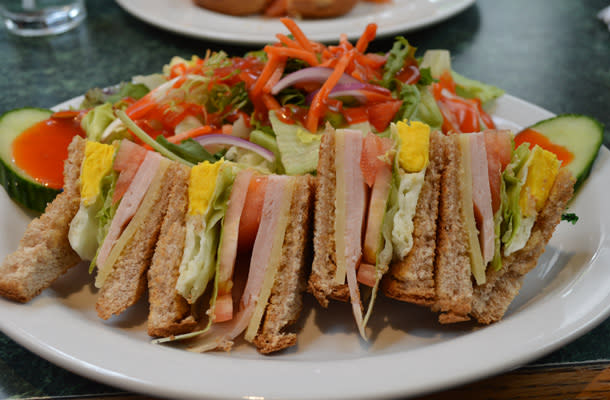 After lunch, we took the scenic route down to Port Dover. It was breathtaking to say the least and I'm not just saying that because of the impressive breeze. The first thing I came upon was the Port Dover Harbour Museum. It was a quaint little place that highlighted the area's fishing history, Lake Erie's shipwrecks and a historical overview dating back to the War of 1812. We then walked towards the harbour. On the way, I spotted a Tim Horton's whose exterior did not resemble that of the other cookie-cutter Tim Horton's. Apparently, that building was an old building that was dear to the locals, so the company agreed to leave it as is and transform it into a Tim Horton's on the inside only. Another location was 'The Arbour'. Everything they were making just smelt so delicious. I was told they sell the best foot-long hot dogs and burgers in town. If you're looking for ice cream, that's also the place to go. We finally made our way to the pier. In all honesty, if we weren't on a schedule, I would have just sat there, looking onto the vast, blue waters of Lake Erie and pondered for a few hours.  It was beautiful and so serene. There was also a fantastic beach there, filled with youngsters enjoying the sunshine and warm temperatures.
We made our way back to the car and headed to Long Point. We didn't quite make it to the beach there, but we stopped at Long Point Eco-Adventures and it's exactly as the name suggests, an ecological adventure. It was awesome. They had canopy tours, state of the art stargazing equipment, kayak adventures, fishing, mountain biking, zip-lining and glamping. Don't know what glamping is? That's okay, neither did I, until I got there. It's glamourous camping! They have these huge tents with king and queen-sized beds, various hand-crafted furniture, a toilet and (this was my favourite part), and an attached outdoor shower! You got to shower 'under the stars'! I also got to encounter Canuck- a beautiful 3-year old husky owned by one of the tour guides. Yes, I did snap more pictures of him than the place itself, but he was beautiful and any dog-lover would not have blamed me. In all seriousness though, this place was one of a kind, and I would recommend it to anyone.
Eventually I made my way across the street to Burning Kiln Winery. The people that worked there were all so sweet. They gave me a tour and explained the process by which they produce their wine and yes, I did get a tasting. I was driving so I only sipped two different flavours: The Harvest Party red and the Harvest Party white; both of which were quite excellent. I will definitely be returning here for some more wine and dinner. You read that correctly, there's also a dining area at Burning Kiln Winery.
That completed my day in Norfolk and the one thing I have to say about this county, is that it is one of  Ontario's great hidden gem.