Get a taste for Ontario's emerging wine region on these scenic Lake Erie cycling routes
Think Niagara and Prince Edward County are your only options for an Ontario winery cycling experience? It's time to rethink your route! Ontario's Southwest is gaining a solid reputation as an excellent region for growing grapes and there's a collection of award-winning wineries to prove it.
EPIC Adventure or Coastal Cruise?
There are two distinct wine regions in Ontario's Southwest that are great choices for bicycle-based touring. Since they are a considerable distance apart, the first step in planning your trip is to choose which area you'd like to explore: EPIC Wine Country or Toast the Coast Trail.
Exploring EPIC Wine Country
EPIC Wine Country is comprised of 12 wineries in the Lake Erie North Shore / Pelee Island region of Essex County near Windsor. If this is the area you'd like to explore, there are lots of wineries to choose from. Check out tastings, wine glasses, food and wine pairings at these wineries listed.  Colchester Ridge Estate Winery, Colio Estate Wines, Cooper's Hawk Vineyards, Mastronardi Estate Winery, Muscedere Vineyards, North 42 Degrees Estate Winery, Oxley Estate Winery, Pelee Island Winery, Sprucewood Shores Estate Winery and Viewpointe Estate Winery.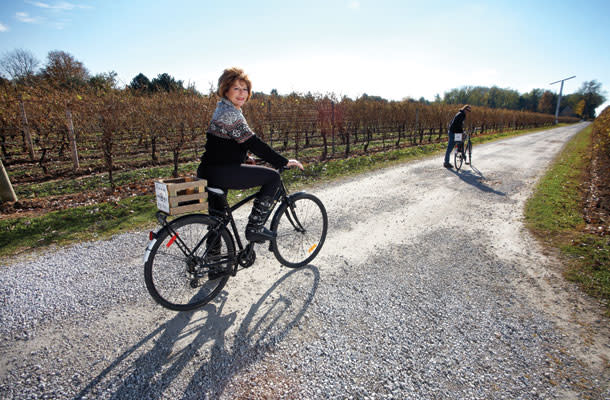 For the highest concentration of wineries in the area, point your handlebars toward County Road 50. The historic county road is nice and flat for an easy ride and runs right along the Lake Erie shore. In addition to wineries you'll find fruit markets, restaurants, unique shops and conservation areas.
WindsorEats' Wine Trail Rides are another excellent option for exploring EPIC Wine Country. The five-hour guided tour features tastings at a collection of wineries and wraps up with a farm-to-fork long table meal at the final stop. If you prefer to explore on your own, they also have a self-guided option that includes an insulated picnic pack stocked with local fruit, artisanal Ontario cheeses, fresh bread, homemade preserves, and more.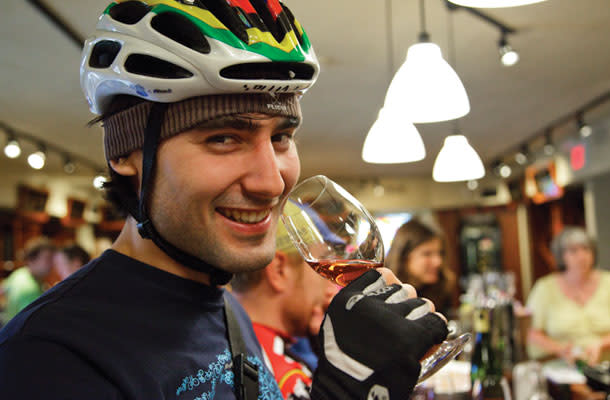 After a day of cycling you'll be ready for a good night's sleep. If you've brought your own bike, some cycle-friendly options in the area include Woodbridge House, The Grove Hotel in Kingsville, Best Western Plus Leamington and La Roos Maison Bed & Breakfast in Harrow.
If you'd like a multi-day cycling holiday, the Windsor Kingsville Essex Tour is all mapped out and ready to be enjoyed. The three-day journey begins and ends in Windsor and takes riders a total distance of 130 km. The downloadable route summary includes suggested winery and dining stops, activities along the route and lodging recommendations.
Cruising the Toast the Coast Trail
The ten wineries and cideries that make up the Toast the Coast Trail are located in Norfolk and Elgin counties. The trail makes a great route for two-wheeled touring as you can taste a wide variety of wines and ciders at Quai du Vin Estate Winery, Rush Creek Wines, Inasphere Wines, Blueberry Hill Estates Winery, Burning Kiln Winery, Wooden Bear L. Winery, Frisky Beaver Wines and Bonnieheath Lavender and Winery.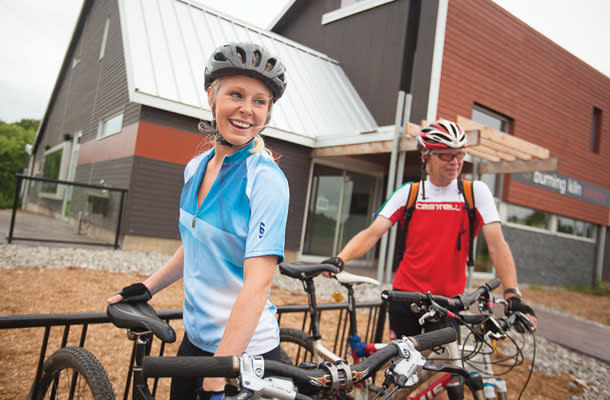 Take a look at the interactive Toast the Coast Trail Map and read about one blogger's trip exploring the trail. Be sure to grab a Tasting Voucher, it gets you free tastings at all the wineries on the trail all day for just $10!
While you'll find tasty options at several of the wineries for patio dining and food truck fare, there are also many cycle-friendly restaurants in the area when it's time to refuel. Excellent choices include Kettle Creek Inn in Port Stanley and The Blue Elephant in Simcoe. To ensure you don't feel rushed, plan to spend a night in the area. Great cycle-friendly accommodation choices in the area include Normandale Century Inn, Culverdene House in Simcoe and the Comfort Inn in St. Thomas.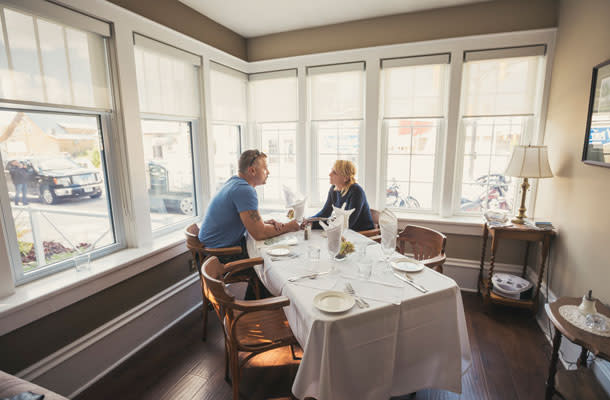 If you'd prefer to have a little help planning your route, Ontario's South Coast Bicycles and Tours offers customized trip planning assistance for both guided and self guided tours. They also rent road, hybrid, tandem, mountain and Pedego bikes and will deliver them anywhere in Norfolk County.
Want to try a fully guided tour that takes you along rolling lakeside scenery of Norfolk County?  Then you have to try the Grape Escape Tour from Red Apple Rides. You'll visit three wineries, sample amazing wines, and enjoy lunch filled with local Norfolk County produce. 
Should your legs get weary along the way, park your bike and hop aboard the South Coast Shuttle Bus Service. On weekends from mid-May to September the Shuttle Bus Service runs from 11 am until 9 pm on a route between Port Dover, Vittoria, Normandale, Simcoe, Turkey Point, Port Rowan and Long Point with stops at Frisky Beaver Wines, Wooden Bear L Winery, Blueberry Hill Estates and Burning Kiln Winery.
If you're interested in a longer cycling trip that includes stops at some of the area's wineries, the St. Thomas and Four Ports Tour is a great multi-day route. The 184-km journey takes four days to complete and riders can make stops along the way at Burning Kiln Winery, Rush Creek Wines and Railway City Brewing Company. The downloadable route summary also includes suggested dining stops, activities along the route and lodging suggestions.