Woodstock, Ontario; the middle ground between London and the GTA, is a sweet and unique town full of treasures. 
Oxford County is known as the Dairy Capital of Canada. The Cheese Trail has become a major hot-spot within the area, drawing people from all over to sample some of the finest artisanal cheeses and local products. But that's not all Oxford has to offer. Right in the middle sits Woodstock, an underrated but fantastic off-the-highway destination.
My day started at Scotch & Lace, a new boutique located just off the main strip. This unique shop is owned by local artisans and started as an online store with the occasional pop-up shop. If you're looking for unique, hand-crafted pieces, this is the place for you. The boutique is spacious and offers the perfect trendy aesthetic. From clothing, to accessories and soaps, it was hard to resist splurging on some new goodies! Just look for the pink and gold sign out front!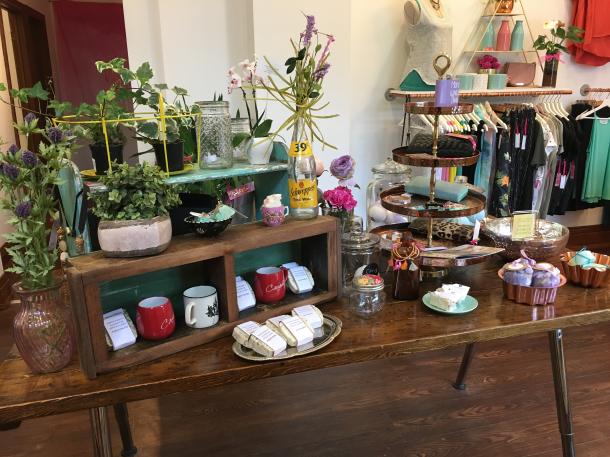 As a history lover, I was more than excited for our next few stops. We were led on a Historic Walking Tour by the Oxford Historical Society. I was pleasantly surprised to discover Woodstock's rich history. Starting in "market square" just outside of the Woodstock Museum (formerly the Old City Hall), we learned about the history of the architecture, street names and even the criminals who dwelled within the County Jail. Fun Fact: The Woodstock Courthouse has 13 monkey carved into the building - monkeys are the symbol of law!
During our tour, we learned that the Woodstock Art Gallery was once the John White building, In its 50th year of operation, the Gallery is sleek and clean with a diverse collection, reminding me of the Art Gallery of Ontario. From Florence Carlyle pieces, to Innuit Art, a Community Gallery and a Multipaper Space, it is the hub of the local arts scene. Staying true to the small town mindset, the Art Gallery is dedicated to local youth and offers plenty of opportunities for them to become involved, including their "Youthquake" programming. I know I'm glad to know there's great art just a short drive away!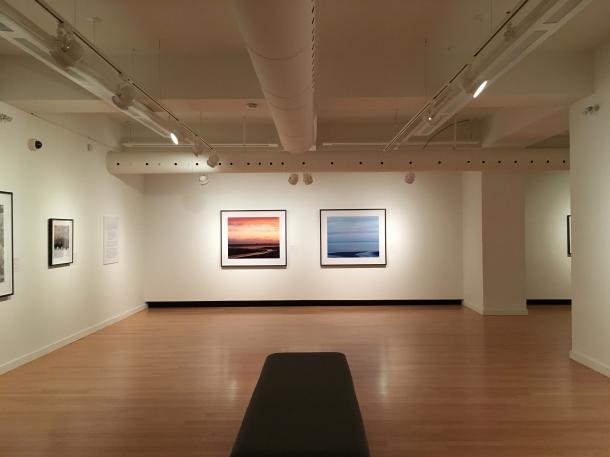 After a morning full of walking, we head to SixThirtyNine for something to curb our appetites. Located in a renovated home, Sixthirtynine is a local spin on casual fine dining. Chef Eric and the whole team, strive to offer creative and sustainable dishes that truly showcase what Oxford County has to offer. I chose the  trout with fiddleheads, pickled mushroom and a mushroom puree. It was almost too pretty to eat but as soon as I took my first bite it was hard to stop. The freshness alone was a wave of flavour, followed by the unique layers and crispy seared skin. We topped off our lunches with a classic, creamy, crème brûlée and I instantly fell in love. I know I'll be returning to this spot very soon.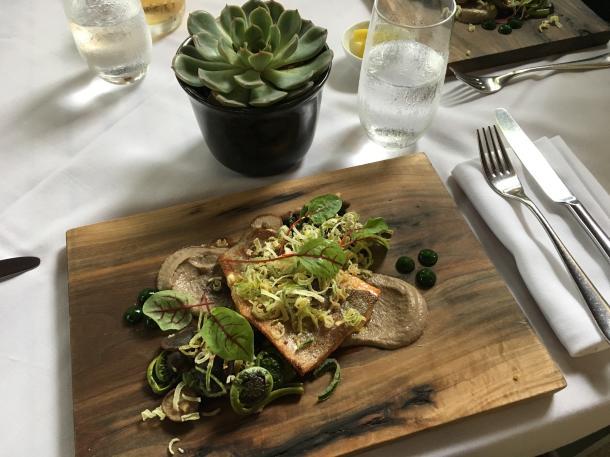 Back in the market square sits the Woodstock Farmers Market open Thursdays 12-5pm from May long weekend to October 5th. While strolling through, I stopped to talk to Honeytree Apiaries about their championship winning honey. Dedicated to the purest honey possible, they don't move their hives or add anything to the final product. The beekeeper even brought a small part of a honey hive to demonstrate how the process works which really peaked my interest. We then moved onto Greener Pastures Eco Farm, a pasture based farm committed to locality and sustainability. The VanRooyen family raises all their meat, so they know exactly the quality they promote. In similar style, Andrea VanRooyen's sister-in-law habited the attached booth and is dedicated to all natural skin care. Wild Comfort is dedicated to "simply natural skincare" and makes nearly all of the products herself. Even without all the fancy additives, she was able to make my favourite product - bath bombs.
Goodies in hand, we head down the street to The Record Works, a music lovers dream. As soon as you enter the store you're taken aback by the huge selection - everything from records and CDs to video games and movies. Celebrating its 30th anniversary Record Works started as just a record store but decided to "go with the times" and expand their product offering along the way. Not only are they a cool shop, The Record Works also hosts live bands to help promote the local music scene on their in-store stage. Make sure to stop in to look through their racks! You're sure to find a hidden gem.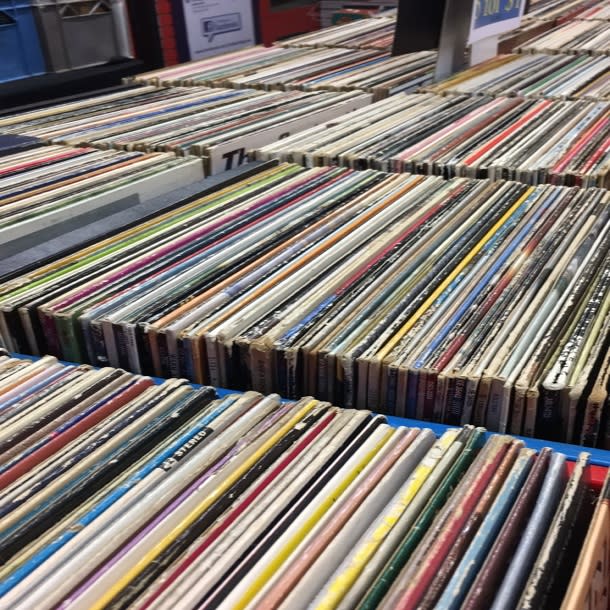 We took the opportunity to admire the neighbouring homes and ended up at Habitual Chocolate. Habitual Chocolate produces all of their chocolate in the "bean to bar" fashion, focusing on authenticity and minimal additives. All bars are organic, and safe of common allergens like nuts, soy and gluten. With 18 different flavours it was tough to pick which ones to take home, but I settled on a salted milk chocolate, a spicy dark chocolate, and a dark/milk mix. In just your first bite you can taste the quality and time dedicated to creating each piece. Habitual also partners with a local craft brewery, Upper Thames Brewing Company, to create a beer based chocolate.
Upper Thames Brewing Company  is the first microbrewery established in Oxford County, and opened in 2016. The tap room is the perfect spot for any beer lover with views of the production area. They also offer non-alcoholic root beer for people looking for a non-alcoholic drink! As someone who doesn't drink beer myself, I was very excited when I saw the root beer option and it was deliciously refreshing on a hot summers day. Enjoy it on their brand new patio with a charcuterie board or visit them on a Friday when they host Todd's Dogs & Poutine.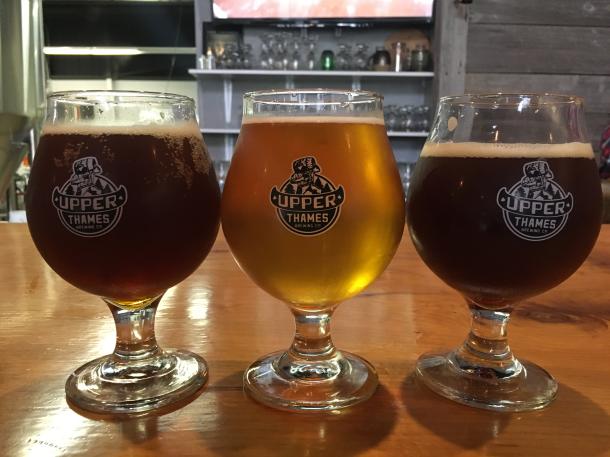 As if my day couldn't get any better, we finished off at Bartley's Dairy Bar, a staple in Oxford County. Established in 1971 as a summer job for their children, the owners focused on local product and were one of the first places in Canada to offer frozen yogurt back in the 70's. They now offer soft ice cream, hard ice cream, frozen yogurt and unique creations such as the "Iceberg" - soft serve vanilla ice cream floating in a slushy of your choice.  To keep it simple, I ended my day with a soft serve swirl cone and savoured every bite.