Tasting the legacy of a distillery town, a Chopped Canada contestant's take on B&B dining, local lamb burger love and a winery that's about the people as much as the pour. 
Ask the food, beer and wine producers of Windsor-Essex region how their area has earned a reputation as one of Ontario's newest culinary destinations and the answer may surprise you. While the food and drink produced here obviously play a central role, the bonds, connections and partnerships between the businesses here are just as important. From the passionate local who leads out-of-towners on walking tours to his city's beer, spirit and food hotspots, to the B&B owner who sends his guests to his favourite winery and the winery owner who sends them to her favourite fruit stand, everyone here is working together to spread the word about all the delicious things happening.
This Next Stop: Taste journey begins in a historic district within the city of Windsor called Old Walkerville. Culinary touring company, WindsorEats, offers fascinating jaunts through the historic neighbourhood. Participants learn all about the town that the Canadian Club whisky brand built, including its history of smuggling and gangsters during prohibition. Explore the Walkerville Brewery, learn about the city's architecture and enjoy a tour of the largest distillery in North America – Hiram Walker & Sons – home to J.P. Wiser's Canadian Whisky along with a tasting. WindsorEats also offers a Bikes & Beers tour, Wine Trail Rides, Boat Tours and more.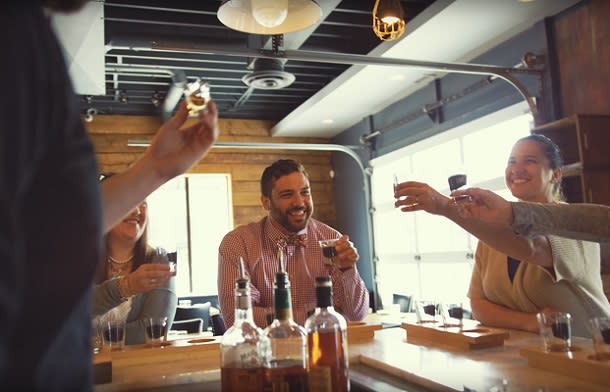 Just 30 minutes from Windsor, Iron Kettle Bed and Breakfast in Comber used to offer a unique lodging experience that has earned a loyal batch of return guests. Co-owner, Benjamin Leblanc is an internationally trained chef that has competed on Food Network Canada's Chopped Canada. His intense focus on using fresh, local ingredients is showcased in his hearty breakfasts and their delicious meals to go and baked goods. Benjamin and his wife Ginette are incredibly passionate about the area and happy to provide recommendations to guests for wineries, markets and other stops to add to their touring itineraries. While you're there, be sure to take a walk to nearby Big O Conservation Area, where you can enjoy nature trails and perhaps catch sight of some of the region's rare birds.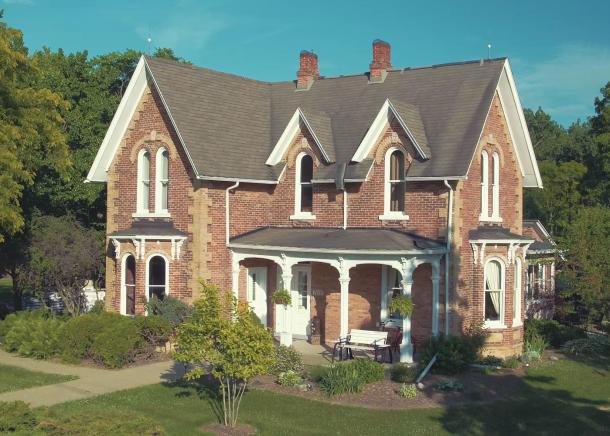 After a delicious breakfast, guests can head to Kingsville for a morning of browsing through unique shops for one-of-a-kind finds. Bring a cooler and stock up on delicious local meats and a great selection of cheeses at The Butcher of Kingsville. For lunch, head to Jack's Gastropub where the menu changes quarterly to reflect the region's freshest seasonal flavours. Enjoy one of the signature burgers, like the South Woodslee, which is made with lamb from Ewe Dell farm, Swiss cheese, lager mustard, pickled zucchini, tomato-basil relish and a brioche bun. Enjoy a pint of Banded Goose Brewing Company's creative craft brews.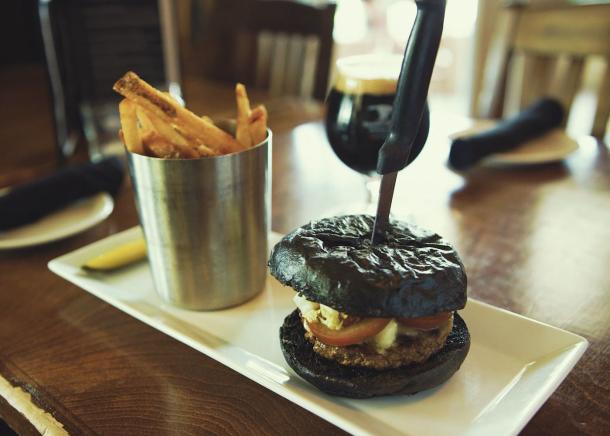 From Kingville, it's a short, scenic cruise to Harrow and the charming hamlet of Oxley, where you'll find Oxley Estate Winery on the north shore of Lake Erie. Be sure to stop in at The Fruit Wagon on your way and fill your trunk with local fruits and veggies. Once you arrive, relax and take in the stunning vineyard view from the Wine Garden Patio with a glass of Wowza White in hand. If you arrive later in the day, head to the Barn for a delicious dinner.