Jim Byers visits Windsor Essex & Point Pelee.
ALONG THE LAKE ERIE SHORELINE – The luscious scent of lavender. A zippy Chardonnay. A tranquil boardwalk. And a ridiculously good hamburger served on a perfect patio.
I've been to Windsor many times, but my recent summer trip along part of the Lake Erie shore through the Windsor-Essex-Point Pelee area was my first exposure to the region's natural wonders and to some of its towns. And I came away hugely impressed.
The folks at Oxley Estate Winery in Harrow make an outstanding unoaked Chardonnay that's crisp and not too sweet. It paired nicely with a quesadilla tucked with cheddar, jack cheese and goat milk feta as well as roasted peppers and Vidalia onions. A perfect summer's day on the patio didn't hurt, either.
I wasn't the only one enjoying myself. Two couples from Arizona – up north in Canada to escape the desert heat – could be heard complimenting their server on the wine and food and general atmosphere.
The patio at Oxley Estate is a fine place for a summer meal.
I was told that European wine experts came to this part of Ontario a few years ago and tried out some 2,800 varieties of grapes to see which would grow best in the sandy soil of the province's southwest. They narrowed it down to a select few, and some of these grapes – called Harrow Grafts – are used to make some of Oxley's wines.
Kerry Godden, who's pouring samples for me when I visit, tells me owners Murray and Ann Wilson aren't the least snobbish about wine.
"When people leave, Ann doesn't ask if they liked the wines. Instead, she wants to know if they had a good time.'"
You'll find Serenity Lavender and North 42 Degrees Estate Winery just a couple minutes down a quiet country road lined with produce stands and homes with old-time porches and both Canadian and U.S. flags, this being a spot where a lot of Americans spend the summer.
Martin Gorski and Suzanne Dajczak have 2.5 acres of lavender located in the village of Colchester, which they use to make sachets, soaps, body butters, culinary lavender and other products. I just missed the height of one of the three blooms they usually get (late June or early July, August and sometimes late September). I always thought of lavender as just lavender, but I'm told there are 48 varieties on site and some 200 in the world. Some have a citrusy smell, but others have the faint aroma of coconut.
They also have 17.5 acres of grapes and grow nothing but vinifera varieties.
Martin points out the red barn next door was once used for drying tobacco and that his father worked there as a kid when he was young, cycling from his home miles away.
"This is a great area for biking," he tells me. "For the most part the roads go east-west and the winds are usually north-south."
They have a pretty, Baltic-style garden out in front of the winery, with five rings that spiral inward for contemplation. Dajczak tells me it's partly in honour of her father, a POW in World War II.
My next stop is back in Harrow at Cooper's Hawk Vineyards, where then award-winning winemaker Rori McCaw poured me lovely Merlot and silky Pinot Noir as we chatted about the business on comfortable chairs under a canopy of deep green trees. There's also a children's playground (partly for the owners' grandkids) and a bandstand for live music shows.
McCaw told me this part of Ontario is special.
Rori McCaw was a delight. Not to mention a terrific maker of Ontario wines.
"A lot of birds come up to the Erie shoreline but won't go further north. They just stop. And those areas are where we grow our grapes."
McCaw said there are special minerals in the soil left behind by ancient glaciers, which helps account for the characteristics of the local wine. A much longer growing season than Niagara also helps.
The interior of the winery is as appealing as the grounds. It's a modern building with lots of natural light and a cool, spacey-looking light fixture floating over the tasting bar. They have cute wine shirts and knickknacks for sale, as well as local mustards and chocolates with caramel and sea salts, which I somehow managed to avoid purchasing. They also have meeting space for special events and space for weddings.
Both Cooper's Hawk and Oxley Estate are part of the EPIC group (Essex-Pelee Island Coast Wine Country).
I talked about Randy's Antiques in the blog I posted earlier, but I'll mention Randy Taylor again here as his store in nearby Kingsville is an absolute hoot. He started collecting stuff when he was seven years old and his shop is probably as eclectic as any store I've seen on the planet. A sheer delight. As is Randy.
"This is a very tight community," he tells people. "We have nice people. Great people."
I take a short walk near Lakeside Park and admire the open spaces and flowers, then catch the last of the sunset down at the Pelee Island Ferries Dock, where fishermen are seeking local perch and sailboats are sliding past.
My colourful room at Inn 31 featured local art and an enormous spa tub.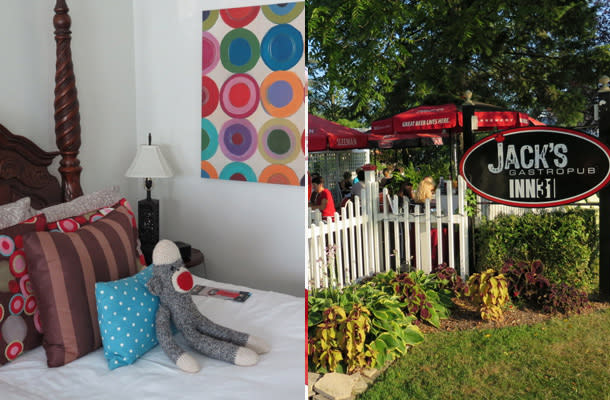 I settle in for the night at Inn 31 in Kingsville. It's a delightful old home that has rooms upstairs and a fine restaurant below called Jack's Gastropub . You'll find luscious wood in the restaurant's interior, as well as old fedoras and floral wallpaper, with stuffed deer heads on the wall and bottles of beer angling from the ceiling in the cozy bar. There's a large, wraparound porch and a garden patio that's simply divine, with lush plants and bright red umbrellas setting a casual Canadian tone.
I had a magnificent Jack's burger with bacon, caramelized onions, jack cheese, hot peppers and spicy sauce on a sesame bun along with a terrific Walkerville wheat beer that is flavoured with Florida oranges.
My room upstairs had nice local art, a fireplace, large windows, a small seating area and a HUGE spa tub in the bathroom. It's about a block off the main street and doesn't get a lot of traffic from what I can see. My room was right above the bar but I slept like a baby. Best of all, rooms start at just $99.
My final stop in the area was my first trip to Point Pelee National Park. The 42nd parallel is marked by this fun sign in Point Pelee National Park.
The beaches down here go on forever, and they're practically empty on a warm, muggy weekday when I visit. There also are great biking and hiking trails and a wonderful boardwalk through an extensive marsh, where you'll likely hear bird calls and spot frogs or other creatures. I climb a viewing platform and gaze out on endless marshlands on the edge of Lake Erie, soaking in a scene that feels almost like the Florida Everglades.
As I'm getting ready to leave, I watch a group of kids paddling a canoe back to a landing area. Their guide asks them what they saw and one smart youngster replies, "napping turtles."
I like that. And I love this part of Ontario.
To view more images, please click here.