Jim Byers experiences great food, beer, art and more.
SARNIA, ONTARIO - A sleek new craft brewery. A stunningly designed art gallery with some of Canada's top works of art. Inventive restaurants run by outrageously entertaining foodies. 
This is a city that has come a long way in a short time, with a vibrant and growing downtown that seems to be torqueing up the cool factor on an almost daily basis. Almost everywhere I went during a two-day visit in June I ran into someone with a story about something new in town. 
At Refined Fool, a wonderful craft brewery, they had just put the finishing touches on a lovely varnished bar that was polished to a mirror-like sheen in their new "tap room," which opened only a month ago. 
One of the owners told me a new coffee roaster was opening around the corner in a few weeks. A block or two away I walked into a restaurant called re-pub-lik, with a chic atmosphere that feels more Queen West than Ontario West. I was told it had opened only the week before. 
After greeting a journalist she'd never met with a kiss on each cheek at her restaurant, Chow Ciao, Sarnia restaurateur Tania Auger tells me the food scene has most definitely changed in Sarnia. 
"Lola's (her downtown restaurant) was the only fancy spot in town for the longest time. It pretty much helped transform downtown Sarnia, and now little shops have moved in. For a while we had everyone shopping in the big box stores in what I call Mall Land, but downtown started to get its groove back a few years ago." 
In addition to Lola's, Auger operates Chow Ciao, a restaurant a few minutes from downtown that feels like Thailand meets New Orleans; with lovely dark wood, a series of Mona Lisa reproductions and lamps dripping with red tassles. Not to mention great Italian food. We snack on fabulous "sweetie drop" peppers and olives in oil with chili flakes and garlic before diving into wonderful gnocchi with shrimp and gorgonzola, crispy artichoke hearts and superb meatballs with a thick tomato sauce and cheese. Auger explains that Lola's is housed in the old Embassy Diner, a long-time Sarnia classic restaurant.
"My Mom and Dad met there," she tells me, her enormous ring hanging perilously close to a plate of tasty chicken picatta. "She was French-Canadian and was a waitress. She barely spoke English. People would ask for bacon and eggs and she'd serve them pork chops." Auger pauses for effect.
"She got fired."
It's a great story, and Auger tells it well. After two hours I feel like an old friend.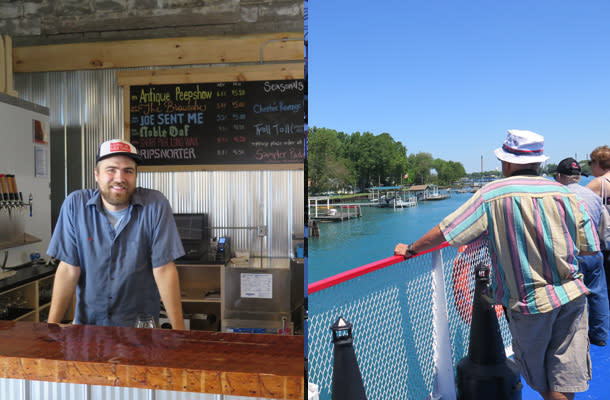 Earlier in the day I had started my Sarnia tour at Refined Fool, which opened about a year ago and is now expanding with a cool "tap room" featuring polished cement floors, exposed brick, board games you can play and a large, garage-style roll-up that allows unobstructed views out to the sidewalk. 
One of the owners, Nathan Colquhoun, explains how a band of beer enthusiasts banded together to form the brewery, the name of which plays on Sarnia's refinery history. They have a stock lineup of six regular beers you can try, plus one-offs or seasonal brews. They make a super-light three per cent beer called Chester's Revenge but also do some powerful Belgian-style brews with up to 11 per cent alcohol. I try a half dozen and settle on the citrusy, deep bronze Antique Peepshow IPA as my personal favourite, with enough bite to satisfy hop lovers but not so much to scare off folks who usually stick to Molson Canadian. "We don't consider ourselves classy people," Colquhoun explains with a smile. "But our palates are." 
They don't have a food menu at this point but Colquhoun takes me around the corner to a great café called Under Wraps, where a husband and wife team named Constantin and Nadia, originally from the Toronto area, serve a variety of food, including home-made burritos with a nice kick. 
"I think the brewery is helping draw more people downtown," Colquhoun tells me between bites of his lunch. "I own a media company and we moved downtown about eight years ago. There are a lot more restaurants and on First Fridays (check) downtown is jammed. Big box stores don't offer the same experience or creativity." 
One of the biggest feathers in Sarnia's cap is the Judith and Norman Alix Gallery on Christina St. It's a handsome old brick building from 1893 that's been lovingly restored and added to with lovely display space and lots of natural light.
Worker Shelly Mallon tells me the gallery was formerly inside a shopping mall but moved to the downtown location in the fall of 2012. I tell her it sounds like a metaphor for the way the city is going and she nods her head. 
"I like to think of the gallery as the heartbeat of downtown," she says. 
Until Aug. 3 they have an exhibit from Canadian artist Alma Duncan, a remarkable artist who painted fascinating portraits as well as colourful, splashy paintings with a bit of a Peter Max/1960's vibe. She also did some tremendously creative short films and painted moody landscapes. 
Starting Oct. 2 the gallery, which offers free entry, will be home to a travelling exhibit called Masterworks from the Beaverbrook Art Gallery. Mallon tells me the Alix Gallery is the only stop in Ontario for a truly magnificent collection that includes priceless works from the likes of Turner and Matisse, as well as Group of Seven paintings and a massive Salvador Dali painting called Santiago El Grande. 
The vault at the Alix Gallery has a vast collection of Group of Seven paintings, including one of Tom Thomson's largest works.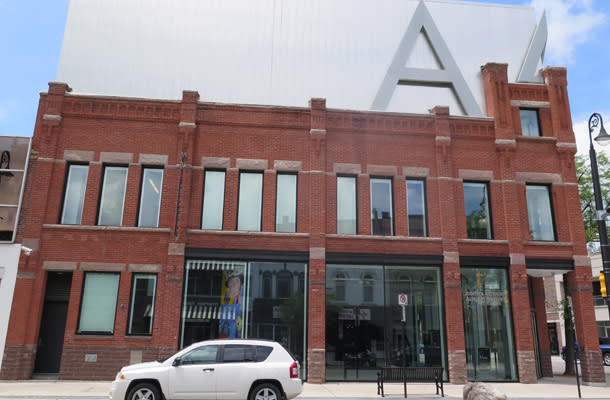 Just down the road is a truly one-of-a-kind museum called Stones 'N Bones, run by a Sarnia-raised investor named Jim Richards and his wife, Allison. It's a truly incredible and enormous collection of precious rocks, stuffed animals from the around world (massive polar bears, African gnus and more), electric blue butterflies under glass and even the skeleton of a dinosaur called a Lambeosaurus. 
Richards, who thinks nothing of dropping $1,000 on a rare shark's tooth, tell me he loves his collection so much that he hasn't taken a vacation in ten years. 
"We're the number one attraction in Sarnia," he says, explaining he started it with $5 million of his own money. 
"It makes people happy," he says of his two-level museum. "We get all kinds of school groups in here. I like to think I don't just teach, but that I inspire." 
Among the items he's proud to display are what he calls the largest narwhal tusk in Canada, measuring 8 feet 5 inches, as well as what he says is the second largest set of jaws and teeth of any Great White Shark on the planet. 
"The best reward for me is the awe on your face," he tells me. "I get to see that every day." As much as Sarnia is findings its urbangroove, it remains a great spot for outdoor activities. The city is surrounded by wonderful, sandy beaches along the Lake Huron shoreline. You'll spot sailing vessels and jet skis up and down the St. Clair River, which separates The Village of Point Edward and Sarnia from Port Huron, Michigan on the U.S. side of the border. 
"We try to go to the beach every day in summer," Colquhoun tells me. "The water is super clean, and we take our laptops if we need to get some work done." 
Boarder Pass is a company that teaches wakeboarding in a quiet corner of the marina, just off the St. Clair River. 
I stop by and worker David Ouellette shows me how a boarder is connected to a "tow rope" that hangs from an overhead, straight-line cable system, which is easier than following a boat. 
"It's an incredible tool for learning but you can do advance stuff as well," Ouellette says. "It's also a lot easier to stop if someone is having trouble or starts to fall."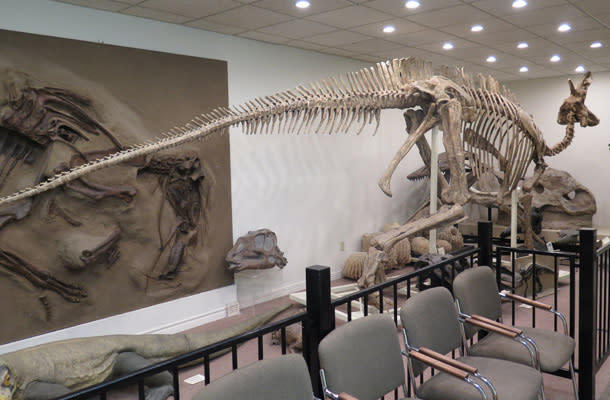 Folks who want to enjoy the water from a safer distance can try a ride on the St. Clair River on the ship Duc D'Orleans II. I took a lovely, two-hour trip on the deep blue water of the river, with views of the downtown and the city's vast chemical plants as well as lovely, riverside cottages on the mainland and on Stag Island, where kids played in the water and tossed frisbees on deep green lawns. 
"When I was kid here the waterfront was a mess," Bracewell says. "Now we have these great parks and walking paths and bike trails and flowers. They've really turned things around downtown." 
I'm told by several folks that I can't leave town without scarfing down some French Fries from one of the trucks under the Blue Water Bridge. I sidle up to the Bluewater Fries truck on a fine afternoon and find that the plate labelled as small is just $4, but way larger than I can manage. 
"I guess you don't have anything smaller," I say to the girl inside the truck. "I really just wanted a taste." 
She quickly hands me a paper plate covered with probably 20 or 30 thick fries, which are crispy and golden and salty and perfect. "No charge," she tells me.
A changing city? For sure. But still with plenty of heart. 
Front St. has a series of cool shops. Urban Escape sells everything from slick denim jeans to beautiful home décor items. They also can do in-home consultations. Reno is a nice-men's clothing store that offers fashionable shorts, Nautica shirts, nice jackets and snappy black fedoras. Joie de Vintage is a clean and funky shop selling retro clothing, Disney gear, Beatles memorabilia and more. 
Alternate Grounds is a bright café surrounded by a pretty marina on the city's waterfront. They serve comfort food with a twist, including huevos rancheros, potato latke sandwiches and green eggs (with spinach) and ham. There's a lovely patio over the water that's perfect for a morning coffee or afternoon beer, and they also do live music Fridays, Saturdays and Sundays, along with some other nights. Cromwell Grill is a classic throwback diner, albeit with bright art on the walls. The one egg breakfast feels more like two. Be sure to ask for the hash browns with green onions. 
The Best Western Guildwood Inn Hotel and Conference Centre is a fine property that's just seconds from downtown and the Blue Water Bridge. The staff is friendly and helpful and rooms are well-suited for business folks. There's an on-site restaurant, Shelly's, that does a good job at breakfast (free Monday to Friday) and has impressive specials. They also offer romance, golf and casino packages. They also have an outdoor pool from May to September.