Cycling is even more rewarding when there's the promise of some sensational sipping or a tasty meal to get those pedals pumping. Whether you're in the mood for a quick spin, a long haul, a smooth cycle or an off-road afternoon, if you're riding in Ontario's Southwest, you can rest assured there's always a delicious stop ahead. Here are just a few of our favourite pairings.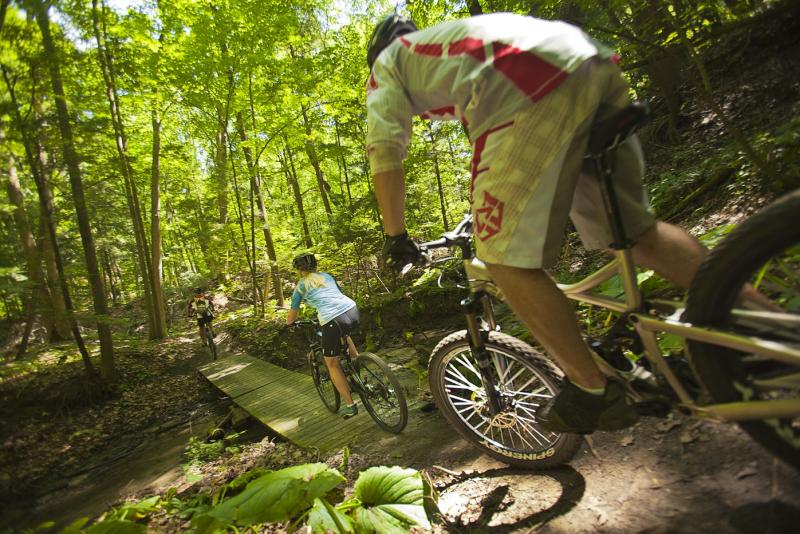 The Ride Request: A multi-day, on-road route
The Route: The Windsor Kingsville Essex Tour is a 130-km journey that will take most riders three days to complete. It begins and ends in Windsor and incorporates roads with low traffic at low speeds, bike lanes and some paved shoulders.
Wet Your Whistle:
The following wineries are either on your route or within easy wheeling distance:
Perfect Pairing Suggestion: Long days of cycling call for some delicious carbo loading along the way! Tuck a loaf of Iron Kettle Bed and Breakfast's fresh Herb & Sea Salt Focaccia into your day pack to enjoy with a glass of Muscedere Vineyards' Sauvignon Blanc. Add some cheeses from the on-site cheese bar at Colchester Ridge Estate Winery for the perfect picnic! The CREW Riesling is terrific with Gunn's Hill Brie.
Grab A Bite: There's no shortage of fantastic places to reward yourself with an excellent meal after a long day of riding, including Mettawas Italian Grill, The Artisan Grill and Mezzo Italian Fine Dining.
Perfect Pairing Suggestions: Try Sprucewood Shores' Dry Riesling with The Artisan Grill's delectable Lobster Thermadore.
The Ride Request: Off-road mountain biking
The Route: The Turkey Point area offers over 50 km of single-track trails for mountain biking. For those new to mountain biking, Long Point Eco Adventures offers a two-hour mountain bike tour that includes your bike and an expert guide to help you navigate the trails.
Wet Your Whistle: Burning Kiln Winery Trail takes you around the edge of the Burning Kiln's vineyard, making it a perfect place to stop for a glass of wine.
Grab a Bite: The Jetty Bar and Grill's huge patio is just steps from Lake Erie and is the perfect place to refuel with your crew after your ride.
Perfect Pairing Suggestion: After stocking up on Burning Kiln's fantastic wines, head to The Dover Cheese Shop for advice on what cheeses will make a magnificent match, like Horse & Boat Riesling with Gunn's Hill 5 Brothers.
The Ride Request: A short, scenic, easy cruise
The Route: The Grand Bend Rotary Nature Trail is a nine-km trail that winds its way from Grand Bend to Pinery Provincial Park.
Wet Your Whistle: Dark Horse Estate Winery is the area's first winery and a must-see sipping stop.
Grab a Bite: The Lake Hound serves up classic comfort foods in a friendly, comfortable setting.
Perfect Pairing Suggestion: Dark Horse Estate Winery's Brash White Wine is a lovely companion to  The Lake Hound's Perch and Chips.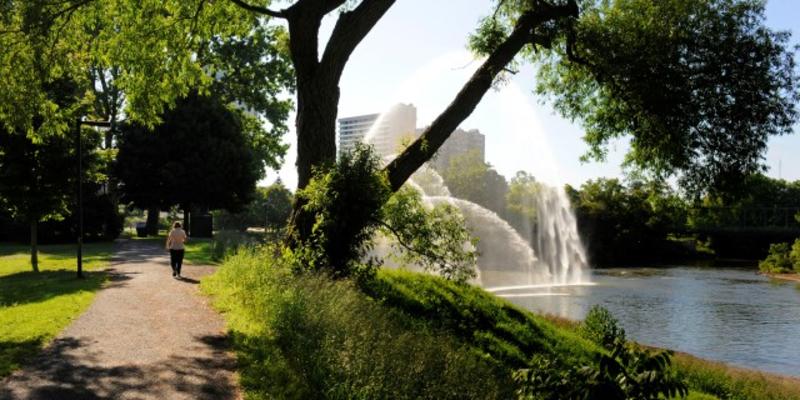 The Ride Request: A relaxed, riverside ramble 
The Route: The Thames River Parkway in London offers over 40 km of paved, off-road path alongside the Thames River with links to other bike paths and bike lanes in the city. If you prefer a more rustic riverside ride, head to Komoka Provincial Park, on the western edge of London, where the trails also offer outstanding views of the Thames River Valley.
Wet Your Whistle: While you won't find a winery here, London is home to an amazing collection of craft breweries. So many, in fact that Ride the Bine Tours offers a Sudsy Sips London bike tour of the city that includes stops at four local breweries.
Grab a Bite: If your ride takes you to Komoka Provincial Park, be sure to stop by Brickyard Antiques, where the diner offers all-day breakfast, delicious milkshakes, and burgers.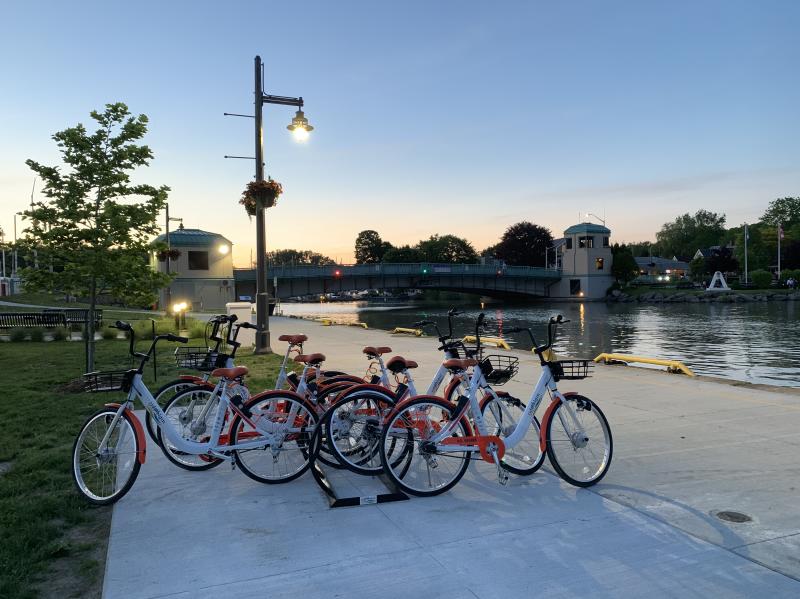 The Ride Request: A beachy ride on a borrowed bike
The Route: Port Stanley's #RideElgin bike-sharing service offers four different bike rack "havens" throughout the town at Little Beach, Main Beach, Port Stanley Arena and the Port Stanley Visitors Centre. Simply scan the QR code to unlock a bike and return and lock up your bike at the end of your ride.
Wet Your Whistle: If you can peel yourself away from the Lake Erie views, cycle 15 km northwest of Port Stanley to Quai Du Vin Estate Winery. 
Grab A Bite: Grab an outdoor table at Kettle Creek Inn on the patio, under the gazebo or on the front porch and dig into favourites like the Blueberry Grilled Cheese or Bison Sausage Poutine.
The Ride Request: A camping trip ride
The Route: Set up camp at Rondeau Provincial Park and enjoy almost 40 km of trails available to cyclists that travel through mature Carolinian forest and rare Oak Savanna.
Wet Your Whistle: Serious cyclists can extend their cycle beyond the park to pedal past Early Acres Estate Winery, about 40 km away. For a shorter cruise, pedal your way to a pint at Bayside Brewing Company in Erieau, about 25 km from the park.
Grab A Bite: For a meal with a killer side of Rondeau Bay views, grab a table on the patio at Rondeau Joe's Pub.
Perfect Pairing Suggestion: Skip the campfire cooking and enjoy delicious barbecue with cold cans of Bayside's brews at Renny's The Village Smokehouse in Wheatley.
The Ride Request: A longer on-road route that's got plenty of rural charm
The Route: The 51-km Hagersville Area Tour is a paved on-route that will take you past beautiful fields and plenty of farms.
Wet Your Whistle: While you won't find a winery on this route, you'll definitely want to plan a stop at Concession Road Brewing Company, where the beers change weekly, so there's always something new and interesting to sip!
Grab A Bite: With entrees like gourmet perogies and lobster mac and cheese, Dinger's Tap and Grill, in the heart of Hagersville, is the perfect place for a post-ride carb fix!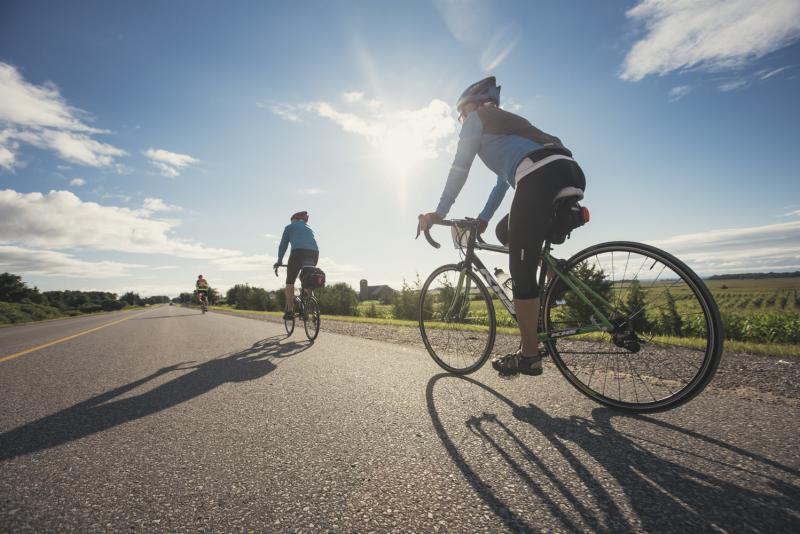 The Ride Request: A leisurely ride on a tree-lined old track
The Route: The Hickson Trail runs nine km along an old railway bed from Woodstock to the village of Hickson.
Wet Your Whistle: While Woodstock doesn't have a winery,  The Brickhouse Brewpub offers twenty-five taps of all Ontario craft beer, including their own signature brews from Upper Thames Brewing Company.
Grab A Bite: Extend your ride from Hickson to Tavistock for D&D Homestyle Cuisine and Café in Tavistock for a delicious sandwich made with meats cooked on-site and sliced fresh daily and a slice of homemade pie.
Perfect Pairing Suggestion: Upper Thames Brewing Company's Take A Hike is a must-try match with Gunn's Hill Cheese Company's Handeck cheese.
---
What's your favourite cycling and sipping pairing? Share pictures of your best biking blends on social using #OSWPerfectPairings.
---
We are so lucky to have beautiful natural areas in Ontario's Southwest to enjoy. Let's take action to protect our precious natural spaces. Click here to join the #ForTheLoveOfParks movement and learn 5 ways you can help keep parks clean and safe.