If you are new to Canada, I'd like to extend a wholehearted welcome! I'm so glad that you chose to live, study/work, and play in this beautiful country that I've lived my whole life.
Let me introduce myself. My name is Megan, and you can think of me as your new Canadian friend who loves sharing local trip suggestions within Ontario's Southwest! If you are new to the area during the holiday season, it may be challenging to find the most iconic Canadian holiday experiences, events, and shows.
To help you decide what to do, here are my top five favourite ways to get into the Christmas spirit!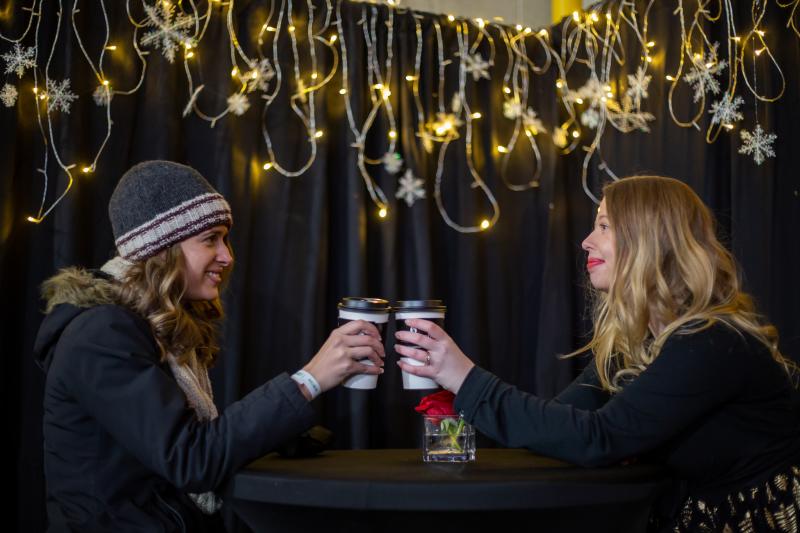 My friend, Lindsay (left) and I (right) at the Merry Market at 100 Kellogg Lane.
1. See a Light Show
I had forgotten about the magic of the first snow. But I'll never forget the time it started to snow, and my friends from India and the Philippines ran outside to watch the fluffy white flakes dance in the air. Their faces alight with excitement because this was their first-time seeing snow in person. 
Now imagine that feeling but multiply it by 50 because that's what these light shows will bring. You'll see the sparking snow and the lights reflected beautifully. Here is a list of local light shows that you don't want to miss. 
2. Visit a Tree Farm
I love having a real tree to decorate my home during the holidays and always visit a local tree farm with my husband to get one.
Imagine yourself walking through a winter wonderland, with fresh snow crunching under your feet, an axe in one hand, and a hot chocolate in the other as you look for the perfect Christmas tree to cut down. I suggest visiting one of these local tree farms during December so that your tree lasts until Christmas:
Click here for a list of u-cut tree farms across the region.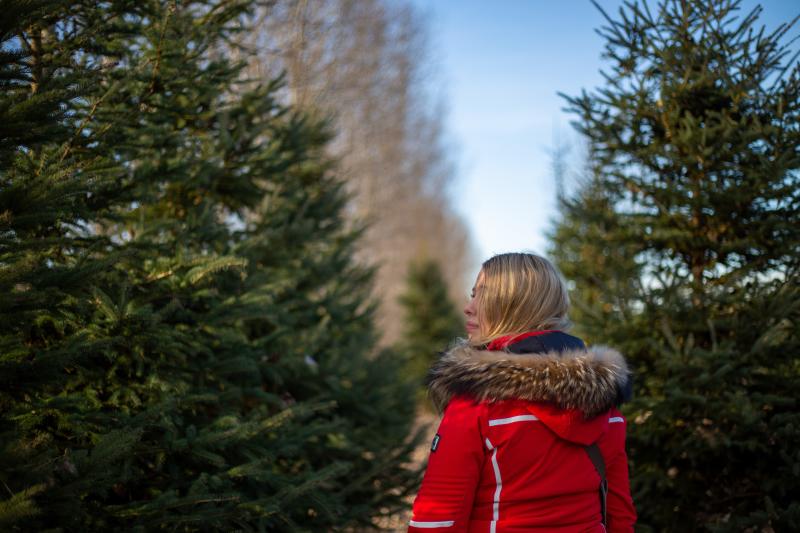 At Tree Lane Farms on the hunt for a Christmas tree!
You don't need to celebrate Christmas to enjoy visiting a local tree farm during the holiday season. The three farms mentioned above all offer excellent places for taking photos, fun retail stores, a chance to see some cute farm animals, access to campfires, and more!
One of my favourite things to share with my friends who are new to Canada is the s'more. A s'more is like a sandwich that's made out of graham crackers instead of bread and with chocolate and melted marshmallows that have been roasted over a campfire in the middle. This is a classic treat that many Canadians have fond memories of enjoying.
You can get the full Winter Campfire experience, complete with a s'mores kit for your group, at Snyder's Family Farm. Make sure that you pre-book this experience to participate.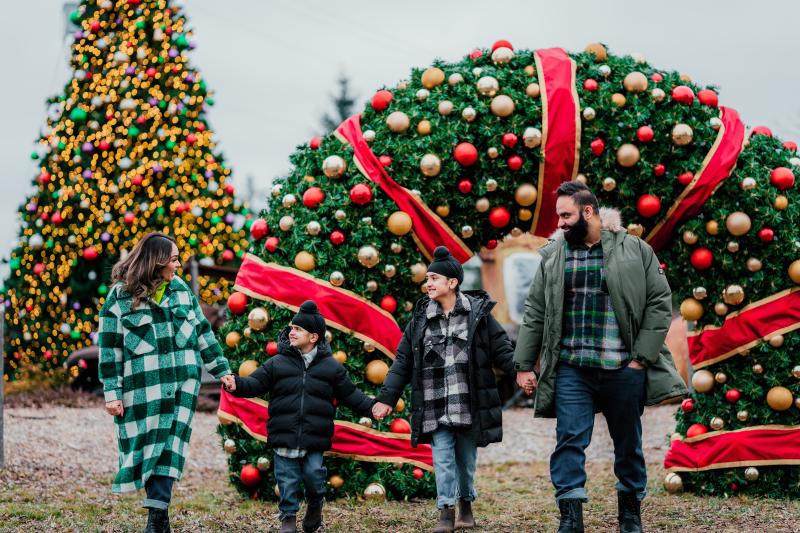 Photo of display at Snyder's Family Farm.
3. Attend a Holiday Event
If you are looking to get into the holiday spirit, visiting a local market or a show is a great way to do so. Most of the following markets showcase local vendors, food, and drinks. Shopping locally allows you to immerse yourself into the culture of your new home and meet new people who live there. 
My favourite is the Merry Market at 100 Kellogg Lane because they always go big with decorations. I go every year and hope to see you there! 
4. Enjoy a Holiday Spirit
I love sharing local drinks with my friends. They always notice things that I'd never think to. This year, we are planning to attend at least one of these local events that include holiday beverages.  
Want to try new breweries, wineries and distilleries? Find a new favourite this
5. Enjoy a Holiday Feast
Who doesn't love indulging in delicious, soul warming food during the holidays. My friends will be coming over for "friends-mas" this year and we are planning an epic feast.
Here's a fun challenge for you to try; prepare a feast but use local products for as many of the ingredients as you can! Click here for a full list of suggestions to stock up on local food from farmers' markets, independent farm stores, cheese producers, butchers, and more! Since some locations are open seasonally, it's always best to visit their website or call ahead before heading out. 
Looking for some recipe inspiration? Check out the following resources:
If you found this blog post helpful and visit any of the locations suggested, please tag @OntSouthwest on social. We love seeing people enjoying the region! 
If you are new to Canada and want to get to know the local culture, history, food, and people in…
This blog post is dedicated to my friends Kathy, Shreya, Karan, Akshara, and Nidhi. Thank you for choosing to study in Canada and for being open to new experiences.
Looking for even more unique ways to escape the city for a local getaway? Browse our collection of experiences and itineraries that have been specially crafted for adventurous souls craving the kind of connection that can only be found off the beaten path.