There are two camps of grocery shoppers: those who hate the task and those who actually don't mind or may even enjoy doing it. Unfortunately, even those of us who don't dread going out for groceries have been challenged to find pleasure in trips to the supermarket over the course of the pandemic. If months of retail roadblocks like longer lineups, shortages, and "creative" substitutions in online orders have squeezed every ounce of pleasure from your weekly shop, it's time to shake up your grocery game.
Instead of battling the aisles at your go-to grocery store, set aside an afternoon to turn your next shop into a leisurely Home Chef Stock Up. Trading one trip to the supermarket for a scenic drive with a variety of stops where you can purchase the pick of the crop and meet local producers while you're at isn't just a fun way to spend a few hours. You'll also end up with a trunk full of local treasures and farm-to-table flavours that will take your meals to the next level.
To plan your trip, choose a farm stand, farmer's market, or other food or beverage producer within Ontario's Southwest that you know you want to visit and do a little research to see what's within an hour's radius of that stop. Then, create your itinerary of stock-up stops you want to visit on your travels. To get you started, we've gathered inspiration by category below.
As you venture out, please do so in a safe manner and in accordance with guidelines. To learn more about what you can expect from local businesses in Ontario's Southwest, click here. 
Regional Farmer's Markets
Our website's searchable database provides details for the fantastic collection of regional farmer's markets taking place throughout Ontario's Southwest, including:
Covent Garden Market and The Market Western Fair District,  London
Lambton Shores Farmers' Markets, Grand Bend
Harvests of Haldimand Markets, Caledonia, Dunnville and Hagersville
Downtown Windsor Farmers' Market
Horton Farmers Market, St.Thomas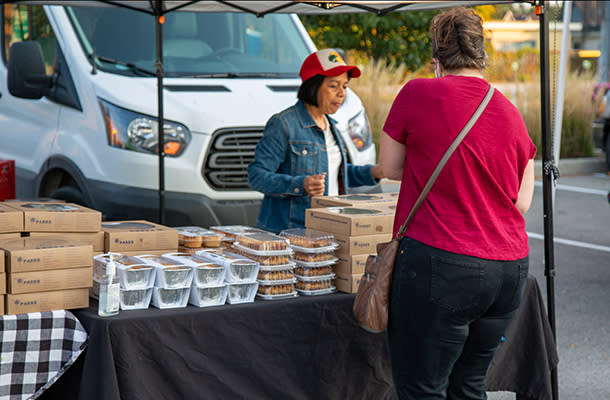 Independent Farm Stores, Stands and Pick-Your-Own Produce
To get a better sense of what's in store when you visit our region's independent farm stores and stands, check out these video profiles from Apple Land Station and Slegers Organic Greens. Other area best bets include:
Lee and Maria's On-Farm Market, Kingsville
Sarah's Farm Markets, Chatham
DeBackere Farm Market, Union
The Cider Keg, Vittoria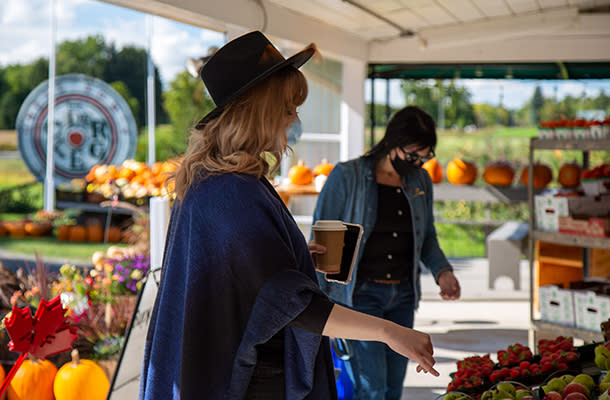 Kustermans Berry Farm Market, Mount Brydges
Great Lakes Farms, Port Stanley
Thiessen Orchards, Leamington
Wagner Orchards, Lakeshore
Thames River Melons Farm Market, Innerkip
Kent Creek Orchard, Hillcrest
Meadow Lynn Market Garden, Simcoe
Heemans, London
Matz Fruit Barn, Port Dover
Bre's Fresh Market, Tillsonburg
Richardson's Farm and Market, Dunnville
Cheese Producers
There are so many cheese producers in our region that we're home to our very own 24-stop Cheese Trail! Whether you choose to cruise the entire Oxford County Cheese Trail or just make a few delicious stock-up stocks, you'll get a sense of the passion our producers have for their craft. Get a sneak peek with this video profile of Gunn's Hill Cheese.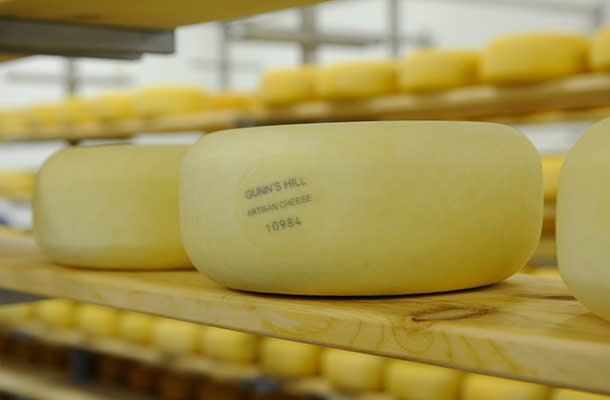 Other stops to consider adding to your trip include:
Great Lakes Goat Dairy, Wyoming
The Dover Cheese Shop, Port Dover
Jensen Cheese, Simcoe
The Second Mouse Cheesetique, Delhi
All 'Bout Cheese, London
Galati Cheese, Windsor
Honey, Syrup, Jams and Baking Supplies
Whether you're looking for something to spread on your toast or stir into home baking, you'll love the taste of the fabulous ingredients you'll find in Ontario's Southwest. Here's a video preview of the sweetness that awaits at Munro Honey and Meadery and Richardson's Farm & Market.
Other sweet stops include:
Jakeman's Maple Syrup, Beachville
Chambers Pure Maple Products, Waterford
Clovermead, Aylmer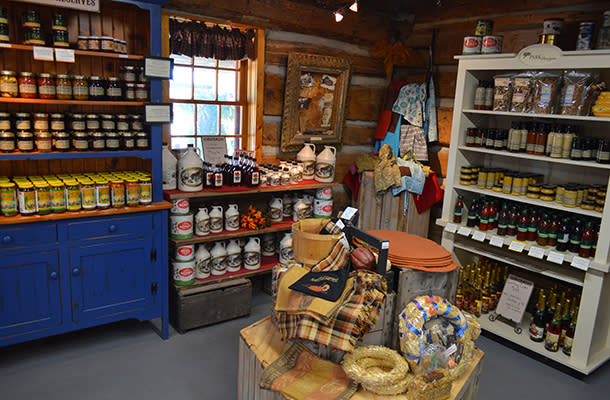 Country Rose Preserves, Windsor
Berrylicious Fruit Farm, Burgessville
Urban Wheel at Sundown Farms, Tilsonburg
Arva Flour Mill, Arva
Butchers
Be forewarned: picking up freshly cured and cut meats from local butcher shops and farms may forever ruin the grocery store meat department for you! Here are some local butcher best bets:
VG Meats, Simcoe
B.J.'s Country Market, Delaware
Butcher of Kingsville, Kingsville
Wally Parr Sausage, Caledonia
Roesch Meats, Kent Bridge
Townsend Butchers Inc., Simcoe
Uptown Meats & Deli, Harrow
Coffee and Tea
Prepare to skip the drive-through forever once you've brewed up a hot beverage at home from these local producers. This video showcasing The New New Age (online shopping only at this time) offers just a taste of the kind of passion that sets our area businesses apart.
Other great stops for the very best of beans and tasty teas include:
Early Bird Coffee, Woodstock
Blackwater Coffee Co., Sarnia
The Urban Parisian, Port Dover
Las Chicas Del Café, St. Thomas
Wildflower Teas, St. Thomas
Fire Roasted Coffee Co., London
Touring along the Windsor Essex Coffee Trail's nine tasty stops
For additional caffeine cues, check out this blog post with more of our favourite stops.
If you're looking for a beverage beyond coffee or tea, give a bottle of kombucha from one of our regional brewers a try:
Booch Organic Kombucha, London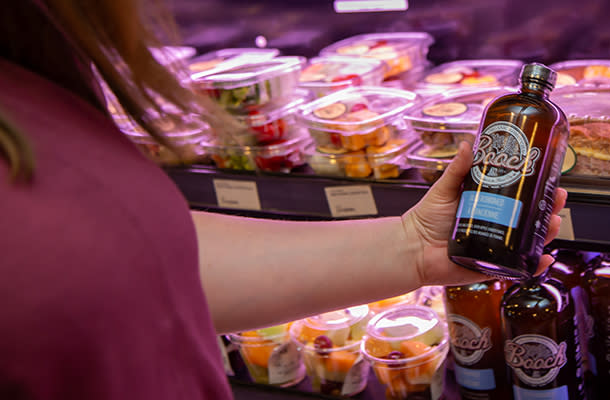 Kombucha Hound, Sarnia
Culture Shock Kombucha, Grand Bend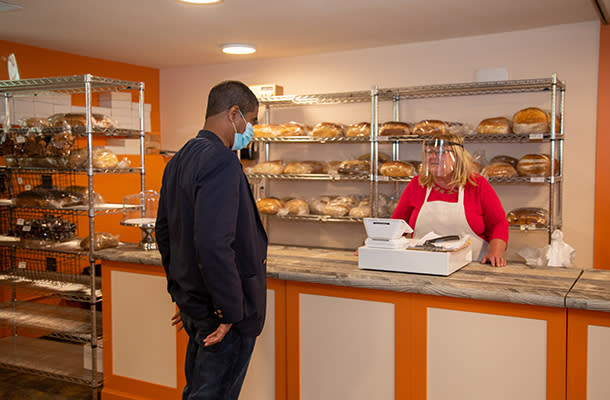 Add In Some Extra Fun With A Few Perfect Pairings
As you complete your Home Chef Stock Up, be sure to chat with local vendors to get additional suggestions for their can't-miss stops in the neighbourhood. For example:
---
We'd love to hear your favourite Ontario's Southwest Home Chef Stock Up stops and perfect pairings! Share pictures of your foodie finds on social using #OSWPerfectPairings.
---
To learn more about what you can expect when exploring in Ontario's Southwest and how businesses are trying to keep you safe and following government guidelines, click here.