It's not hard to find a farm-to-table meal in Ontario these days. Scoring a real farm-to-table dining experience, however, can be a little trickier if you're not looking in the right places. Farm-to-table meals can be found anywhere there's a chef who is committed to sourcing Ontario ingredients.A farm-to-table dining experience digs a little deeper to create a true taste of place. Perhaps it's an afternoon chat with a local grower. It could be the simple pleasure of inhaling the scent of freshly plowed soil on your drive to dinner. Maybe it's stopping by the same stand where your chef has shopped so you can enjoy those flavours again at home. With so many farms and food and beverage producers calling Ontario's Southwest home, the options for curating your very own farm-to-table dining experience here are endless.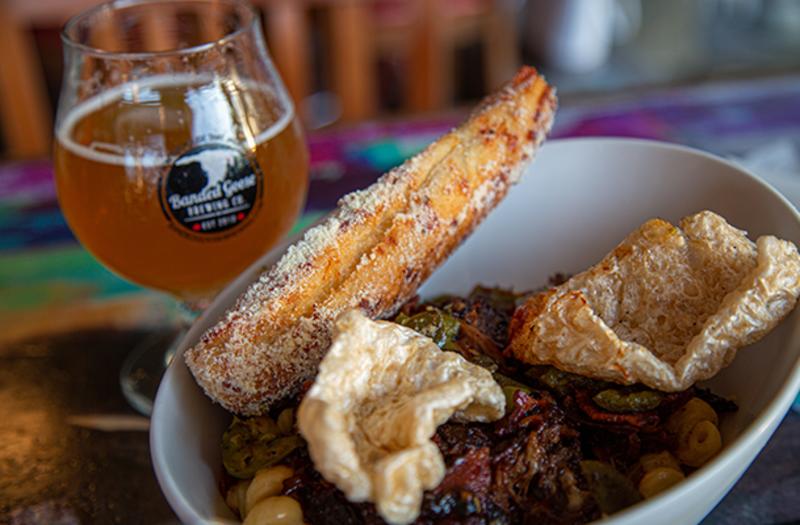 Create your Ontario's Southwest farm-to-table dining experience in three easy steps.
Step One: Choose A Restaurant With A Menu That Appeals To You
To help you with this step, we've included some of our region's most buzzed-about farm-to-table restaurants below.
Step Two: Add In Some Time For Exploring
A farm-to-table experience is all about slowing down and getting a feel for the communities that produce the food and beverages you enjoy at your meal. A few days before your meal, take a look at what's located within a one-hour radius of where you'll be dining and build in some time for a leisurely drive after lunch or before dinner to visit a few farms, markets, wineries, cideries or craft breweries.
Step Three: Share Your Farm-To-Table Faves
The restaurants, farmers, and beverage producers that call Ontario's Southwest home need our support more than ever. Whether you hit them up with a social media shout-out, leave a positive online review, or simply plan a return visit down the road with a few friends, they'll appreciate the gesture more than you know. In addition, you'll be helping more folks get out and enjoy a farm-to-table experience of their own.
Discover A New Farm-To-Table Dining Experience in Ontario's Southwest
Mustard + Relish, Port Dover
If you are looking for something more casual, you'll adore Mustard + Relish. With local ingredients including Jensen cheese, YU Ranch beef, Grassland Meats and Wooleys' lamb, the burgers on the menu here are farm-to-table fabulous!
Perfect Pairing Suggestion: Charlotteville Brewing Company's Tailgate Party is a delicious duo with the Mustard + Relish Bison Burger.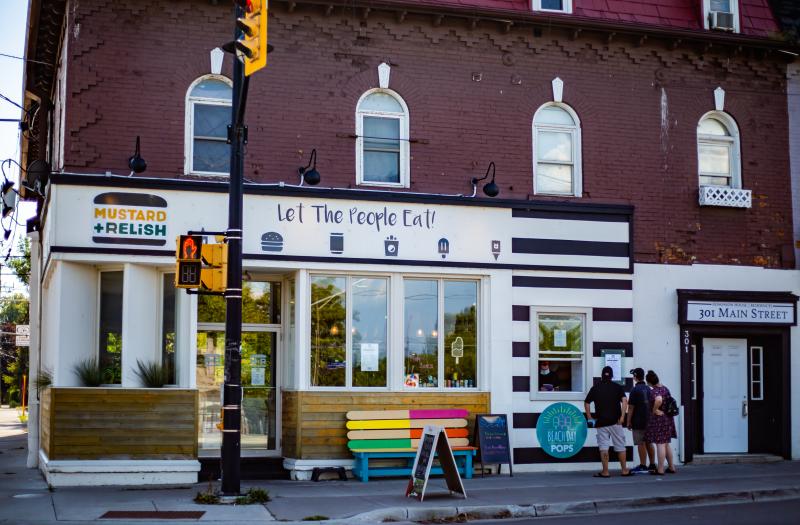 David's, Port Dover
When the Head Chef at David's is cooking up new dishes, he starts by asking local producers what they've got to offer. That teamwork creates one fresh local menu that makes the most of local meats, Lake Erie Perch and Pickerel and foraged items that grow wild in the area like ramps, fiddleheads, sumac, morel mushrooms, and even wild hops.
Perfect Pairing Suggestion: Blueberry Hill Estates' Front Road White is a crisp companion to David's Lake Erie Pickerel.
Twisted Lemon, Cayuga
Get ready for tender greens grown in their own garden, juicy Ontario AAA striploin, and so many other tasty treats when you dine at Twisted Lemon!
Perfect Pairing Suggestion: Sip on a pint of something tasty from Concession Road Brewing Co. as you peruse the menu.
SixThirtyNine, Woodstock
Chef Eric Boyar has no problem getting his hands dirty to bring his guests Oxford County's best local flavours. Reserve a table on the patio for a beautiful garden view.
Ironworks Kitchen, Woodstock
Ironworks Kitchen partners with a wide variety of local producers, including Norwich Packers, Gunn's Hill Artisan Cheese, Mountainoak Cheese, Habitual Chocolate, Early Bird Coffee, Nerd Teas, Railway City Brewing Co., Burning Kiln Winery and Blueberry Hill Estates.
Jack's Gastropub, Kingsville
Lake Erie Pickerel, lamb from Ewe Dell Farms, and an amazing selection of local wine and beer await at this Kingsville favourite.
Perfect Pairing Suggestion: Muscedere Vineyards' Cabernet Franc sips sensationally with Jack's lamb patty Shawarma Burger.
Clock Tower Inn and Bistro, Strathroy
With locally sourced goodness like Slegers organic greens, Hayters' turkey, Ontario-raised Japanese beef and farm-raised Steel Head trout, you'll wish for time to stand still in this historic clock tower!
Perfect Pairing Suggestion: A frosty Oxidation Amber from Rusty Wrench Brewing Company is a very food-friendly match for the Clock Tower Wagyu Burger.
Blackfriars Bistro, London
Blackfriars Bistro crafts its farm-to-table inspired menus with handpicked, seasonal ingredients from small, independent farmers, producers, and artisans, including Gunn's Hill Artisan Cheese.
Grace Restaurant, London
The menu at Grace Restaurant celebrates modern Canadian cuisine with local ingredients like beef, duck and Stonecroft Farms Berkshire pork and a fantastic selection of local craft beers.
The Chilled Cork, Chatham
The delicious menu at The Chilled Cork has something to please all tastes and diets, including vegan fare. Turn your farm-to-table experience into an overnight escape by booking a stay in one of their stunning boutique hotel rooms at the adjoining Retro Suites.
Purdy's Dockside Eatery, Point Edward
Head to Purdy's Dockside Eatery between Victoria Day and Thanksgiving for scrumptious Pickerel or Perch while enjoying dock-side seating with an excellent chance of getting to see the catch of the day coming off the boats!
The Windjammer Inn, Port Stanley
In addition to Lake Erie Perch, The Windjammer Inn showcases a wide variety of local, ethically produced ingredients in their tasty menu.
Solo on Main, Port Stanley
Solo on Main hand crafts its dishes with fresh local finds, including locally foraged mushrooms. Check the restaurant's Instagram feed before you go to see the latest discoveries that will be featured on the menu!
This is just a small selection of the farm-to-table restaurants that call Ontario's Southwest home. For more options, take a look at this directory and map to find restaurants in our region that have earned Feast On® certification to prove their support of Ontario's farmers and makers.
---
We'd love to hear your favourite farm-to-table experiences in Ontario's Southwest! Share pictures of the farm-to-table fun you find on social using #OSWPerfectPairings.