The cities of Ontario's Southwest have incredible vegan restaurants and it will take you weeks to try them all. Did you know that the region's small towns also have delicious vegan eats? While there aren't as many completely plant-based restaurants in the smaller towns and villages, there are quite a few establishments that are "plant forward" or feature several vegan dishes. I'm going to show you how to plan your vegan vacations to the towns of Port Stanley, Tillsonburg, and Grand Bend. I'll show you the best restaurants to find vegan dishes, plus I'll highlight some awesome things to do in between meals.
Vegan Meals in Port Stanley
The Windjammer Inn isn't only an amazing accommodation. It's also a super vegan-friendly restaurant, too! I spent two nights at the Windjammer Inn. The owner, Kim, specializes in creating meals for special diets and allergies. As your overnight stay comes with breakfast in the morning, Kim ensures that you'll start the day off right with mouthwatering fare. I enjoyed waffles one morning and a fruit and yogurt bowl the next day. If you're having dinner at the Windjammer Inn, choose any item off their "Flora" menu for plant-based eats.
Another great restaurant to try in Port Stanley is SoLo on Main. They use fresh, locally-sourced ingredients to prepare innovative and delectable dishes. Look for the little green "v" on the menu to find the vegan options. I loved the buffalo cauliflower wrap, but you can also try the lentil cakes, vegetable curry, the featured pasta dish, or the featured risotto of the day.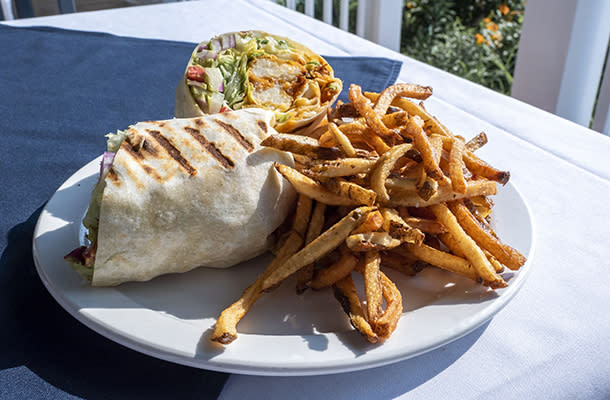 Photo of vegan meal from SoLo on Main.
What to Do in Port Stanley Between Meals
Port Stanley is a beach town on the coast of Lake Erie. It's best known for its beautiful blue flag beaches. Pack your bathing suit and beach blanket, and simply soak up the sunshine. Choose from the Main Beach or Little Beach. The Main Beach is an expansive sandy beach that's close to restaurants, and there's a lifeguard on duty. Little Beach is a smaller cove with calmer waters, with restaurants and shops a short walk away.
Beyond the beach, I suggest wandering all over town to check out the shops and cafes. Port Stanley has loads of little boutiques and small businesses with unique wares. Check out Drift and James Street Home Decor if you're looking for eclectic home decor. Pepper Tree Spice Company is one of my favourite shops with shelves upon shelves of organic vegan spices, sauces, and preserves. Need an afternoon pick-me-up? Pop by the Village Square Coffee House for a coffee and a slice of vegan banana bread.
Vegan Meals in Tillsonburg
We continue our Ontario's Southwest small town vegan tour with a stop in Tillsonburg. There are two notable restaurants that serve up yummy vegan fare. Indigo Lounge is an organic cafe and eatery with an emphasis on nourishing, sustainable, homemade meals using local ingredients wherever possible. There are numerous vegan choices on the menu, and they're all marked with a "VG" so you can spot them easily. I adored the kale Caesar salad, topped with roasted chickpeas.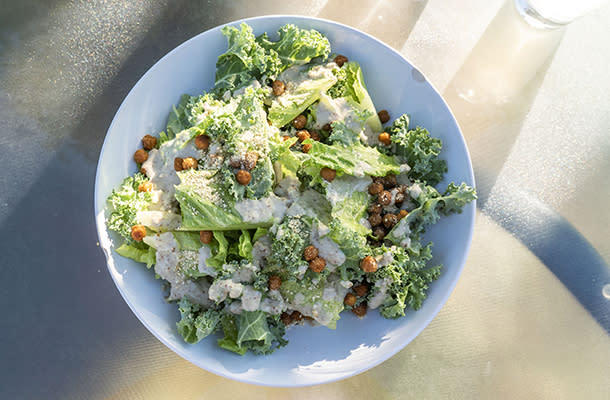 Photo of vegan meal from Indigo Lounge.
D'lish Kitchen Cafe is another excellent choice for vegan food in Tillsonburg. They describe themselves as a healthy alternative to fast food with smoothies, bowls, soup, salads, and nutritious snacks. The little "V" next to menu items indicates that the meal is vegetarian, but everything can also be made vegan. I recommend the Naked Burrito Bowl as it comes with mini empanadas on top that are divine!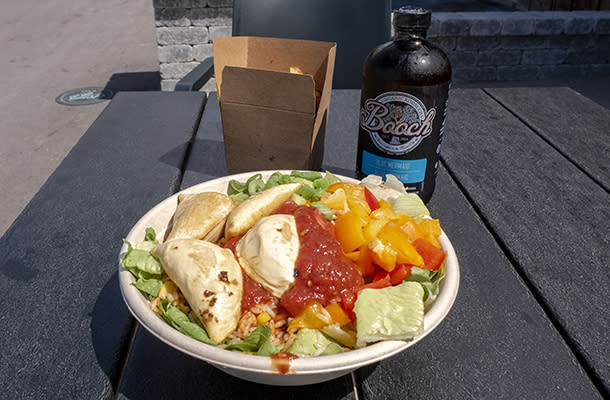 Photo of vegan meal from D'lish Kitchen Cafe.
What to Do in Tillsonburg Between Meals
It's easy to spend a fun day in Tillsonburg, especially if you love spending time outdoors. A portion of the Trans Canada Trail runs through Tillsonburg, so it's the perfect place to go for a walk or a bike ride. You can also visit the Kinsmen Participark if you're looking for another lovely place to go for a stroll. This 1.2km path follows Stoney Creek where you might even see fish spawning in the spring.
I suggest returning to Indigo Lounge for one of their outdoor yoga classes. These small group yoga sessions are led under a big, shady tree outside the front of the restaurant. This experience will leave you feeling energized and balanced for the rest of the day.
If you're visiting Tillsonburg during the summer months, you can cut your own flowers at Makkink's Flower Farm. Wander through rows of cheery sunflowers and bright blooms. Take photos for the 'gram, and then bring home a beautiful bouquet with your favourite flowers. 
Vegan Meals in Grand Bend
For such a tiny town, Grand Bend is bursting at the seams with vegan-friendly restaurants. If you love plant-based eats, you need to dine at The Lake Hound. There are tons of vegan options on the menu, all marked with a "VE". My sweet potato black bean burrito was perfectly spiced and really tasty. There are also quite a few fresh bowls, salads, and you can even add meatless chicken to meals or substitute cheese for cashew cheese (I'm eyeing up those nachos for next time).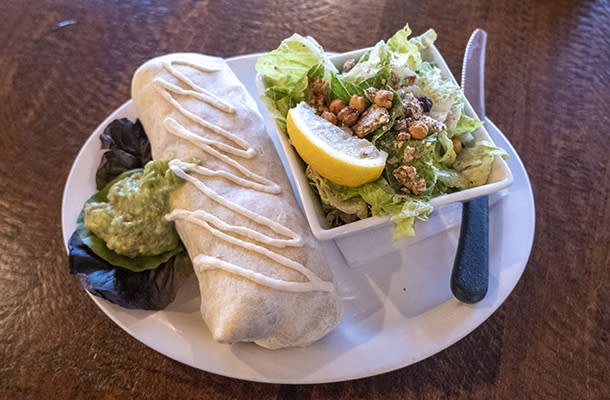 Photo of vegan meal from The Lake Hound. 
Inside the Lake Hound, there's an additional cafe and takeout counter called Completely Rooted that's 100% vegan. It's a breakfast and lunch joint with smoothies, bowls, raw lasagna, superfood cookies, and more. They also sell numerous varieties of vegan cheese to bring home with you.
For fans of Japanese food, you need to visit Midori Sushi, a vegan-friendly Japanese restaurant in Grand Bend. The menu details everything that's vegan, and the vegetarian dishes that can be prepared vegan. You can start with miso soup, spring rolls, sweet potato tempura, or any of the salads. For sushi, they have cucumber, avocado, sweet potato, asparagus, broccoli, and mushroom rolls. A few of their special rolls can also be prepared plant-based upon request, like the tempura pickle, midori roll, or the supreme garden roll.
Photo of vegan meal from Midori Sushi. 
What to Do in Grand Bend Between Meals
Grand Bend offers the perfect mix of outdoor adventures and chill vibes. For outdoor enthusiasts, you can go for a hike at Pinery Provincial Park, try parasailing over Lake Huron, or play a round of golf at Oakwood Resort. Pinery Provincial Park even has yurts where you can comfortably rest your head at night in the great outdoors.
If you'd rather simply relax on the beach, Grand Bend is home to one of the best beaches in Ontario. There's powdery sand and turquoise waters that are often compared to those found in the Caribbean. Grand Bend Beach is the most popular beach that's right in town. If you're looking for something a little quieter, head over to the beach at Pinery Provincial Park. Whatever you do, make sure that you stay for the sunset. The sunsets at Grand Bend are some of the most beautiful sunsets that you'll ever see.
Visiting popular beaches and parks during the week is the best option if you want to beat the crowds. When visiting the Pinery, you should purchase your Advance Daily Vehicle Permit online for the day you wish to visit prior to arriving. You can buy advance permits up to 5 days before arrival and they guarantee access to the park. 
---
We are so lucky to have beautiful natural areas in Ontario's Southwest to enjoy. Let's take action to protect our precious natural spaces. Click here to join the #ForTheLoveOfParks movement and learn 5 ways you can help keep parks clean and safe.  
To learn more about what you can expect when visiting Ontario's Southwest and how businesses are trying to keep you safe and following government guidelines, click here.
---
Bio: Lauren Yakiwchuk is a travel blogger and content creator at Justin Plus Lauren and Ontario Hiking, based in Mississauga, Ontario. She loves outdoor adventures, discovering nature, and exploring big cities and small towns alike. As a lifelong vegetarian and longtime vegan, she aims to find and share the best plant-based meals around the world. You can follow her travels on Instagram and Facebook. 
All photos were provided by Lauren Yakiwchuk.