Are you the kind of person who plans your outings and activities around your meals? As a self-proclaimed vegan foodie, I tend to seek out food first, activities second. Thankfully, both London and Windsor have the best of both worlds: delicious plant-based food and fun adventures, both indoors and outdoors. If you're looking for delicious eats and fun things to do in the big cities of Ontario's Southwest, I'm going to show you the way.
Vegan Meals in London
London is bursting at the seams with vegan options these days, at both vegan and veg-friendly restaurants alike. Whether you're looking for healthy options, innovative chef-inspired choices, or pub grub, London has got it all. Here are a few of my favourite vegan spots in London.
Plant Matter Kitchen was one of the very first vegan restaurants I ever visited in London, and I'm happy to return again and again. They create delectable and healthy meals featuring organic, fresh, and local ingredients. While there are an absolute ton of delicious menu offerings, I highly recommend the Holistic Enchilada (with kale, sweet potato, refried beans, cheese sauce, and more). Thirsty? Try a black currant kombucha!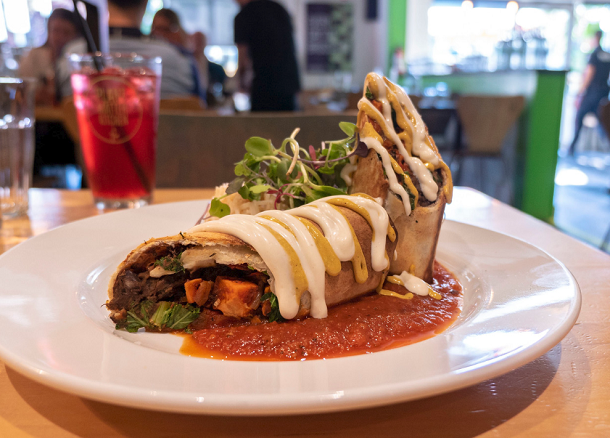 If tea time is more your jam, head directly to The Tea Lounge for tea and light meals, the majority of which are vegan. They have an extensive tea collection, as chosen by the owner and tea sommelier. Then, your tea is served in a traditional tea set, according to its country of origin. You can pair your tea with a vegan and gluten-free chocolate chip scone. They also have vegan cheese platters, soup, and light salads for lunch.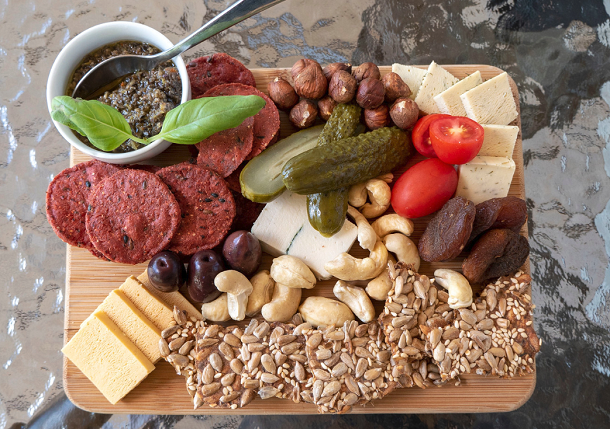 Things to Do in London Between Meals
It's time to burn off some calories before so you can make room for more food! London has a fantastic selection of outdoor adventures and indoor activities for every interest. Here are a couple of my picks if you're looking for what to do in London.
Have you ever tried treetop trekking? Boler Mountain has five obstacle courses, allowing you to swing, sway, and fly through the trees. Explore the Carolinian forest of "the forest city", spending a day outdoors while getting some fantastic exercise. It's thrilling to maneuver from platform to platform, and the "big zip" is an excellent payoff at the end of your adventure.
If you're seeking an indoor activity (whether the weather is cooperating or not), Museum London is the leading gallery for regional art, history, and culture in Ontario's Southwest. The museum is home to 45,000 pieces demonstrating the history of London, as well as 5000 regional and Canadian artifacts. If you've got room for a snack while you're at Museum London, pop into the Rhino Lounge for a bite to eat. They've got vegan doughnuts, tarts, calzones, cake, and more.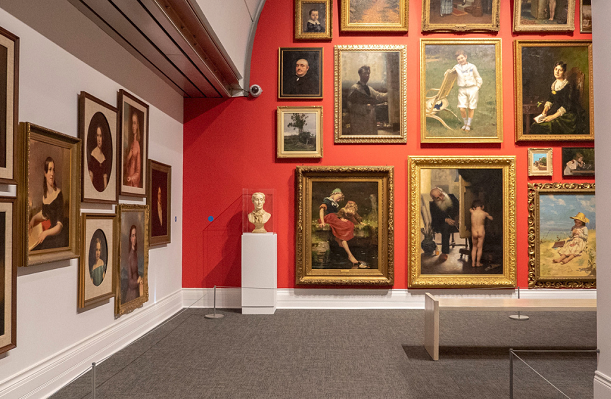 Vegan Meals in Windsor
Who knew that Windsor had so many vegan restaurants and cafes? I was truly surprised at the sheer amount of vegan establishments in Windsor that only appears to keep growing by the day. From doughnuts to dates and burgers to brunch, you'll find everything you desire and made from plants in Windsor. Here are my choices for must-visit spots around town.
Carrots N' Dates is one of the first vegan restaurants in Windsor, and they've got healthy plant-based and gluten-free eats covered. While there are many salads, sandwiches, and bowls on the menu, I suggest trying the Buddha Bowl. It's the perfect combination of wholesome ingredients like brown rice, smoked tofu, greens, cucumber, carrots, and a creamy tahini dressing. Check out Carrots N' Dates on Friday evenings for live musical performances by local artists.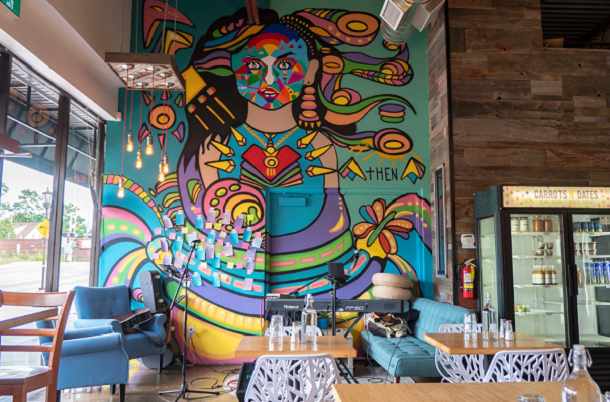 Keeping with the healthy theme, Healthy Mama has all of your favourite dishes gone vegan, so you won't ever miss the meat. It's a plant-based cafe and shop all in one, so you can bring home unique groceries and frozen burgers to prepare at home. Healthy Mama has vegan versions of classics like Mac N' Cheese, a Greek Salad, and a Reuben Burger, there are lighter options like smoothies and smoothie bowls. My Pink Pitaya Bowl was Instagram ready: a vibrant shade of magenta, topped with fruit and granola.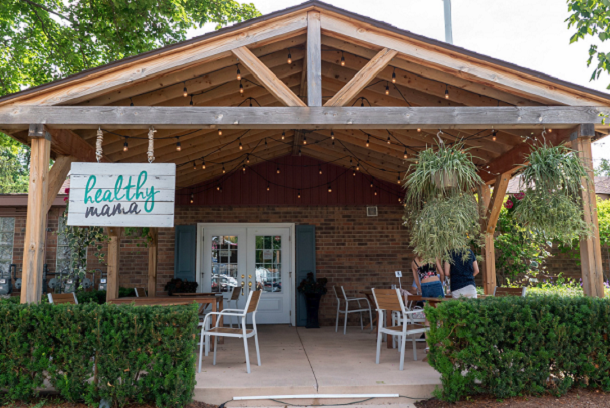 If it's comfort food you're looking for, head straight to Nooch, Windsor's first vegan comfort food restaurant. They've got all of your favourite dishes, prepared entirely using plants. Craving a burger? Try the Big Mock, with non-beef patties, vegan cheese, and a veganized special sauce. How about a Philly Cheesesteak? They've got a plant-based version, created with a steak made from seitan and their nacho cheese sauce. Nooch also has jackfruit tacos, vegan poutine, and buffalo bites to share (or not share) with your friends.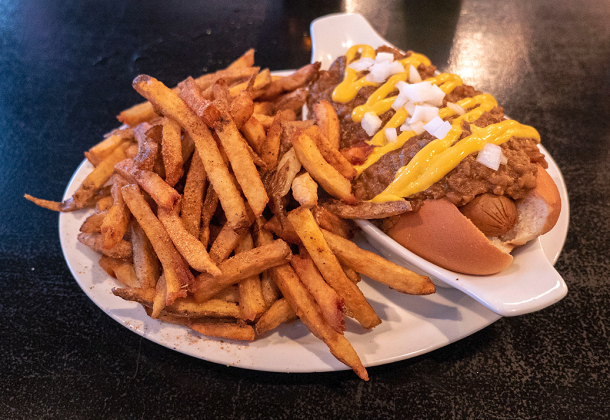 While there are lots of vegan dessert options at the vegan restaurants I mentioned above, Plant Joy is an exclusively vegan doughnut shop in Windsor that will satisfy your sweet tooth. These massive and fluffy doughnuts are absolutely delicious. They come in tons of flavours: cinnamon sugar, old fashioned glazed, chocolate dip, maple dip, vanilla frosted, lemon lavender, raspberry frosted, chocolate peanut butter, and strawberries and cream. There are always new varieties being added to the mix, too. For a special personalized creation, you can order your name (or any phrase) spelled out in doughnuts!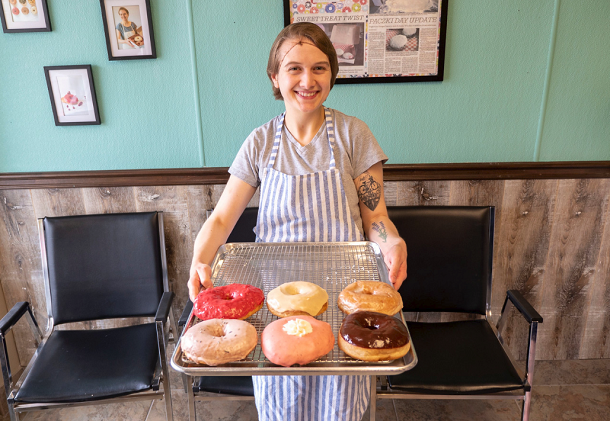 Things to Do in Windsor Between Meals
If you love getting exercise with invigorating outdoor activities, you're going to love taking a trip to Windsor. Here are my top picks on how to spend a few hours until you're ready to eat again.
Urban Surf is the ultimate place for outdoor adventures in Windsor. You can rent a stand-up paddle board and drift around Lake St. Clair for an invigorating journey. I suggest taking their sunset paddle tour: ride a SUP out to the lake to watch the sunset from the middle of the water. It's a magical experience! You can also take fitness classes, rent bicycles, and even spend the night at their "boatel" at Urban Surf. Yes, they have a floating boat hotel where you can stay and sleep, and it's an incredible experience. While you're at Urban Surf, stop by Maverick's Cold Bar on site for a fruit smoothie, vegan ice cream cone, or vegan cookie ice cream sandwich.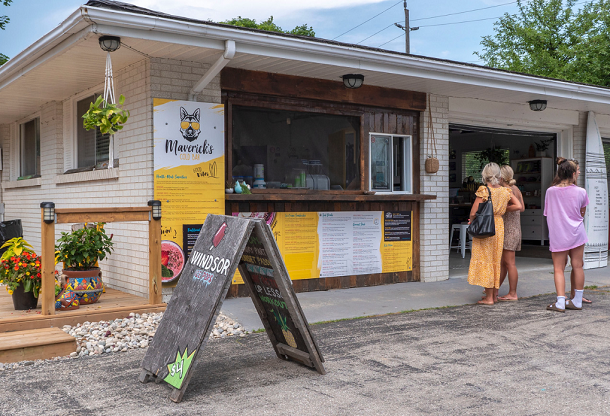 After some paddling and cycling adventures, it's time to pamper yourself at ShopEco. We can all use a little self care from time to time, and ShopEco will help you to get your skincare routine on track. I love their emphasis on locally produced, high performance products using clean ingredients. These products aren't tested on animals, and they're mostly all vegan, too. Stop by ShopEco for a skincare consultation to help create a restorative and rejuvenating beauty routine.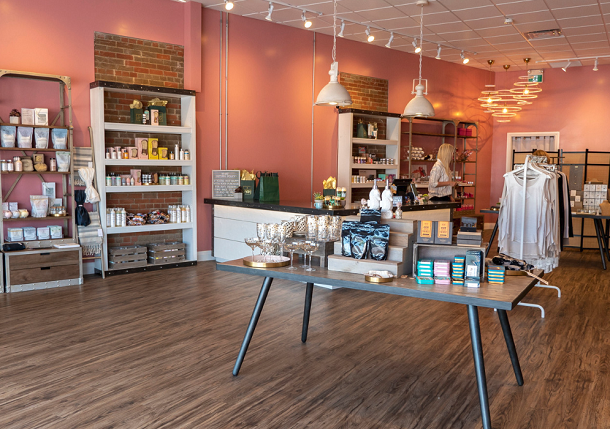 Getting to London and Windsor
There are a couple of options if you're traveling to London and Windsor from Toronto or anywhere else in Ontario. First, you can always drive to London and Windsor. London and Windsor are approximately two hours apart by car.
Travelling by train is a more relaxing choice. VIA Rail Canada has departures from Toronto and other cities in Ontario to both London and Windsor. Plus, it's a total breeze to take the train between London and Windsor. Once you're in the city, feel free to rent a car or use ride sharing programs to get around town. It's possible to travel around London and Windsor by bicycle, if you'd like to get some extra exercise in between your meals!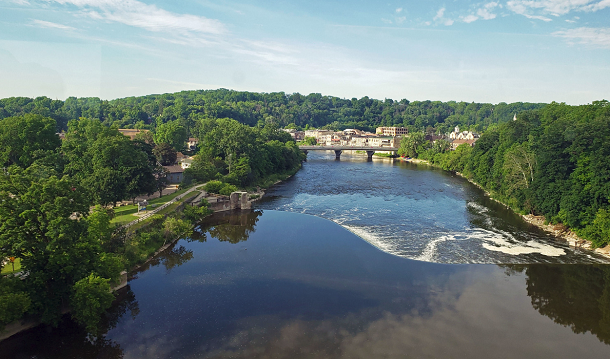 Bio: Lauren Yakiwchuk is a travel blogger and content creator at Justin Plus Lauren, based in Mississauga, Ontario. She loves outdoor adventures, discovering nature, and exploring big cities and small towns alike. As a lifelong vegetarian and longtime vegan, she aims to find and share the best plant-based meals around the world. You can follow her travels on Instagram and Facebook.