Discovering the Dairy Capital of Canada's Cheese Trail.
At its peak, there were 98 separate cheese factories in Oxford County. Today, cheese makers, specialty shops, farmer's markets, restaurants, museums and more are keeping this tasty tradition alive on the Oxford County Cheese Trail.
What follows is blogger, Hubert Leung's account of his trip exploring Oxford County.
Oxford County is located in Ontario's Southwest, less than two hours drive from Toronto. It is home to many farms, which also means lots of fresh and delicious food! I first learned about the farms and food in this area at the Ontario's Southwest City Fare event. This event showcased vendors from the region, including restaurants, craft brewers, vineyards, cheese farms, and even maple syrup farms! This past weekend I was able to discover more about the incredible food in Ontario's Southwest during my trip to Oxford County! Oxford County is known as the Dairy Capital of Canada and the Oxford County Cheese Trail consists of many cheese makers, specialty shops, restaurants and farmer markets.
It took us just under two hours to drive to Woodstock, one of the main cities in Oxford County and also where we would be staying for the night. We decided to check into our hotel at the Best Western Woodstock before heading out. The hotel was a Best Western Plus and everything was very clean and modern. I was surprised to see charging stations for electric cars and all the hallways were lined with pictures of Toronto landmarks (I like to think that they did this specifically for me!). I had a very enjoyable stay with their comfy beds and I even fit a workout into my trip at their 24-hour gym during this food trip.
We went to dinner at SixThirtyNine in Woodstock, a casual fine dining restaurant that you wouldn't expect to find in small town Ontario. SixThirtyNine has been open for 14 years and recently underwent extensive renovations in their dining room. They even have a Chef's Table area where you can see the farm-to-table food prepped right in front of you.
We had an eight-course meal, with dishes that screamed freshness. The dinner started with an Arancini Rice Ball with Handeck Cheese from a local cheese farm, Gunn's Hill Artisan Cheese. The following dish was a Buffalo Mozzarella Salad with fresh hothouse tomatoes, tomato jam, olive tapenade and tomato water to sip as you eat the salad. We also enjoyed the Dry Aged Family Farmed Beef Tartar and Spring Fed Trout Crudo that looked like museum art. The dishes were beautifully cooked and crafted, but the incredible flavours of farm-fresh ingredients that you could taste in every bite were definitely the main attraction. We were then given a spoonful of Spiced Apple Sorbet, a tasty palate cleanser I could eat all day.
For mains, we tried the Roasted Pickerel with Fresh Veggies and the Lamb Trio. Again, you could taste fresh in every bite. The Lamb Trio consisted of Lamb prepared three ways on top of Peas (Roasted Lamb Leg with Butter Snap Peas, Lamb Scotch Quail Egg with Minted Forked Peas, Braised Lamb Tortellini with Pea Puree). We finished the meal with a Strawberry Souffle and Sorbet dessert. Chef Eric Boynar is a skilled chef who has created a special place at SixThirtyNine, which is run by Eric, his wife, his mother and a team of chefs with a passion for quality and farm-to-table food.
After dinner, we stopped by the Charles Dickens Pub in downtown Woodstock for a drink. They have a big selection of local and imported beers on tap and ice-cold beer is always nice on a hot summer night. Their food menu consisted of pub food and some more unique items like the Curry Poutine with fresh cheese curds from Gunn's Hill Artisan Cheese.
The next morning, we woke up early and went back to downtown Woodstock to visit the Dairy Capital Cheese Shop. They sell cheese sourced from a variety of local cheese makers and also serve hot food at their deli counter. We grabbed a coffee to wake up and then stopped by the Gunn's Hill Cheese farm, also located in Woodstock. This is the site where they make cheese daily and also have a cheese shop where you can buy fresh cheese. Grab the cheese curds if they aren't sold out! The farm is located on a beautiful property that includes rolling green hills and endless cornfields. It's a nice quiet place away from the city to relax, and enjoy cheese.
Our next stop was Jakeman's Maple Farm. Jakeman's is a family owned and operated farm that produces some of the finest maple syrup from over 1,000 taps. They have been running since 1867, and have a gift shop on site for all your maple syrup needs. Jakeman's Maple Farm is located right next to a provincial park, the Trillium Woods Trail. The park consists of a short 1 km trail, which allows for a nice walk to enjoy the beautiful forest and its massive trees. In the spring, the floor of this forest gets covered in white trillium flowers, which is how the park got its name.
We hopped back in the car and made the short drive to the Village Cheese Mill, a small boutique cheese shop located in Salford, Ontario. They stock a variety of local (Bright Cheese, Gunn's Hill, etc.) and imported cheeses and also run a mini museum, where you can learn more about the history of the area.
We decided to take a break from the farms and made a stop at the Elm Hurst Inn & Spa, as we were told it is a nice quiet place to walk around. The property used to be the grounds for a cheese factory and is now a popular place for events, weddings, fine dining and spa vacations. They offer modern amenities and spa services right in Oxford County and also have a fine dining restaurant in an 1872 gothic revival mansion.
We had eaten a lot of cheese throughout the day, but we needed some lunch, which led us to The Olde Bakery Cafe in Ingersoll. I ordered a Reuben Sandwich and was pleasantly surprised that it was a Panini-styled pressed sandwich with a crispy bun, and gooey cheese all over the corned beef and sauerkraut. The Olde Bakery Cafe is known for their fresh baked desserts including a variety of Pies, Fruit Squares, Muffins, and more. Fresh local ingredients are the secret to their delicious desserts. 
I was still craving more cheese curds, so we drove to Bright, Ontario. We visited Bright Cheese and Butter, Ontario's oldest manufacturer of cheddar cheese. They are still in the same location as when they started in 1874 and Bright Cheese continues to produce quality cheddar cheese products for Ontario. We arrived at their factory store just before it closed and were able to buy some fresh cheese curds that were made that morning. The curds were delicious and squeaked when I bit them! Bright was our last stop and after a 1.5-hour drive, we were back in Toronto for dinner. I had an awesome time exploring Oxford County and hope to be back for more cheese!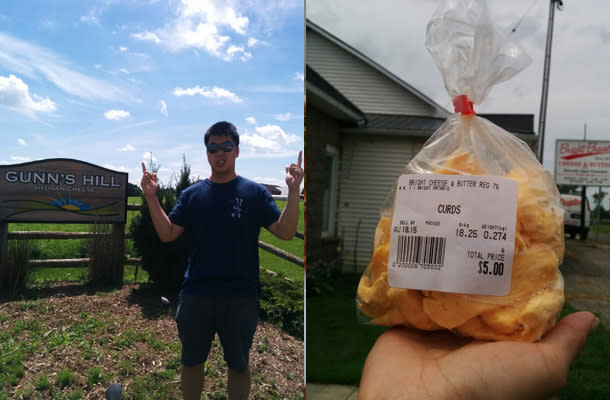 About the Blogger
Hubert Leung is a Toronto based food blogger and chaser of all things fun! He started blogging in 2009 and when he is not eating, you can find him working as a Physiotherapist. His blog Good Food Toronto follows his food experiences in Toronto and wherever his passion for food takes him. Follow his adventures on Twitter and Instagram: @GoodFoodToronto.