Make Ontario's Southwest your go to for unique, high quality, and immersive tourism attractions. 
You may already know about the tough diamonds within Ontario's Southwest. Last year, we interviewed five local businesses that were forge by the pressure of starting a new business or offering during a pandemic (click here to read it). This year, we are excited to bring you the stories of some of our other local gems.
A local gem is a community pillar that's loved equally by both the residents and the out-of-towners who can't wait to return. They are the human connections behind our favourite places. The friendly smile you know is beneath the masks. The people that turn acquaintances into friendships and that make a place into a home. We've identified four very different tourist destinations with business owners and curators who demonstrate what it means to be a local gem in Ontario's Southwest.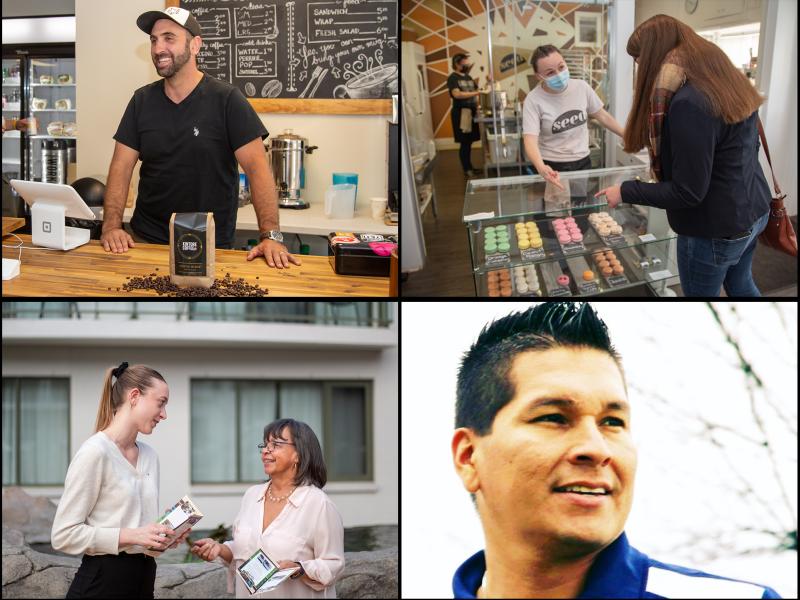 Kintore Coffee, Embro
Meet Todd Pearson, owner and mastermind behind Kintore Coffee Co. Todd is not only responsible for bringing delicious, high-quality drip coffee to a small-town café in Embro, he is now expanding Kintore Coffee products to grocery stores all over Ontario! Todd is a humble, kind, and energetic person that makes you feel cooler just by association.
The Kintore Coffee story begins in Hawaii, when Todd was working on a coffee farm, he became accustomed to high quality coffee, and struggled to locate an equivalent product when he moved home. So, he started roasting his own coffee using what he had available, an air popcorn maker. Using trial and error, what started as a fun hobby roasting excellent tasting coffee beans, became a great business venture, with an in-demand product.
Kintore Coffee Co. now has its own store front and café in Embro. The café is the perfect shopping destination for any travellers visiting Oxford County that want to immerse themselves in the local community. All sixteen vendors that have products lining the shelves of Kintore Coffee are local, unique, and produce items with outstanding quality. "The stuff that people are doing, it's just absolutely incredible and I feel like they didn't really have a stage to put their products out on. So, it's nice having the brick and mortar for people to sell out of," said Todd.
"Anybody can come in and shop. We have clothing, earrings, perfume, hot sauce, pickles, and meat." And of course, they have a great cup of coffee for you to enjoy while you shop. Supporting local is what Kintore Coffee is all about! When you make a purchase at a small, locally owned business, the money stays in the community. Business owners are likely to support other local businesses in the area because they know what it's like to be an entrepreneur and want to support each other.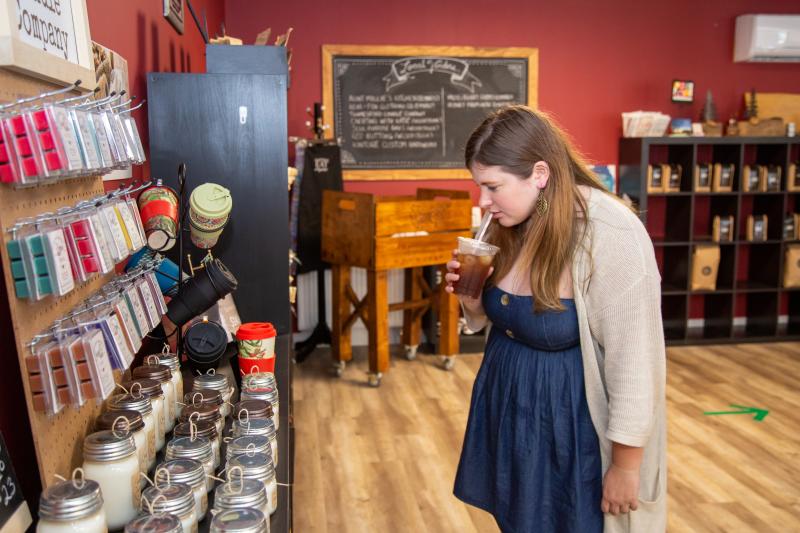 If you are looking for other ways to support local, Todd suggests interacting with local brands online. Sharing or creating social media posts about the local products you love will mean a lot to the makers. "Things like that go a million miles. It just shows the support," said Todd.
Make sure to follow Kintore Coffee Co. on social media (here) to stay in the loop! "We've got a lot of stuff in the works" said Todd, "cold brew season is coming up". Right now, all their canned cold brews are black, but they are working on some exciting flavours to add to the line-up such as vanilla and maple. Also, make sure to keep an eye out for Kintore Coffee at your local Zehrs, Loblaws, Value Marts or Independents.
Seed Confections, St. Thomas
Meet Gen Kroeker, owner of Seed Confections and chocolatier extraordinaire. Her unique and intricately designed confections are equal parts stunning and delectable! Gen is a fun, genuine, and caring person that takes the time to get to know those who stop by her shop.
Gen wants visiting her chocolate and confections shop to be a memorable experience. When you walk into Seed Confections, the first thing you'll notice is how "Instagram-worthy" the décor is. The kitchen is visible from the retail shop, and if you're lucky, you may visit at the right time to see them hand-painting chocolates. This really gives you an appreciation for the artistry that goes into each product.
Seed Confections is the sort of luxury you'd expect to find in the big city and that's exactly where Gen was heading until her dad had a serious accident. "I decided that I was going to stay and help out my mom, but they weren't sure if my dad was going to make it. Luckily, he made a full recovery. But it opened my eyes to what I should be doing with my time and where I want to live. The only reason that I didn't stay in my hometown was because there was no business, and no where to work that I loved. Doing what I do, making chocolates the way that I like to make them," said Gen. "So, I created it."
"I'm just lucky that I found something that I love and that I get to do it everyday, it makes it really easy to come to work," said Gen. Her favourite product to eat is the milk chocolate covered pecan praline. But her passion lies in the creating of the hand-painted bonbon chocolates. They take a lot of skill to create, and she enjoys the challenge.