The best part about supporting local is getting to know the people behind the businesses that make it all happen. This knowledge allows you to properly appreciate everything that goes into running the restaurants, bakeries, distilleries, breweries, and experiences that you love.
To help you get to know the new gems across Ontario's Southwest, we interviewed 5 tourism businesses that either opened, or were in the process of opening a new component, right before the pandemic hit. From interviewing each tourism operator, one thing has become abundantly clear, these diamonds are strong, sparkling, and are made under extreme pressure. If they can accomplish what they have during a pandemic, look out for what's to come in their future.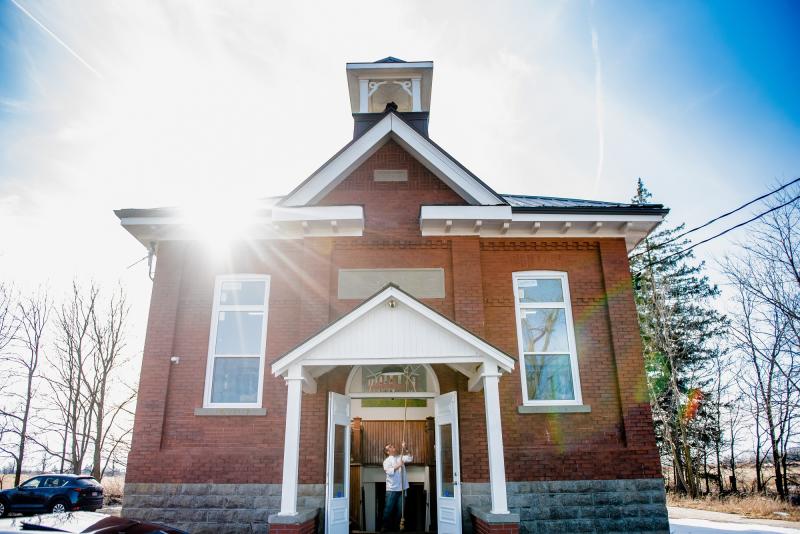 Please note that this story was written in 2021 and as of 2022, Chef Murray Zehr is no longer with the 1909 Culinary Academy. The original story has been retained so that readers know the origins behind this local foodie haven. 
Chef Murray Zehr is the executive chef and owner of the 1909 Culinary Academy. As an extremely experienced Red Seal Chef, he loves to share his knowledge. "Investing time training our future cooks on growing and preserving foods is an investment in humanity" said Chef Murray.
Chef Murray took his love for teaching to the next level when he purchased an old schoolhouse and renovated it to perfectly fit the needs of the 1909 Culinary Academy. This business was originally intended as a chef school, a restaurant, a location for cooking classes that would be open to the public on a weekly basis, and as a local culinary hub.
As per Chef Murray, prior to the pandemic, "we had full intention of being a culinary academy. We were also just starting our community classes. We were setting up our farm. We were getting our restaurant, which was open to the public three nights a week, ready to go and we had just set up a pantry where we were making all of our homemade preserves, jams, jellies, and breads for people to come through and purchase our wares."
After all the work Chef Murray put in, the 1909 Culinary Academy was open for less than a month before COVID-19 hit and forced them to close the doors. "We never put in the contingency plan that the world was going to pause" said Chef Murray.
When asked how they were able to remain successful, Chef Murray explained that "there was some trial and error. We tried 'grab and go' meals in the beginning and none of that was really successful. The tipping point for us was when we were allowed to have outdoor dining and outdoor seating."
The 1909 Culinary Academy patio was incredibly busy this summer. It safely provided foodies with everything they were missing, such as unique dishes, that were locally sourced and delicious, and a stunning patio to socialize on.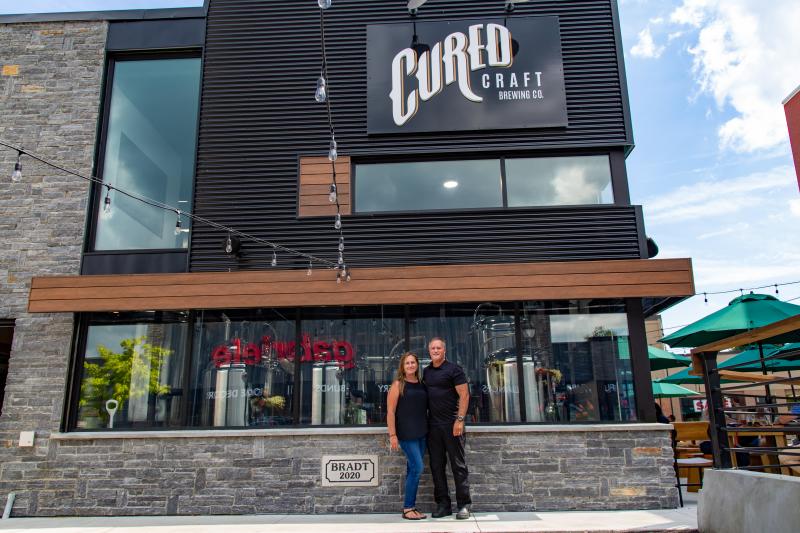 Lisa Bradt, co-owner of the Cured Craft Brewing Company, was two weeks out from opening the doors of Leamington's first craft brewery before the pandemic hit and brought everything to a stop. Since 2018, Lisa and her husband Scott had been planning, renovating, and working so hard to make the dream of Cured Craft Brewing Company a reality. But they had no way to predict what was to come.
Since Leamington was held in Stage 2 of the previous COVID-19 framework and couldn't open indoor spaces until August 2020, Cured Craft Brewing Company had to adapt and change their plans immediately upon their soft-open. "We were brand new and wanted to get our feet on the ground with our indoor capacity to work out all of the kinks before expanding to use our patio. But we had to do a complete reversal and only used our patio" said Lisa.
They are looking forward to the days when they can finally open at full capacity with 100 people indoors and 40 people outdoors. But until then, they will continue to follow the ever-changing regulations and provide customers with a safe and friendly place to be.
Despite all of the trials and tests, they've never swayed from their values and continue to source everything that they can from local sources. "We are a small batch brewery that hand crafts all of our beer on site. We don't outsource any of our beers. It is authentically sourced and produced as much as possible" said Lisa.
Locally sourced, high quality ingredients is a staple in everything that they do. You'll want to follow them on social because they are always introducing exciting new things! 
Prior to the pandemic, Michelle Debus and Irma Joeveer, co-founders of Paradigm Spirits Co., had been coordinating the final months of construction for their new distillery space within the iconic 100 Kellogg building. "We actually thought that we would probably be open in the May-June timeframe." Said Michelle, "the pandemic hit and construction kind of stopped. That really hampered our ability to get the facility ready for opening." 
By the time that the construction, the distillation equipment, and licensing were all in order, it was early December, and they were opening their doors just in time for the first weekend of the Merry Market. The Merry Market was a holiday market experience held at 100 Kellogg Lane. Guests could safely shop at the outdoor, "Vendor Village" which was located in the courtyard between Powerhouse Brewery and Paradigm Spirits.
"The biggest reason that we chose to build the distillery at 100 Kellogg was of course because it was becoming such a destination and the property has iconic roots" said Irma. While they always planned to have experiences at their distillery, having their first day during an experience as large as the Merry Market was a lot of pressure.
 "Most people have a soft launch. It was absolutely amazing, but absolutely exhausting" said Michelle. The Paradigm Spirts Co. team, under Michelle and Irma's leadership, rose to the occasion and were extremely successful. 
 "We've had to pivot a great deal right out of the gates" said Irma. There will be more events in the future for Paradigm Spirits Co., but those experiences will be a mixture of virtual, and in person with smaller capacities, for the time being. Check out their social media if you're interested in participating in a virtual cocktail class. These classes help people feel more connected at a time when connection has never been more important.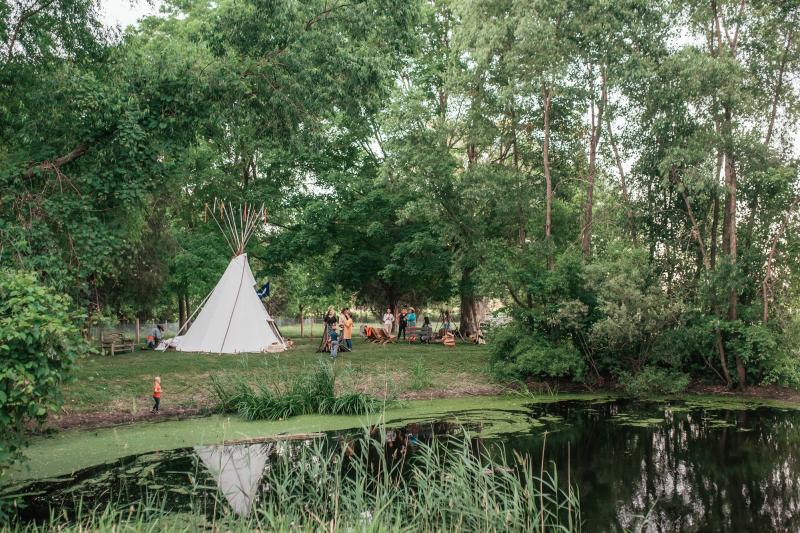 Terry Jenkins has been the co-owner of TJ Stables with her husband for the past 35 years. "Anyone with a love or a passion for horses can come to TJ Stables" said Terry. People would come to the farm for riding lessons, horse trail rides, birthday parties and corporate events.
Right before the pandemic hit, Terry joined the efforts to save a rare and endangered horse breed called the Anishinabe Ojibwe Spirit Horses. These horses were native to Canada, but were brought to the brink of extinction by Canadian health officials in the 1960s. By bringing a herd of Spirit Horses to be cared for at TJ Stables, Terry and her husband hoped to keep this Indigenous horse breed from extinction.
When the pandemic hit, they didn't know what they were going to do. "The horses didn't know that there was a pandemic" said Terry as she reflected on the fact that the horses continue to eat even though TJ Stables had to be shutdown for a large portion of the year.
When restrictions lifted, they pivoted their business and created their Spirit Horse TIPI Encounter (renamed as Awaken YOUR Spirit). This experience includes an overnight stay in an authentic Tipi, a tour of the farm, and allows people to experience the healing powers of the Spirit Horses. "We have experiences that touch your emotions" said Terry. Click here to read Lost with Luis' detailed account of this authentic Indigenous experience.
So, what's to come for TJ Stables? They'll continue to run their Awaken YOUR Spirit experience. This 3 hour experience is perfect for all ages and will captivate and educate guests about Indigenous culture, resilience and recovery like no other. And for those that want to stay overnight, the TIPI Overnight Adventure is for you. 
Make sure you follow them on social media to stay up to date on everything to do with TJ Stables and the loving Spirit Horses.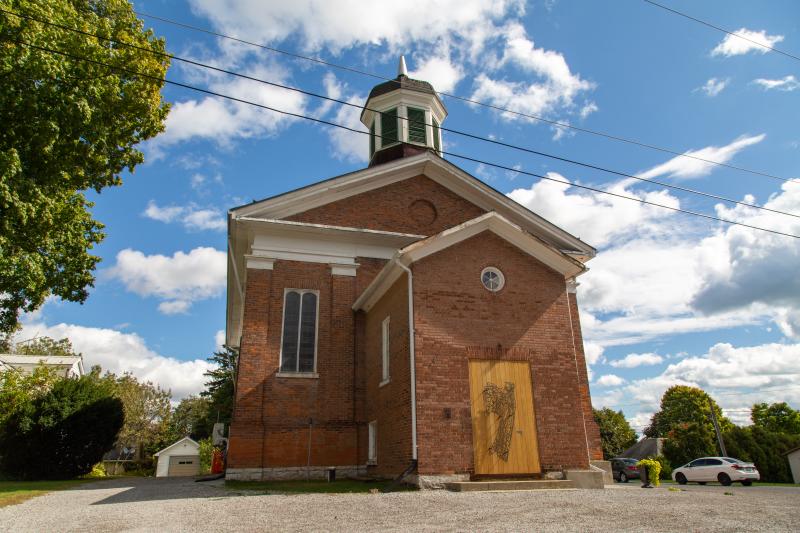 The Good Bread Company is known for their delicious and high-quality bread products! Prior to the pandemic, Richard Posavad, owner of the Good Bread Company, and his business manager David Newton were looking to expand operations.
They were just finishing renovations on the historical Vittoria Baptist Church. The space was repurposed to host concerts, meetings, exhibitions, films, and weddings on the top floor of the Church, also known as Richard's Hall. They already had some events booked in the new space, but they had to be cancelled when the pandemic hit.  
In the lower level of the church, they were working on a Gallery Café that would sell Good Bread Company products and would become a restaurant that people could dine-in at. As a result of the pandemic, "the Café was postponed, but we were able to hold artist displays and feature some local vendors with products in the Gallery Café space" said David. They also added tables for outdoor dining and provided picnics for their customers to enjoy.   
When restrictions were lifted enough, they were able to welcome guests into Richard's Hall to enjoy a live performance of Messiah. To meet the demand of people that wanted to enjoy this event, they sold additional tickets to the live stream and many people were able to appreciate the live music from their homes. "The musicians said that it is so refreshing to have the audience" said Richard. "People are so hungry to get out into the social environment."
To see what is to come in the Good Bread Company's future, I highly suggest that you subscribe to their newsletter. Their witty prose will keep you entertained and up to date on bread they are selling, the progress of the Gallery Café, events at Richard's Hall, and on future collaborations that they are planning. You can sign up for it on their website, here.
---
There is no secret that the past year has been challenging for the entire tourism industry. But this isn't a story about the challenges of the COVID-19 pandemic. This is a story about the people in Ontario's Southwest that had the tenacity to get back up every time they were knocked down during the pandemic.
You should take the time to get to know the diamonds in your community. These are the real people that read the reviews you write and truly care. They aren't faceless and nameless corporations. Their names are Murray, Lisa, Michelle, Irma, Terry, Richard, and David and they are irreplaceable staples within our communities.