Savour culinary gems in Middlesex County and along Great Lakes shorelines.
One of the many pleasures of culinary travel 
is discovering the hidden gems and homegrown treasures that define a destination. In this particular slice of Ontario's Southwest,
such hidden gems can be found within the agricultural heritage landscape, often referred to as "a community of communities" in Middlesex County and the crisp blue waters 
of the Great Lakes region in the heart
 of Sarnia-Lambton.
Friday
Check into the Hotel Metro in London, which offers a boutique hotel experience where you can relax, enjoy and dine within steps of the Budweiser Gardens, the historic Covent Market, Grand Theatre and many of London's best restaurants and bars, including the famed Richmond Row. An architectural blend of modern and historic design complements this private 20-room hotel that delivers personal service during your stay and eclectic menu at its Blu Duby restaurant and bar.
For dinner, head to The Only on King, which was recognized by enRoute magazine as one of Canada's top 10 new restaurants in 2008. The Only on King offers an ever-changing, locally sourced daily menu. Chef/owner Paul Harding is guided by a farm-to-table philosophy and a cooking repertoire that is classic, clean and both rural and modern.
Saturday
After enjoying a casual breakfast at your hotel, check out of your room and get an early start to the day by visiting London's most popular culinary attraction, Covent Garden Market. Open daily with indoor fruit, vegetable, meat, cheese, chocolate and flower stalls alongside restaurants, take-out counters and a myriad of other purveyors, the market also offers a seasonal producer-based Outdoor Farmers' Market on Thursdays and Saturdays, starting at 8 am. Take a leisurely stroll through the market, sampling as you go, before departing the city for the wonderful culinary experiences that await in neighbouring Middlesex County.
Apple Land Station in Thorndale is a first-generation, pick-your-own apple orchard in Thames Centre, just east of London. They've been providing high-quality seasonal produce for the local community since 1986 and run a store featuring local gourmet food, as well as a bakery offering homemade fruit and meat pies. Activities for children include a tour of the orchard in a one-half scale 1850's Model L train, an animal barn, a giant sand mountain and much more.
Located just north of London, Arva Flour Mill is a fourth-generation operation, which first opened its doors in 1819. With water power from the Medway River generating the energy, high-quality, whole wheat, unbleached, pastry and organic flours are produced here. In addition to flour, the Mill Store sells cream of wheat, cracked wheat, grains, cereals, pastas, spelt, beans, rice and baking supplies. The Millhouse, the second store, offers a wide range of local, natural and organic frozen meats, poultry, seafood, local cheese, deli meats, sauces and preserves.
At Kusterman's Berry Farm in Mount Brydges the first blueberries were planted in 1984. Today, this family- run, pick-your-own farm offers blueberries, raspberries, strawberries and pumpkins, as well as a market with baked goods, local produce, kitchen items and refreshments.
After a full day of touring, you will be ready for an evening of relaxation and there's no better place than downtown Strathroy's historic Clock Tower Inn. Built in 1889, it was designed by Thomas Fuller, the architect for Canada's Parliament Buildings. On the main floor, you will find The Strathroy Ale House & Pub, where a post office and Customs House once resided. Known for its wide selection of fresh and local pub fare, this dining institution is the ideal place for you to enjoy dinner before calling it a night.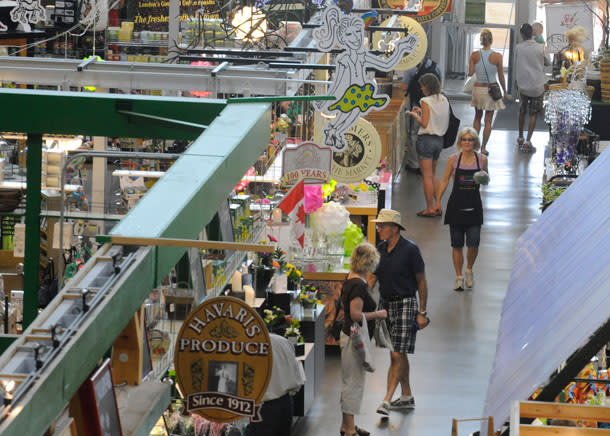 Sunday
Start your day at The Family Table restaurant in Strathroy for a fresh approach to breakfast. Chef/ owner Chris Podgornik uses only real ingredients to make your breakfast 
or lunch experience a memorable one. During the summer, they also offer premium Shaw's ice cream on their adjoining deck.
After a leisurely breakfast, head to Alton Farms Estate Winery in Plympton-Wyoming. Alton Farms Estate Winery is currently the only vineyard and winery in Lambton County. In September 2005, Marc and Anne Alton moved to Aberarder Line in Plympton-Wyoming with a goal of creating a vineyard and winery where they could make delicious wines and create a new wine region for Ontario. 
Now with their winery licenses in place, the Altons have released their first seven wines made from 100% estate grown grapes. Visitors are welcome to taste the wines and enjoy the beautiful property.
Next, head to Forest Glen Herb Farm and Lavender Bed & Breakfast in Lambton Shores. Visitors are welcome to stroll the many gardens of the Forest Glen Herb Farm, which is based on old- fashioned farming practices. Browse the 140-year-old barn, now a shop filled with culinary and fragrant herbs, dried flowers and herb products. Herb talks and classes are available for groups. The B&B is located on the southeast corner of the property on the shores of Lake Huron, a half-hour drive north of Sarnia. Forest Glen Herb Farm is the proud recipient of two Premier's Innovation Awards for Agri-Food Excellence.
End your day at Purdy's Dockside Eatery in Point Edward. More than a century ago, The Purdy family began selling fish door-to-door with 
a fishmonger's cart. Purdy's Fish Market was added in the early 1970's and
 today is a quaint specialty shop and restaurant supplier. Purdy's catches their pickerel, whitefish, lake trout and yellow perch from the Lake Huron, using proper conservation efforts and ethical fishing practices. Stop by and enjoy a plate of Purdy's Famous Fish and Chips during the summer season.