There's a lot to do in Ontario's Southwest, especially when it comes to wine, beer, and cider. Fortunately for you, there are fabulous tour providers in the area who will drive you to and from the vineyards and breweries. When you're done enjoying some of the delicious food and drinks the region has to offer, stay in relaxing accommodation nearby!
Here are the top tour operators in the region ready to help you sip the best of Southwest Ontario:
Ride the Bine Tours
Ride the Bine offers many tours in London and Norfolk County. Each tour has a theme to it, such as the "Com'bine'd Tour" in Norfolk, which delights you with 4 stops that include tasting flights of wine, beer, and cider all produced locally with love. Stops may include: Burning Kiln Winery, Inasphere Farm Winery, Blueberry Hill Estate Winery, and New Limburg Brewery.
Or if you are just a beer lover at heart, Ride the Bine also offers a Half Pint Tour and a Full Pint Tour in London. Some stops include local London breweries such: Anderson Craft Ales, London Brew Co-op, Forked River Brewing Co., and Storm Stayed Brewing Company.
The great part is that all the tours have been curated by local guides with the goal of providing the best experience for you. If you have a few wineries and breweries in mind, Ride the Bine has a private tour option, with a 10-guest minimum.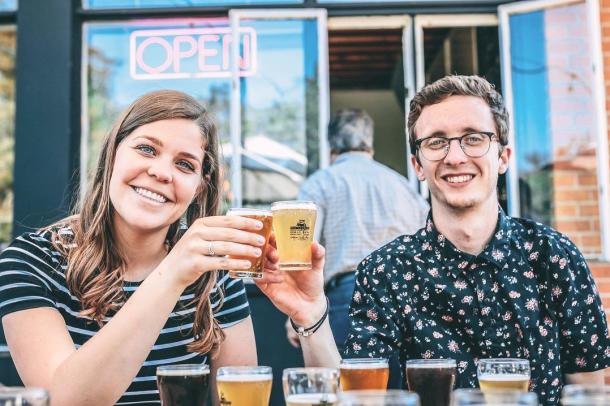 If you're in the London area, you can stay at the Four Points By Sheraton London, it has a fitness center, pool, and it's pet friendly! Or stay at the Rosneath Bed and Breakfast, a picturesque neighbourhood in the Old North-Bishop Hellmuth Heritage District where you can experience a quaint and cozy atmosphere to relax in!
If you're in Norfolk County and want to stay in a charming Victorian-style building, well you're in luck! Bear Hug Bed & Breakfast Inn is a renovated Victorian style home that pre-dates Canadian Confederation and the American Civil War. Relax in a B&B that has houses more than 160-years of history!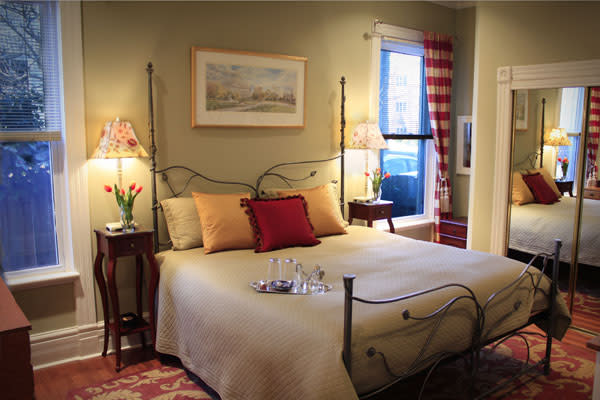 Grape Vine Tours
Essex County is known for having great vineyards and wineries, and Grape Vine Tours offers small group tours from two to twelve people to some of the wineries. While each tour is different, an example of some of the things from the "Wine and Brew Along the North Shore" tour include: a flight of their craft beer consisting of 3 or 4 samples, lunch at one of the wineries or breweries, and a tour of winery production facilities, and more.
After a day full of trying great wine across the EPIC Wine Region, stay at the charming Colchester Harbour Guest House. Located on the waterfront of Lake Erie, it offers a scenic view, and was recently renovated! Or stay at the Best Western Plus Leamington, which features a large pool and a water slide.
Wave Limo & Tours
The Sarnia-Lambton region is thriving with a growing number of astounding breweries, restaurants, and experiences. With so many options in the region, it can be daunting to choose what to do, and where to go… Luckily, Wave Limo & Tours has a tour for you! Wave offers tours leaving from Grand Bend and Sarnia. For the better part of a day, enjoy a beer and wine tour in the region, visiting stops like Refined Fool Brewing Co., Alton Farms Estate Winery, Twin Pines Cider, and more. They have various tour sizes, so contact them to see if they can fit your group. While you're in town try out some of the local gems Ontario's Blue Coast has to offer! When the day is done, relax in comfort at the Hampton Inn by Hilton, a short distance from the heart of Sarnia. It has various amenities, such as a large indoor pool, fitness room, and more!
Wave Limo also has a very unique way to explore the craft breweries of London - their PedalPub. This is the only PedalPub in all of Ontario! You and up to 11 guests can pedal your way through the Forest City visiting breweries and enjoy tours plus sampling at each.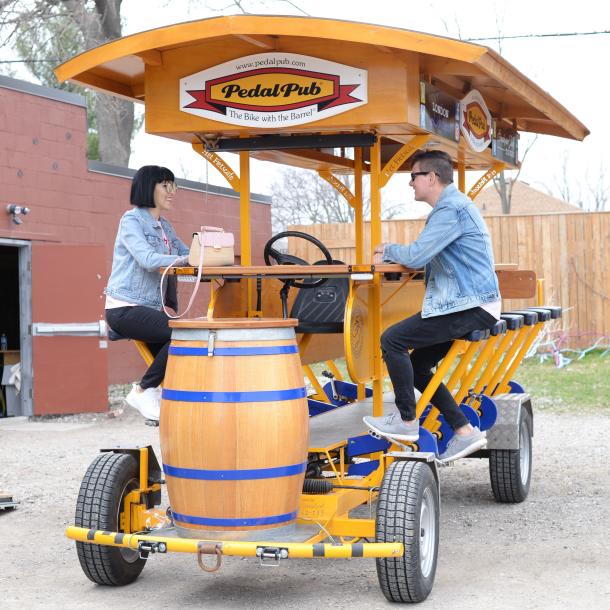 Buzz Tour Company
Buzz Tour Company offers beer, wine, and cider tours in the Norfolk County region from the K-W area. They offer tour packages for groups of 4 - 20 people. For groups larger than 20, you can contact them directly to fit your group's needs. From intimate group tours great for couples, girls day getaways, small adult families or that special occasion for a small group, to large group tours, Buzz Tour Company has many different options.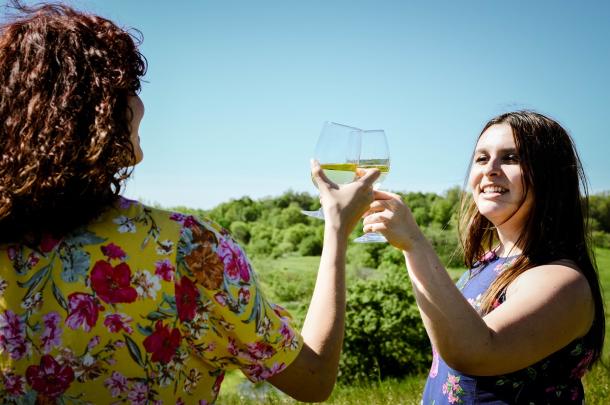 Stay at the Clonmel Castle, a luxury boutique bed and breakfast. The estate features a conservatory, dining room and convention hall. And if you're staying on the weekend, "High Teas" are available on Sundays!
Ontario's Southwest has so much to offer, and with great offers and experiences available around the region, you don't have to choose just one place to stop at!