Lapped up the smooth spirits of Wolfhead Distillery and hungry for more?
The spirits are just one set of delectable items that will tickle your taste buds at the distillery; there's a fabulous restaurant and patio too! In fact, Wolfhead is the only craft distillery with an on-site restaurant in the whole province. Check out my blog on the distillery tour and tasting if you'd like to learn more about the amazing spirits from Wolfhead.
Much like the rest of the facilities, the restaurant at Wolfhead is gorgeous and has a great atmosphere. The bar was designed by a local artist and the recycled wood pieces utilized throughout the space give the venue a really homey feel.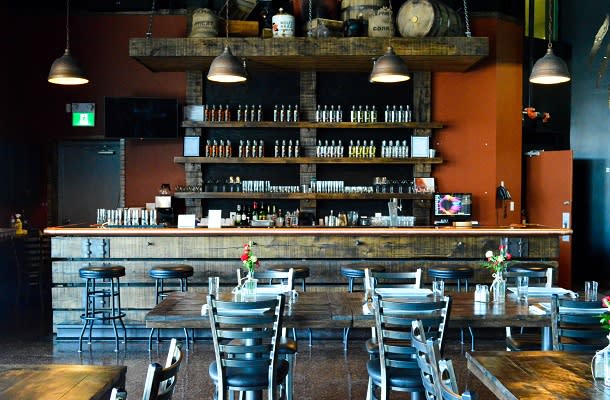 The menu is full of fabulous food items made from the bounty of Essex. The chefs utilize as much local product as possible in their dishes. We started with charcuterie boards, one veggie with in-season local vegetables & hummus and one featuring dry-cured salami, prosciutto and Ontario cheeses called the Wolf Pack board. Both boards came with amazing in-house made chutney. I usually go for meat, however mixing both boards and the freshness of the local produce had me nibbling a bit of everything.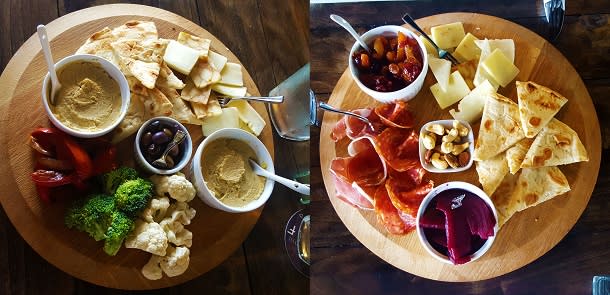 The main course was a plate of fall of the bone ribs smothered in Wolfhead's own sauce accompanied with a side of sweet thai chili wings; my favourite kind of side dish, meat! Both meat dishes were cooked to absolute perfection and I have to admit I ate well past my fullness threshold…so worth it though!
Stuffed to the brim, our hosts brought out a special sneak peek drink they've been working on that's not yet available outside the restaurant – a vodka cooler that tastes just like a white freezie! It was so well done; you can't even tell there's alcohol in it! When you visit, be sure to ask if it's available to try as supply is limited and it's only available during restaurant hours, open Wednesday through Sunday.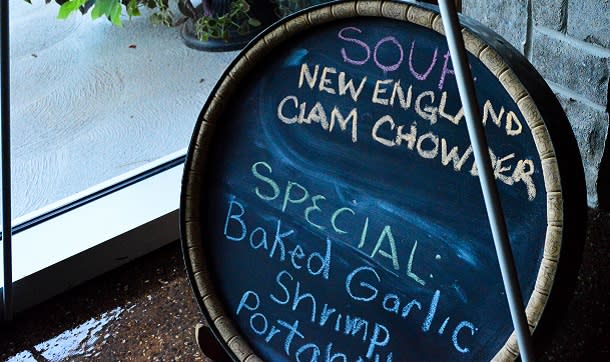 Taking another peek at the menu, I noticed so many other great dishes that I'm already planning my next visit; gotta try the Wolf Paw Burger and the Lake Erie Perch dishes.  I also noticed that Wolfhead continues the tradition the local restaurants, wineries, and breweries have of supporting and featuring each other's products. On the drinks menu, to go along with their own craft spirits, and mixed drinks made with those spirits, Wolfhead offers a number of local Essex County wines and a craft beer on tap. I absolutely love this type of commitment to locally sourced products and working together to show off the area's great products.
Speaking of wine, it was time for this wolfpack to leave the Wolfhead Distillery den and hit the road to discover a few of the vineyards in Essex Pelee Island Coast wine country. I'm not sure if I had any room for more sampling…but it's never stopped me before! :)