Home to the largest concentration of both craft breweries and wineries in Ontario's Southwest, Essex is one tasty county!
Everyone that knows me will tell you that I love to eat local and drink local. Seeing where the food and drinks I enjoy come from makes them taste that much better.  One of Ontario's best known spots for top notch local wine, beer, spirits, food, and more is Essex County. Naturally, as soon as I was asked if I wanted to go for a tasting tour of the area, I ran to the car before my companions were even done asking.
Our first Essex Pelee Island Coast (EPIC) winery stop of the day was Muscedere Vineyards. The most in-land of the Essex County wineries, Muscedere has an earlier harvest compared to the other wineries in the area that are closer to the shores of Lake Erie, with the grapes being ready two weeks earlier.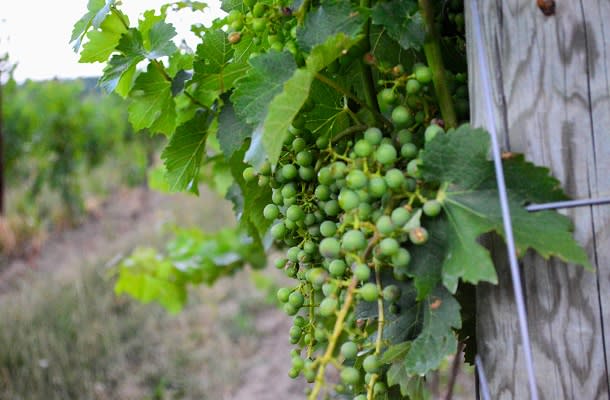 Muscedere Vineyards is also one of the smallest wineries in the area, with 13 acres of planted vines. All the grapes are harvested by hand only to ensure the best quality goes into each barrel and this commitment to quality comes through in each of the award winning wines. The winery crafts small batches so the number of available wines changes with up to seven reds, three whites, and a rose available to taste and purchase at the retail boutique.
We tried five wines, two reds, two whites, and the rose while taking a tour of the vineyards, the tasting bar, cellar, and the amazing patio. Be sure to go say hi to the very cute baby goats by the patio! In addition to the great wine, Muscedere also has amazing wood-fired pizzas too. They have a great menu of pizzas available; however we were treated to one that's reserved just for a regional wine event that happens across the EPIC wineries. It was super tasty, I was too busy eating to ask what all the ingredients were. We also tried a dessert pizza covered in Nutella with a handful of icing sugar sprinkled across it; my mouth is watering just thinking about it again. I'm glad we hit the road to our next stop before I could order a whole pizza just to myself.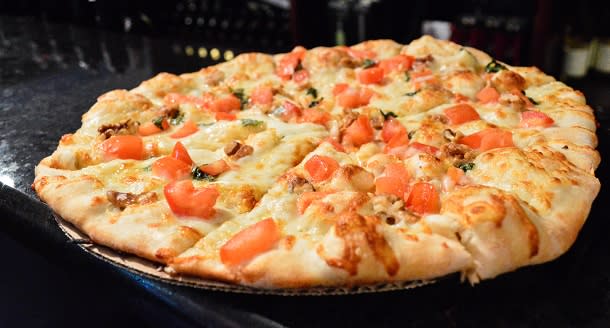 Sprucewood Shores was our next winery. One of the larger wineries in the region in terms of production and facilities, Sprucewood Shores Estate Winery has a gorgeous facility sitting on the shores of Lake Erie. There's 35 acres of vineyards with vines as old as 25 years. Sprucewood has a great line-up of wines available from the usual red, white, and rose to fruit, flavoured, and even an ice wine with many winning numerous awards. Two of their wines are available at over 200 LCBO locations across the province with a third being added very soon. However, you really have to come see this winery yourself to get the full experience.
The beautiful stone building that make up the main part of the facilities is 10 years old and sits facing the waters of Lake Erie. The beauty of the winery means many wedding are held here each year and resulted in Sprucewood putting up a brand new event hall to accommodate. There's even private beach front where you can take a glass of wine and a picnic basket available at the retail store down to the sand and that's just what we did!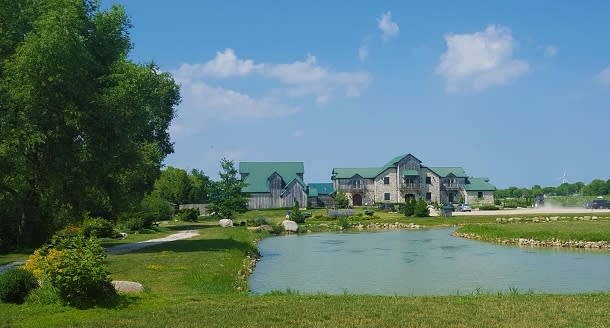 After relaxing on the beach we hit the road to Stone's Throw Cottage a short drive away. Situated overlooking the waters of Lake Erie, Stone's Throw Cottage is the newest accommodations option in EPIC wine country; it's even located right beside Oxley Estate Winery.  You can see the vines from the front door and walking to the winery takes less than 30 seconds! In fact, you're a short walking distance to a couple wineries in the area.
The cottage is newly renovated from top to bottom by the owners Jody Goslin and her husband.  The main cottage building is actually not original to the property; it was moved here over 100 years ago. The original building 130+ year old cottage that was on the land is still on the property too. Jody actually has plans for it in the future. No matter what she has in store, I know it will be amazing based on what we saw at Stone's Throw Cottage.
Stepping inside, you walk into a beautiful open concept kitchen and living/dining space. The kitchen is fully equipped with brand new stainless steel appliance and all the cookware you need; all you need to bring is the food. There's a big couch and an amazing dining room table made from wood from the property. For sleeping, there's three bedrooms including a master and two rooms with multiple beds in each; the cottage comfortably sleeps six people even without sharing beds.
Now onto the amazing view! A large deck sits at the back of the cottage with a gas fire table, plenty of Muskoka chairs, and an amazing view of Lake Erie; a whole lot of brush to create the unobstructed lake view. Sitting on the cottage deck and overlooking Lake Erie in the sunshine with a glass of wine is what EPIC Wine Country is all about and there's no better place to do it than Stone's Throw Cottage.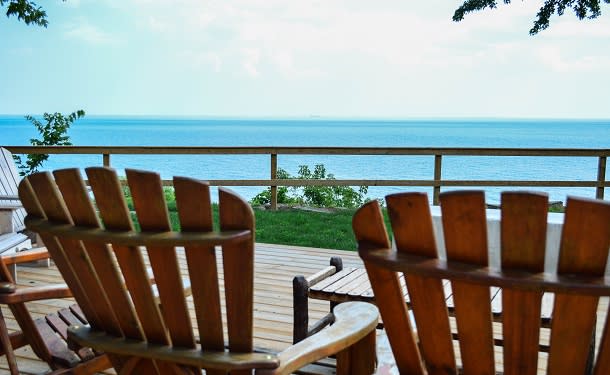 The last winery on our tour list for the day was another one of the region's larger wineries, Cooper's Hawk Vineyards. Named after one of the many birds of prey that frequent the vineyard, green spaces and wetlands on the property, Cooper's Hawk sits on 67 acres and features an on-site restaurant, events space, big spacious patio, a stage, and an amazing tasting room. The restaurant, named The Vines, features as much locally sourced products as possible on the menu and numerous made from scratch items like the delicious kettle chips we got to sample with our wine tasting.
We were lucky in our timing as Cooper's Hawk had just released their very limited HeritaGe 2013. Made from three new grape varieties tailored to suit the unique climate of Ontario, these grapes in this full-bodied red were born right here in Harrow, and result in an amazing home-grown, from grape-seed to bottle, EPIC wine!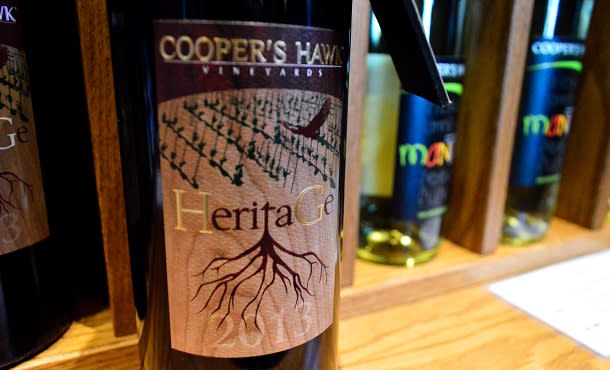 One of the most unique aspects of Cooper's Hawk as a vineyard is that they cater to younger families with small kids as well as seasoned vinos. The vineyard has a big open lawn space by the patio and a full playground; they even offer wagon rides on the property. All this means that you don't have to leave your kids at home, they can have fun outdoors getting a bit of the farm experience while you sip a glass of wine on the patio.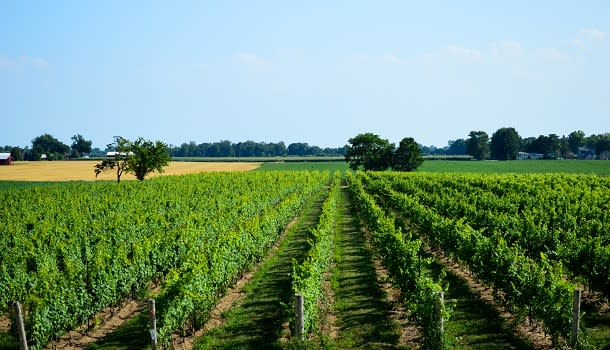 As we approached the evening, all the exploring of EPIC wine country had worked off all the Muscedere wood-fired pizza and Wolfhead eats so I was starting to get hungry. Luckily I didn't have to wait long as our next stop was Jack's Gastropub in Kingsville. Jack's is known for their commitment to the local bounty of Essex, changing their menu four times a year to make sure the dishes available are made with fresh in-season ingredients.
I've been to Jack's numerous times before and it is easily in my top 5 favourite burger places in Ontario. No matter what burger you pick and no matter what's in season, it is always perfection. As everyone at the table asked me which burger I would order, I decided I would switch it up this time because I saw something on the summer menu that really caught my eye; the Canadian Club. This glorious sandwich is grilled chicken topped with maple-cider mayo, sliced apple, cheddar cheese and smoked bacon all on a grilled naan. It was quite filling especially since we started with the amazing Cuban Spring Rolls, spring rolls filled with pulled pork shoulder!

On the side, I enjoyed a paddle of Jack's own small batch craft brews. Under the label Banded Goose Brewing Co., the nano brewery produces multiple seasonal brews in small quantities to serve at the restaurant. My favourite of the three I tried was the saison which was perfect for sipping on a sunny evening.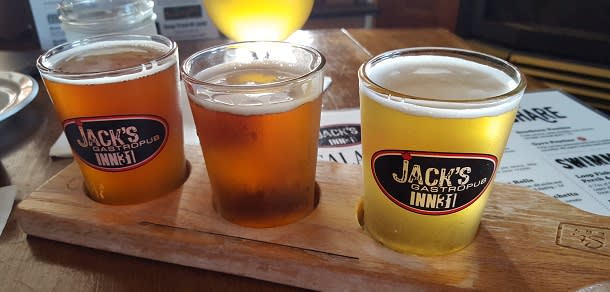 Now off to dreamland to rest up for tomorrow adventures in the great outdoors including paddling at Point Pelee National Park. I know I'll be dreaming of the amazing wines, vineyards, and food I got to experience today on an EPIC day in Essex County. To think there's so many other vineyards still left to discover, you need a whole weekend just to see all the wineries of Essex Pelee Island Coast!