A garlic-filled meal and a great live show.
It was my first trip to London Ontario and it set the bar high for all future trips. On the agenda dinner at Garlics of London and then right next door a performance of intimate Apparel at the Grand Theatre. I'm starting to discover that there is a lot of great local theatre across Ontario so I'm going to start sharing these experiences more.
Garlics of London
My only recommendation for this restaurant is be prepared to eat and come with a really big appetite. Also be sure to make a reservation, especially on nights when the theatre next door has an event or show. This high end restaurant is popular and definitely a must visit if you are in the London Ontario area.
You can enjoy a prix fixe meal for $30 or select items off the menu at will and we did both options during our dinner and the result was extraordinary. The restaurant prides itself on fresh, made from scratch fare using local ingredients and theme of the evening is garlic. This restaurant will not disappoint. Everything from the great and knowledgable service staff to the artistic culinary creations made this restaurant a new favourite of mine.
Garlics of London, Dinner A la Carte
If you have a full table of people to share the appetizers then I recommend the Garlic Frites and the Brie and Garlic Toast. I think the pictures depict the mouth watery goodness that we ate and honestly I can't even describe in words the melt in your mouth goodness of the flavours in these dishes.
There are rich flavours of garlic and cheese but not overpowering as you might think. While the garlic is the hero of the dishes it didn't overpower your palate or make you conscious of your breath afterward.
After the appetizer indulgence I shared the pear and arugula salad which was another flavour explosion. When salads are infused with flavours including the sweetness of the fruit and the tangy dressing and then include subtle hints of garlic and cheese which all seem perfectly balanced in each bite I take… well I think I could eat a lot more salad if I knew how to make it like this.
For my main I enjoyed the pan seared atlantic salmon. Can you see the mouth watery goodness in this picture? The salmon rested on fried Brussel sprouts, fingerling potatoes and caper hash, the butter and lemon sautéed vegetables with a shaved fennel marmalade.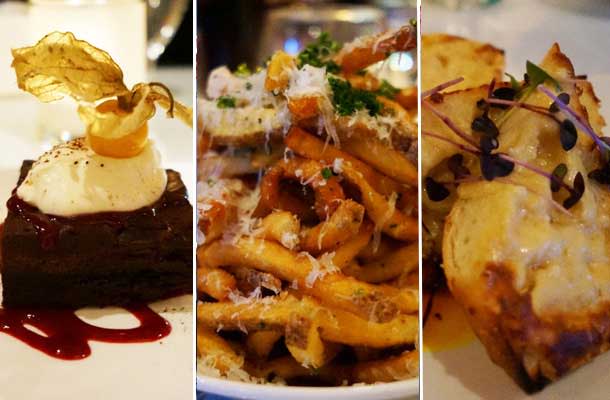 Garlics of London Prix Fixe Menu
If you want some help choosing from this inspiring menu then you may want to try some of the favourites paired out for you in Garlics of London's prix fixe menu. To start you will enjoy this Garlic Bisque made with roasted garlic, caramelized onions, potato, cream, thyme and topped with a truffle oil garnish.
The main was a flat iron beef steak with potato mash, roasted root vegetables and Garlic's of London's amazing house reduction sauce.
By this point there was no room for dessert, but the Garlics of London prix fix menu includes this decadent flourless chocolate cake and the table shared it together.
The Grand Theatre, London Ontario
Located next door to Garlics of London, the Grand Theatre is an impressive company featuring many shows and local activities. The original theatre dates back to 1901 and while it has transformed over the years into a movie theatre, it was renovated again in 1970 to the magnificent building it is today.
The show Intimate Apparel was absolutely delightful. Not at all what I expected and I found myself getting caught up in the story and the characters throughout the performance. I don't want to give it away but let's just say I was still talking about this play hours after it was done!
There are many hotel, dine and play packages available through Tourism London and if you are looking for a weekend escape this is a great way to getaway, enjoy some amazing local cuisine, a great local show and hideaway at a beautiful hotel. I recommend the Idlewyld Inn. See my review here.
To see more pictures from this trip and read more Dream Travel Magazine blogs, click here.
The Grand Theater will be taking a Grand Intermission by postponing their season until the fall of 2021.