ON THE ROAD IN OXFORD COUNTY – One of Canada's top cheesemakers. A stunning B and B in a romantic old home. A fine art gallery. Oh, and great craft beer and handmade chocolates. 
Oxford County has a growing reputation for fresh, local food that will satisfy the most demanding of Top Chef viewers. I had the chance to sample several fabulous spots during a short visit last week, as well as a night at what might just be my dream house, a Woodstock beauty on what could be Ontario's handsomest street. Not to mention checking out a lovely art gallery.
I started things off with a visit to Mountain Oak Cheese, where they have a photo from Rick Mercer's visit last year. I don't think it's their motto, but "All Gouda, All The Time" is pretty much how they do things at Mountain Oak, with 18 varieties of gouda on offer.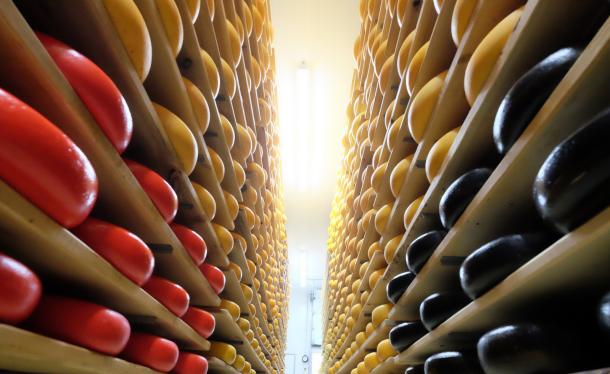 Some are fresh and bright, others aged for several years. Still others are flavoured with tasty truffles or get smoked.
They get the milk from their own herd of cattle and grow all their own feed, so they know exactly what they're getting. There's also an animal nutritionist who makes sure the cows are healthy and get the right mix of food for their own good, and for the sake of the cheese.
Head cheesemaker Adam van Bergeijk is up to his elbows in water and whey and curds when I come into the main cheesemaking room. He tells me he had a farm near Rotterdam in Holland and came to Canada in 1996 with the aim of setting up a dairy farm, versus making cheese. But he got back into it after a few years and tweaked the recipe he had used for so long back in Europe.
"It's a little different," is all he'd tell me about his secret methods. "The weather is different here and the feed is different."
What about the animals, I ask.
Van Bergeijk laughs.
"Ha," he says. "Cows are cows."
Van Bergeijk says he likes a mild gouda in the morning, and something else mid-day. At night he'll go for a stronger cheese with a glass of red wine. He also suggests the chili pepper gouda is great on a burger.
I get a tour of the back room from Mountain Oak worker Chris Bruines. He tells me there are a whopping 3,300 wheels of cheese, each weighing 8 to 12 kilograms. I keep thinking I'd never have to buy food to take to another cocktail party.
Most of the cheeses are yellow but some have a red coating (the chili pepper infused cheese) and some black (the truffle cheese). Bruines explains that they don't add wax to the cheese. We see the wax on cheese brought over from Europe because it keeps the cheese from aging as it makes it way across the ocean. Mountain Oak wants its cheese to age, so they skip the wax.
He also tells me the cheese is stored at 13 degrees Celsius so that, again, it can age a little.
I try the mildest gouda, which is sweet and mild. I also try the aged gouda, which is slightly crystallized for a nice texture change and deeper flavours. The truffle cheese also is nice and not overdone. There's even one with celery leaves.
They sometimes have tours, so check their website or give them a call at 519-662-4967.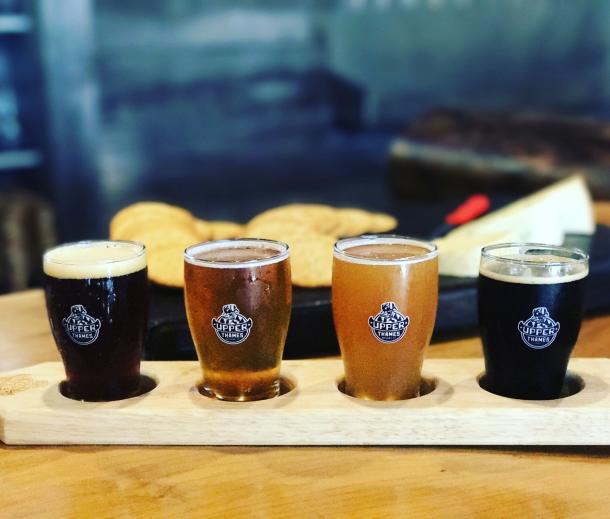 From Mountain Oak it's over to Upper Thames Brewing, a nice space decorated with a hanging, overhead canoe and with the beer menu written out on a massive, circular saw from an old mill. Thankfully it's securely fastened to the wall, not hanging over the head of patrons at the bar.
Three of the five guys who started the brewery are local firefighters, which is pretty cool. They love their beer, but they wisely brought in a craft beer expert to help with the finished product.
They use local pumpkins to make their pumpkin ale in the fall and serve Gunn's Hill Cheese with their beer and cheese pairing, which I thoroughly enjoyed. They use local hops and malts and make a variety of great beers, including smooth, malty brown ales and other beers that avoid the high alcohol content you see in many craft products.
"We have to keep the clientele in mind," says co-owner Carl Bloomfield, one of the firefighters. "Not everyone wants to get challenged by their beer or have their teeth kicked in."
I'd been to downtown Woodstock before, but I hadn't had time to check out the city's art gallery until this trip. Director/Curator Mary Reid tells me they've been in this location since 2011 after opening in 1967, Canada's centennial year. Which makes this their 50th anniversary.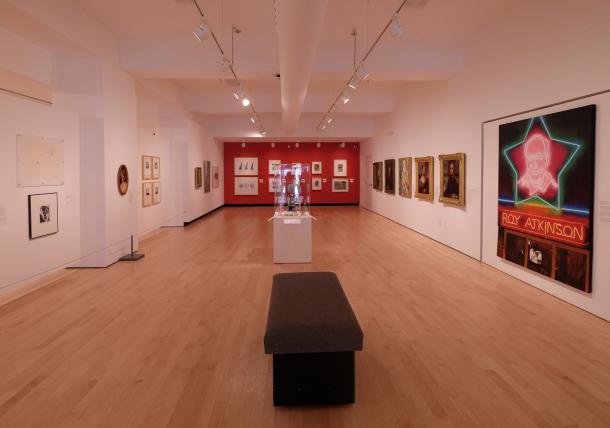 The focus here is on local art but they also have hundreds of pieces of Inuit Art and some truly wonderful photos taken by Canadian astronaut Roberta Bondar; magnificent leopards, goats clinging to insanely steep cliffs in Canada's North, tiny Arctic plants and more.
Reid shows me a large section of the museum dedicated to local painter Florence Carlyle, who was raised in the area and was one of Canada's top painters in the late 1800's and early 1900's, prior to the rise of the Group of Seven. The fact she grew up in a very rural area of the country and was a woman in a world dominated by men makes her success (her works were exhibited in Paris, London and other big cities) all the more notable.
The museum, which has free admission, has a community gallery on the second floor for local and emerging artists. Quite the facility for a relatively small city like Woodstock.
To read more about Jim Byers' adventures, visit his website here.