Get to know some of Ontario's most storied brews.
If you enjoy a good story as much as a great pint, Ontario's Southwest has some can't-miss tales for you.
What follows is blogger Doug Appeldoorn's account of his trip discovering some of the stories behind the region's craft brews.
Ale Tales: Discovering Craft Beer in Ontario's Southwest
Ontario's Southwest is not yet on the radar of Ontario's Craft Beer boom, but in places like Windsor and St. Thomas, where innovative brewers are making some exciting beers, that is rapidly changing. Ontario has a rich history of artisanal production, industrial innovation and trade in the Great Lakes Region. Ontario's Southwest has a bounty of quaint towns, rolling farmlands and foodie delights to discover. The Erie shore has long been a wine growing region and now craft beer has emerged as a natural compliment to the region's many other attractions.
Walkerville Brewery – Windsor
Windsor is home to the Hiram Walker distillery, which during Prohibition in the U.S., gained a reputation as a bootlegger operation. Canadian Club whiskey would find its way across the Detroit River by any means possible; floating it across the water, tunnels under the river and by driving cars laden with booze over the ice in winter. This successful distilling business also extended to brewing. The first incarnation of the Walkerville Brewery opened in 1890 and prided itself on brewing "Honest Beer", meaning it was made with only the best ingredients of the highest possible quality and standards. 
While that original brewery eventually closed its doors, a new Walkerville Brewery has been established using those same principles. Housed in one of the original Hiram Walker buildings known as "Surge Plant 16", the new modern stainless steel brewery retains much of its historical character and charm. With names like "Honest Lager", "Loophole Ale" and "Geronimo IPA" there is a clear nod to Walkerville's bootlegging past. 
The brewery offers one-hour tours lead by its very knowledgeable staff. Nicko Mammonas, a sales representative and tour guide, was so passionate about the beer you couldn't help but feel excited and enthusiastic about it. He reiterated that the brewery is committed to a "farm to table" approach, and says his favourite beer "is always the one straight out of the fermenter". To illustrate that the tour begins with a guided tasting of all the fresh beers they have available, including seasonal beers like the Argyle Amber.
Guests are invited to bring their beer along with them to be enjoyed on the tour and immediately following, are treated to a full pint of their favourite brew. The tasting room itself has been nicely separated from the cavernous brewery space with the addition of a few glass partitions and a lighted grid above. It gives that space a little intimacy while allowing you to soak in all the visual aspects of being right inside a working brewery.
The Walkerville Brewery is located at 525 Argyle Rd in Windsor. (Tel: 519-254-6067, email: info@walkervillebrewery.com). The bottle shop and tap room is open Sunday to Wednesday from 11am to 6pm and Thursday to Saturday from 11am to 7pm. Tours are $7 and include a beer at the end. Reservations for tours are highly recommended as they fill up on weekends especially.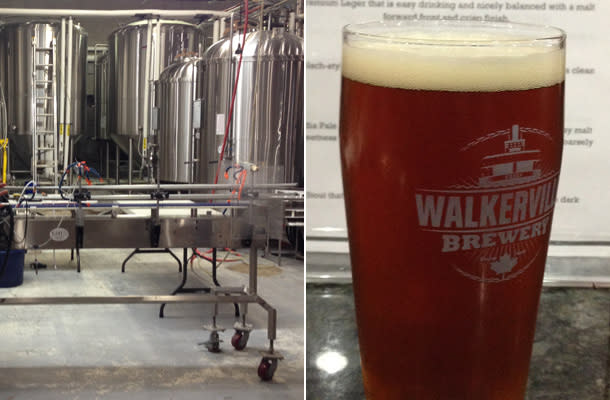 Motor Burger Restaurant & Nano Pub – Windsor
In addition to its bootlegging past, Windsor has also traditionally been known as an automotive town. With its proximity to the Motor City of Detroit, it is a centre for auto and parts manufacturing. Therefore, it's only fitting that the Motor Burger Restaurant and Nano Brew Pub honour that tradition; firstly with an automotive themed menu and secondly with its very innovative and industrious Nano brewing facility in it's basement.
Burgers are the obvious attraction here and they serve a range of different burger types with car themed names like the "El Camino" (chorizo sausage burger), the "Lamb-Orghini", the "Fire Bird" (panko encrusted ground chicken burger), "Twin Barracudas" (haddock sliders) and the "Smart Veg-Engine" vegetarian burger. Each is made fresh and cooked to order, so they recommend a starter so you can "sit back and enjoy the ride".
While the food is fantastic, the most interesting thing about Motor Burger is the beer. They boast an impressive list of regular and seasonal brews. They range from easy drinking light pale ales like their "Headlight" to a brown porter called "Whiplash" with all the colours and flavours of the beer spectrum in between.
For those partial to hoppy beers, Motor Burger features four different American Pale Ale and IPA seasonals in the late spring like the Chop Top IPA and the Trekka APA. The Trekka uses a single Australian hop called "Ella" which has fruity, anise and floral notes. The single hop is added in 5 separate stages during the brewing process to give this innovative beer a very distinctive flavour and aroma.
If you can't decide exactly what beer you want to try you can order a 4, 6 or 8 sample flight that is served in a replica cylinder head with the names of each beer written on it in grease pencil. The staff are very knowledgeable about the beer and happy to answer any questions.
Most patrons wouldn't guess there was even a brewery on site, but Motor Burger's impressive tap list is fed by a Nano brewing system that is absolutely awe inspiring because of it size. It's essentially a pilot system that larger breweries use to make test batches of beer. Co-owner Jay Souilliere says having such a small system allows them to be more experimental and offer a more interesting range of beers. Taking risks isn't as expensive on this small scale and usually leads to amazing creations like their Jalopy Jalapeno Ale, which is available in their bottle shop to go.
Motor Burger & Motor Craft Ales are located at 888 Erie Street East in Windsor. (Tel: 519-252-8004). They are open Monday-Thursday 11:30am-9:00pm, Friday 11:30am-10:00pm, Saturday 12:00pm-10:00pm and Sunday 12:00pm-8:00pm.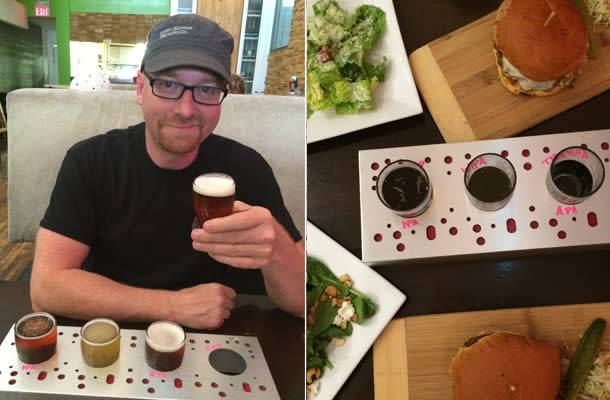 Jack's Gastropub and Inn 31/L'll Heart and Soul – Kingsville
Just outside of Windsor on the north shore of Lake Erie is the quiet and picturesque town of Kingsville, home to Jack's Gastropub and Inn 31. From the number of people sitting in its screened veranda, you can tell it's a popular spot for locals and tourists alike.
A friendly small town atmosphere is combined with an impressive menu featuring excellent local food items such as Lake Erie perch and pickerel cooked several different ways, and an extensive list of local wines and a tap list featuring many local craft beers. Dessert is something special here too, with choices such as banana spring rolls and house made donuts with spice rum caramel dipping sauce.
Jack's has guest rooms upstairs at Inn 31 and also at the L'il Heart and Soul within walking distance down the street. The rooms are quiet, very comfortable and well appointed. Guests are made to feel welcome and at home by the staff at Jack's; they are actually a great part of the overall enjoyment of the experience of staying there.
Jack's Gastropub and Inn 31 are located at 31 Division Street, Kingsville. (Tel: 519-733-6900, email: info@jacksdining.com). They are open from daily from 11:30am to 9pm, closed at 8pm on Sundays and Mondays). Reservations are recommended for dinner.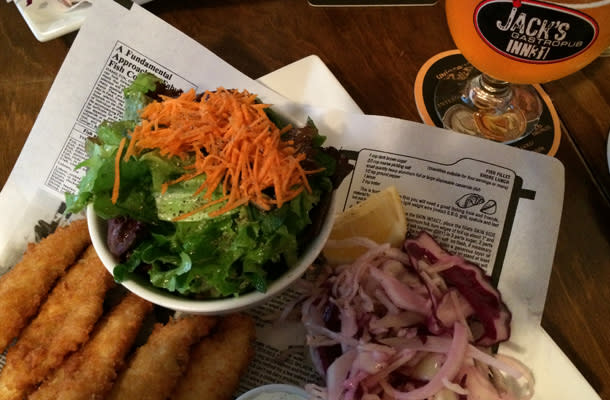 Railway City Brewing Company – St. Thomas
The old Talbot Trail along the north shore of Lake Erie takes you through Elgin County and right into the city of St. Thomas. Colonel Thomas Talbot oversaw the building of the Talbot Trail in the 1820s as a link between Detroit and the Niagara Region. Along that storied trail you'll also find a number of railway lines, more than 26 in fact, converging in the city of St. Thomas, earning it the nickname Railway City.
Honouring that long and proud tradition is the Railway City Brewing Company. With beer names like "Iron Spike Blonde Ale" and "Black Coal Stout" they definitely take full advantage of the railway theme. One of their flagship beers is called Dead Elephant Ale, a full flavoured American style IPA that pays tribute to "Jumbo", who was a P.T. Barnum Circus Elephant killed by a train in St. Thomas in 1885. There is actually a full-scale statue of Jumbo that can be found in St. Thomas and it's worth a look just to see how incredibly large this majestic animal really was.
In addition to their regular line up of beers, Railway City also has an excellent array of seasonal beers such as their Sham-Bock, a dark maple syrup infused lager and their Flagon Slayer, a hop-less Gruit brewed for the Oxford Renaissance Fair in June.
The tour is highly recommended as the guides such as Stephanie Pennacchietti take you through the brewery and explain the entire brewing process in layman's terms for all the non-beer geeks out there. It is highly informative and enjoyable and ends with a tasting of all the beers Railway City has on offer.
The Railway City Brewing Company is located at 130 Edward Street St. Thomas. (Tel: 519-631-1881, URL). They are open Mon, Tues, Wed, Sat from 10am to 8pm, 10am to 10pm Thursday & Friday and 11am to 6pm on Sunday. Tours of the brewery are offered on the hour starting one hour after they open and prices are $5 or $7 per person depending the option you choose.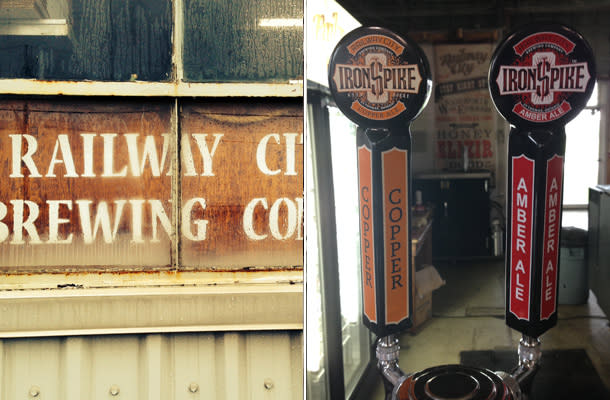 About the Blogger
Doug Appeldoorn is a Certified Prud'homme® Beer Sommelier, craft brewer, and beer educator. He also conducts tastings and teaches Prud'Homme Beer Certification classes, and is a spirited advocate of all things beer. He's an active brewer and spends as much time as he can creating new and exciting beer recipes, and is always excited to discover new beers, whether home-brewed, craft-brewed, or imported from across the world. He is currently pursuing his Master Beer Sommelier designation and studying to become a Fromager (Cheese Specialist).
Learn more about Doug Appeldoorn and his passion for craft beer at his blog, Schoolhouse Craft Beer.