Pull up a chair to The Chatham-Kent Table.
Last Saturday was a very special day. Not only was it The Chatham-Kent Table event, it was also date night for me and my hubby.With two very active kids date nights are few and far between. On the entire drive to Chatham-Kent my stomach was growling with anticipation for the feast we were about to sit down to.  
Although the weather outside was overcast and threatening rain, the inside of the warehouse at Parks Blueberries was a wonderful rustic setting for the Chatham-Kent Table event.  Before we left the house my husband and I drew straws on who would be the DD for the evening; I had won so with cheers to my table I began my culinary adventure. 
The servers enticed everyone with a number of hors d' oeuvres prepared using local products. We sampled salsa in a cucumber cup, fruit with berry compote in a tart shell, quail crostini with blueberry gastrique and sausage and roasted pepper skewers.
When I said we were getting ready to sit down to a feast I wasn't kidding. This was the beginning of a 7 course meal prepared by Chatham-Kent restaurants and product supplied by Chatham-Kent producers. The MC mentioned that 80% of the products used for the meal tonight came from Chatham Kent.
We began with a tomato and roasted red pepper soup paired with Long Pond Lager from Bayside Brewing Co. What a wonderful and flavourful soup. Tonight was going to be an enjoyable evening for the taste buds if these two courses were any indication.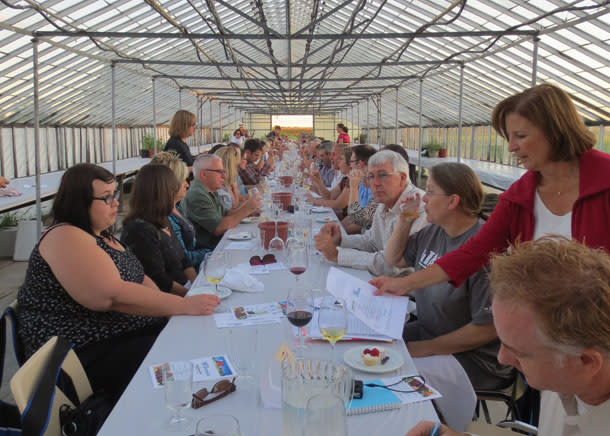 One of my favourite parts of the event was the fact our servers for the evening were the producers who produced the products and beverages we were enjoying. If we had any questions about their operation or any of the products being served, we could ask them right then and there.  This is such a unique situation where you can speak to the producer while you enjoy the meal.
After the soup, came the pear and goat cheese salad paired with a white wine from Early Acres Estate Winery. Next arrived roasted marrow bones on spelt bread paired with a light beer from Bayside Brewery or a red wine from Early Acres. That was the first time I had ever had roasted marrow bones. I have to say I wasn't overly excited about trying this one but I'm glad I did it was delicious. Following this we enjoyed Southern style catfish and sweet potato casserole paired with sweet apple cider from Delhaven Orchards.
At this point I didn't think I could handle another bite however, we still had have 2 more courses to go. Next up was the roasted Thai chicken with honeyed carrots and roasted lamb with potatoes. To top off the evening and our stomachs we indulged in a beautiful dessert trio – blueberry cheesecake, a cherry blossom and a strawberry meringue nest paired with a fruit wine from Early Acres or organic chocolate milk from Harmony Organics.
Although the weather didn't allow us to spend the evening outside in the blueberry patch, as originally planned it was a great evening to enjoy a unique culinary experience that only Chatham-Kent can offer.  I wonder where in the region we will be for our next date night!