Surprising Windsor And Amherstburg, Ontario
I was following my Google maps and heading into central Windsor to meet a fellow for a bike tour that would take us to a couple craft breweries and one of Canada's best burger places.
I wasn't paying much attention to the surroundings, but was instead concentrating on making the turns that my iPhone kept reminding me to take. When I finally stopped the car and really looked around I was in a gorgeous neighborhood surrounded by deep red, brick homes with lush, vibrant gardens. The pale green and white hostas seemed to glimmer that extra bit and the morning light drifted through canopies of leafy trees.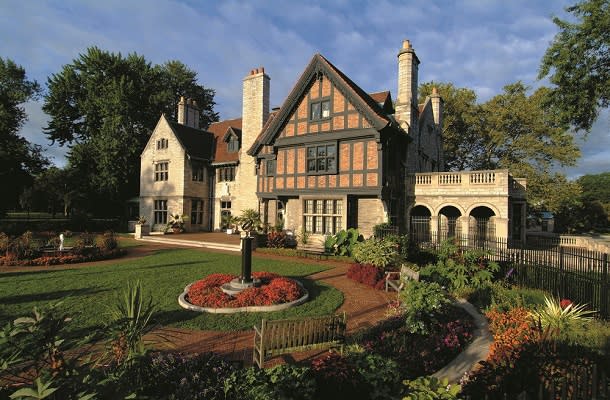 I'd been to Windsor many times but I'd never been to the Walkerville area. It's one of those settled, gentle, beautiful neighborhoods many of us dream about living in, like Toronto's Rosedale or Montreal's Westmount. I had no idea it existed. Nor did I know that the local craft beer was so good (more on that in a bit).
The previous day I had found myself for the first time south of downtown Windsor in the pretty, riverside village of Amherstburg. And was blown away by the gardens and the cool shops and bars and ice cream places.
Now, you'd think a guy who's lived in Toronto 35 years and has been a full-time travel writer for eight years would've known these things. But, like many Canadians, I tend to drift south in winter and try to get to the Rockies or the Maritimes now and then. Or Europe.
A lot of our friends have cottages north and east of Toronto, so I've tended to head that way when I'm exploring Ontario. The last few years, however, the folks at Ontario's Southwest have had me out and about exploring a region that's only a couple hours from my backyard. And I've loved it. I've discovered marvellous beaches, wonderful people, great wines and beer, fantastic food and surprising attractions I didn't know about.
The last part of my most recent trip began with a visit to Amherstburg. They've got a series of lovely parks along the Detroit River, with views of nearby islands. The river is quite wide here and you can't always see over to the American side, which makes it feel more like a lake than a river. And the parks are lovely; with generous plantings of brilliant yellow flowers and pink-red begonias and a lovely hosta garden with hundreds of varieties.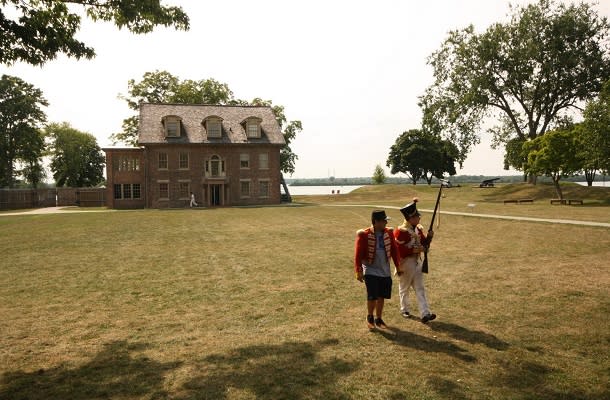 Fort Malden is a fun place to learn about the War of 1812 (contrary to U.S. history books, the Americans did not win and probably didn't even earn a tie) and even fire off a few rounds of blanks with an old-time rifle. It's fun to check out the old barracks to see what life was like, too. The barracks for enlisted men were crowded and tight, but of course the head guy's room was spacious and well-equipped with everything from books to wine.
I didn't dine in town but I checked out some very cool galleries (try the Mudpuppy Gallery for everything from African art to local watercolours) and shops and managed an ice cream at Waterfront Ice Cream. Excellent stuff, and perfect for a walk along the river at dusk. The Lord Amherst is a legendary pub with a great bar. The Beacon Ale House has a breezy patio.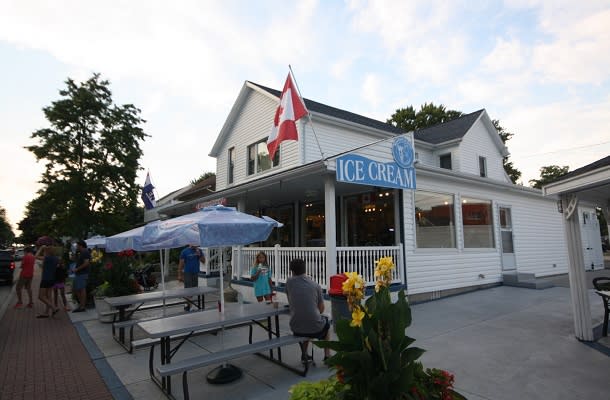 It's a great little Ontario waterfront town that I'd love to get back to and explore more of.
I made my overnight stay at the Guesthouse Getaway, a B & B in McGregor, a few minutes outside the village of Amherstburg. It looks like a nice, fairly newish home (with a big wraparound porch I'd kill for) from the outside. But once you get inside it's something else entirely.
The rooms are lovely and varied, with all the amenities you could want. My room (the honeymoon suite) had a fireplace and a fridge and microwave, wood floors and a spacious bathroom with a Jacuzzi bath. But it's the owners, Len and Karen, who make the difference. They're warm and fun and engaging hosts, and Len makes a mean breakfast omelette. They also are eager to share tips about the area, and can set you up with wine-tasting or golf excursions and packages for a fun getaway close to home.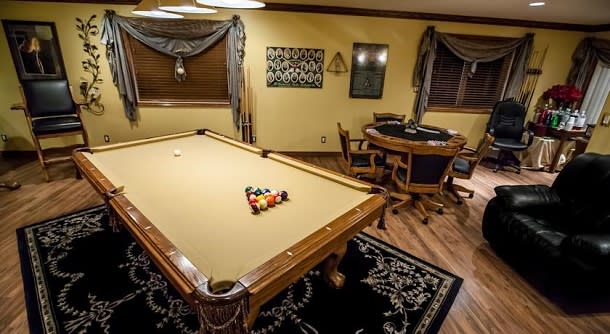 They've also created a B & B that's part guest house and part adult playpen. The main floor (Len and Karen live downstairs) has everything from a pool table to a dart board to, wait for it, a Karaoke machine. There's even a poker table.
I've stayed in a lot of B & B's in a lot of parts of the world, from France to California to Nova Scotia and B.C., and I've never seen anything to rival the entertainment options Len and Karen have created. Just awesome.
From there it was up to Windsor's Walkerville district, where Adriano Ciotoli of Windsor Eats got me on a bike for a bit of exploration and beer tasting. After admiring the architecture of the stately Willistead Manor, built by Hiram Walker, we pedalled over to Walkerville Brewery and chatted with partner Ian Gourlay. He's a delightful chap with good stories to tell and a vast knowledge of the beer and spirits world.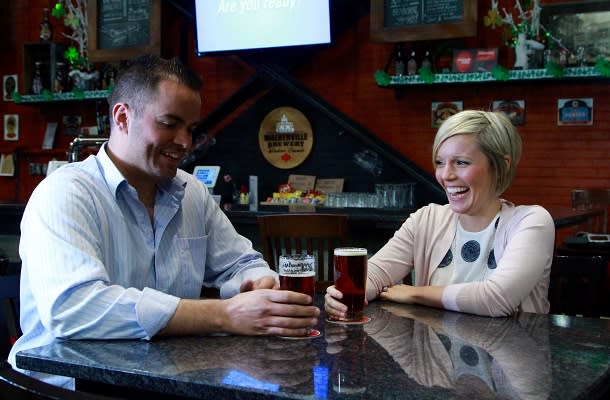 The brewery is one of the historic Hiram Walker distillery buildings near the waterfront. It's all handmade in small batches without using preservatives.
"People these days want to know what they're buying," Gourlay tells me. "When they can see it being made, so much the better."
The Purity Pilsener is a nice, light beer for a summer day. I loved the Geronimo Pale Ale, which is nice and hoppy and has aromas of pine needles and oranges. I'm not a huge Stout drinker but their Easy Stout goes down, well, easy.
From there it was over to Motorburger and Motor Craft Ales, where they serve a burger that was named best in Canada by Readers' Digest. I had a slider-size sample of their Deux Chevaux burger, with Gruyere cheese, Dijon mustard, spinach, smoked bacon and (essential for a great burger) caramelized onions. A beauty; moist and flavourful. And served with great fries.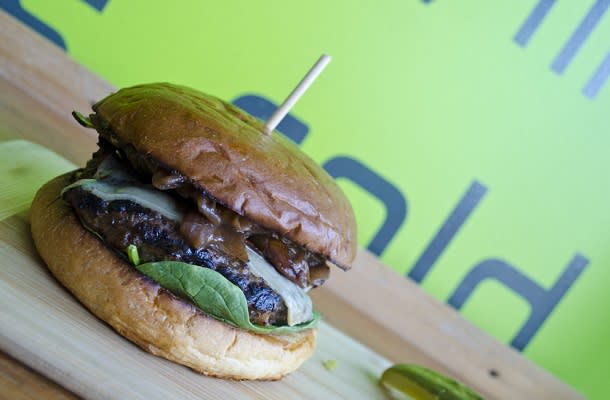 The shop is located in Windsor's Little Italy, which seems odd at first. But everyone loves a good burger, and it's not a bad thing to offer a bit of variety in the area.
They make dozens of beers, most with names linked to the auto industry (Turkey Car is named after the Ford Pinto and uses hops from Collingwood, while Dragula was the name of the car in the old TV show 'The Munsters.'). One day a worker put too many hops into one of the brews, so that one's called Hoppy Idiot.
"We're small," says owner Jay Soulliere. "So we can play around with things. If we screw up with one of our beers, it's no big deal."
Rather than "normal" taps for the beer, you'll find parts of old pistons or carburetors mounted on the taps for more of an Auto Town feel.
It's got a great, urban vibe to go with excellent beer and equally good food. That's a winning combination anywhere you go. And one more reason to spend some quality (and tasty) time in Ontario's Southwest.
Catch more of Jim Byers' adventures at JimByersTravel.com.