Take the road less traveled.
Road trips are a great time to reconnect. When I hear the words road and trip, I think of rolled-down windows and off-key singing to an endless loop of tunes.
I think of reconnecting to the person I'm travelling with and laughing at old and newly created memories.
When the opportunity to take a road trip through Southwestern Ontario's Oxford County came my way, I knew it would give me a chance to reconnect to my past as well.
My childhood landscape was filled with corn fields (I even had my first kiss in one) and barns and silos dotted the horizon of my day-to-day adventures. Visiting tiny towns that are nestled among gently rolling hills, would feel like going home, and it did.
My sister and I decided on a girls' weekend theme and climbed into our kid-free/husband-free car, where we cranked some retro Barenaked Ladies and hit the road. After a short 90 minute drive from Toronto, we pulled into Coyle's Country Store to kick off our weekend of window shopping and dining.
This charming pit stop, found on the edge of Tillsonburg, felt like a small-town version of a big city box store. It had a little bit of everything, and we spent well over an hour browsing its aisles. I picked up some journals, stationery and stocking stuffers for Christmas and my sister ended up purchasing a piece of furniture! We also stocked up on snacks from their bulk food area. 
The next stop was a highlight for both of us. September and the return to school routines is always welcome, but it also knocks you on your back in many ways. School and extracurricular activities leave little time for relaxation and escape. And the Elm Hurst Inn & Spa in Ingersoll was calling to us loudly. From the moment we checked in, we could feel the zen taking over. We settled into our rooms, found our plush robes and headed down to the tranquil spa for an evening treatment.
After enjoying a quiet breakfast with bottomless coffee, we took a stroll around the stunning grounds before heading back for another spa treatment (well, can you blame us really?). We were relaxed and ready for some more time on the road. We turned up the vintage Indigo Girls (girls' road trip must-have) and headed into Ingersoll for lunch and more browsing in local shops.
Do you have a friend or family member whose baking sets your heart aflutter? Now imagine walking into a cozy café filled with that kind of baking. I am not exaggerating when I tell you that we started salivating as soon as we walked through the door of the Olde Bakery Cafe.  My sister zeroed in on the freshly baked raspberry turnovers, which she managed to hold off on until she had lunch. And lunch did not disappoint. This café is home to young culinary talent, including chef, Kate Rine (her food blog is here), whose Portuguese Stone soup was absolutely phenomenal. The food is made in an in-house kitchen, which also features a separate and completely gluten-free baking area. Everyone knows everyone's name, and you feel like you're hanging out in a friend's kitchen having coffee. We need more gathering places like this one.
After fuelling ourselves, we were ready to do some more sightseeing. And to get to our next destination, we were treated to a gorgeous view of those farms I am so fond of. The fall is a perfect time to explore Southwestern Ontario; the sun is bright and the air is crisp, which makes the changing leaves even more extraordinary.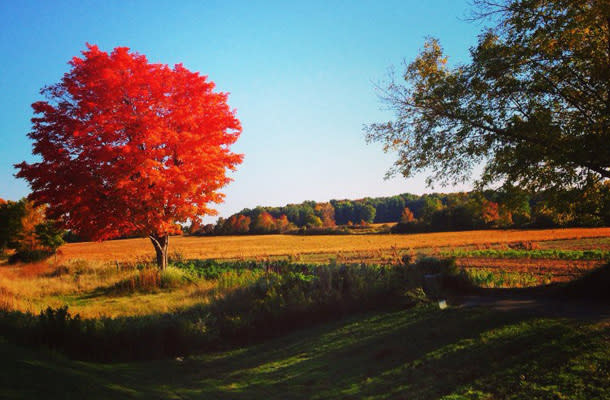 We pulled into a third-generation dairy farm and home of Gunn's Hill Artisan Cheese, where we were treated to a tour and tasting by award-winning cheese maker and owner, Shep Ysselstein. This family owned business, in an absolutely beautiful area of Oxford County, is an Ontario (and Canadian) treasure. We wandered aisles of new and old cheese, and we learned about the flavouring and textures. It was visually stunning to see the rows of cheese. You can book tours for $5/person as long as there are five people in your group. Not only is it a fascinating learning experience, you will be rewarded with delicious samples at the end.
We finally pulled our well-fed selves into the brand new Holiday Inn Express in Woodstock, so we could powder our noses and put on our cowgirl boots for dinner at Walters Dinner Theatre in the beautiful town of Bright. Once again, we found ourselves travelling down a gravel road and winding our way through stunning farmlands. We pulled into Walters' and were surprised by the number of cars and eager theatre-goers. In all my years of going to concerts, I've never had an experience like this one. We walked into a converted barn, with all its old-fashioned quaintness, and saw a room filled with tables for eight, clustered around a state-of-the-art stage. We were treated to a homemade meal (buffet-style and perfect for chatting with the other guests) and had the chance to share a meal with a table of strangers. Once again, we were touched by the simplicity and hospitality of being in a place where people want to know your name. The live show (which goes on after dinner) was very entertaining and the audience was delighted. Their schedule of shows changes every year, and it's recommended that you book well in advance.
Click here to see more images and read more from Louise Gleeson.