I love exploring different cities and towns in Ontario. One city that I've always wanted to go back to is London. I was in London briefly for a foodie event a few years ago, and wished I could have spent some more time exploring. When looking for a weekend getaway recently, I knew that London would be the perfect choice. London is only a 2-hour drive away from Toronto. They have tons of greenspace, a great food scene and there is always something going on. Here's how we spent our visit.
Our first stop was chocolate! If I was a local, I think it's safe to say that Forrats Chocolate Lounge would become my number one hang out spot for date night, or just gathering with groups of friends. This lounge is a great spot to grab a chocolate bar, or to sit down and indulge in a full meal. The chocolate here is incredibly high quality. We were delighted to discover that the savoury items are also excellent. I had a ham and cheese crepe that was hands-down the best crepe that I've ever had. The bechamel sauce was to die for. For dessert, we had dark chocolate crepes filled with strawberries. Yum.
Owner Marc Forrat had the ingenious idea to create tables that replicate having breakfast in bed. You sit down, and then your server places the table over you. Voila, you're ready to enjoy some dark chocolate crepes or fab hot chocolate while you're snuggled next to your favourite person. It's a unique idea, and one that I haven't seen replicated anywhere else.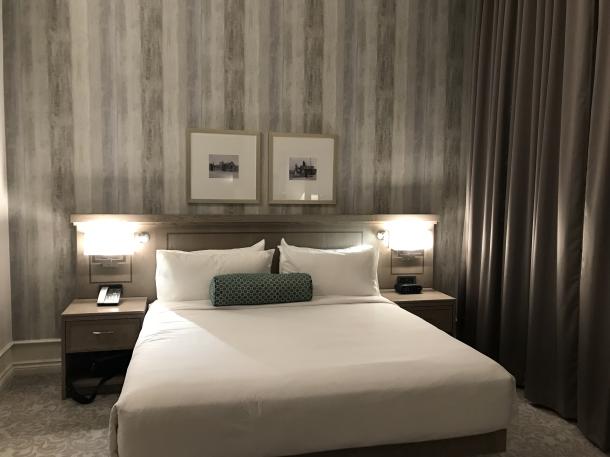 After, we checked into our home for the weekend. We stayed at Delta Hotels London Armouries. This expansive hotel is both historical and modern. It has a beautiful red brick façade and makes good use of its original architecture near the pool, restaurant and bar area. I stayed in a beautiful suite with high ceilings and a arched window frame that was perfect for sitting in. My room also had a small den, which was perfect for hanging out for some R&R. The on-site restaurant has a fantastic looking Sunday brunch that I didn't try this time, but will definitely be back for.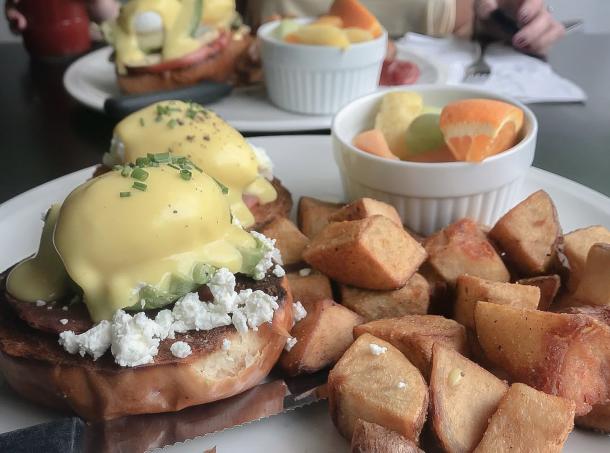 In the morning, we were hungry so headed to the popular Early Bird.  This diner has funky decorations like pretty paper flowers on the ceiling and cool memorabilia decorating the tables. The menu is the big draw here. Making a decision was tough, but I had the "Toad in a hole". This tall breakfast sandwich has avocado tempura, fried tomato and goat cheese on thick, crusty bread. My other half had the massive "GrEggs Benny", which was poached eggs on top of a giant pile of smoked brisket and sauerkraut.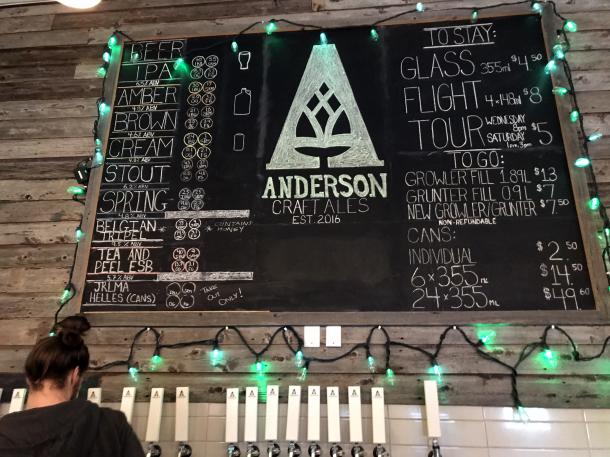 After breakfast, we visited Anderson Craft Ales. This family brewery was started by a father and son team. They brew a variety of ales, lagers, IPA and stout to name a few. My favourite brew was one that uses tea leaves, the ESB with orange and black tea. You can get a flight of different beers at the bar and enjoy them in a loft overlooking their facility. The loft is super cozy, strung with twinkle lights and packed with board games to enjoy while you sip.
Next on the list was to visit the Western Fair District Market. If you visit here, be sure to go early. This two-floor market is filled with food and craft vendors. I went close to closing time, and was disappointed when the apple fritters from The Fritter Shop sold out quickly! Don't worry, I enjoyed some delicious the momos (meat or veggie filled dumplings from Nepal and Tibet) from Momo's at the Market and bought some Gunn Hill Cheese from All Bout Cheese. Across the street from the Market, I popped into Illbury + Goose. Illbury + Goose sells stylish and comfortable sweatpants, comfy T-shirts and beautiful leather wallets. I'm a huge fan of anchors, so their logo (an anchor and a Canadian flag) is a win for me.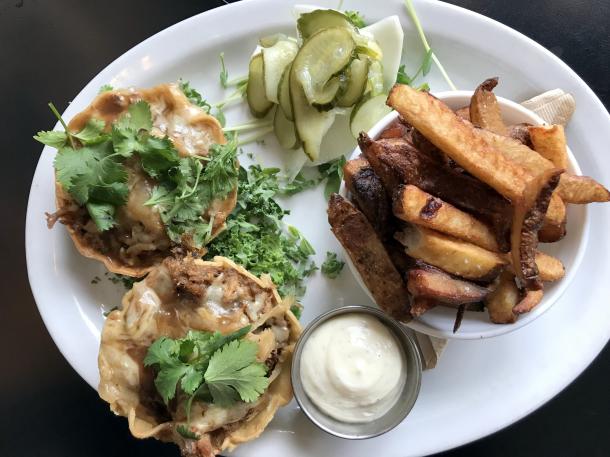 Despite our filling brunch earlier in the day, we were starting to feel a bit peckish. For lunch, we headed to the Root Cellar a local restaurant that focuses on an organic farm-to-table menu. The restaurant is housed in a beautiful brick building with interesting art and a cozy dining room. We started our meal with spicy roasted cashews, and then had pulled pork taco cups with thick cut home fries.
We spent some time visiting the cute shops and bakeries, and went back to our hotel for some R&R before the evening.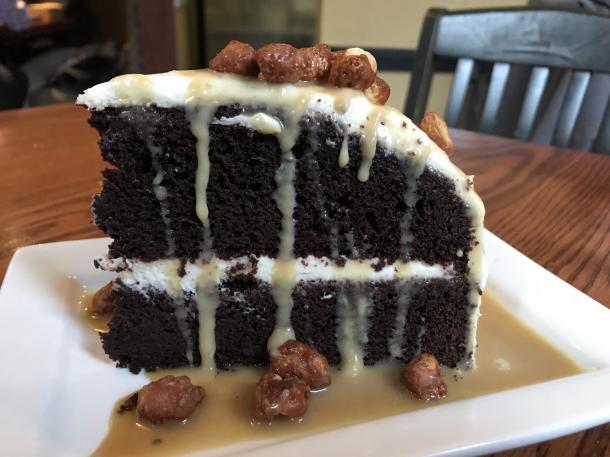 For dinner, we went to the cozy Church Key Bistro. This British style pub has a small but focused menu. We started our meal with spicy jerk beef skewers of tender rib eye chunks marinated in house made jerk sauce. Their house made bread is a warm pretzel loaf. For my main, I had a perfectly prepared centre cut rib eye steak that was topped with a wild mushroom and garlic white wine butter. For dessert, there was a decadent slice of chocolate cake topped with beer nuts.
After our tasty meal, we headed to the Grand Theatre to catch a show. The Grand Theatre has musicals, plays and concerts from around the world. I saw the North American premiere of the acclaimed play, Chariots of Fire. The story is based on the true story of two British runners, who overcome prejudice and conflict to compete in the Olympics. The play was heartfelt and entertaining. There was an actual race track in the theatre that the actors would use to race around during the show. It was an amazing set and a great way to spend the evening.
The Grand Theater will be taking a Grand Intermission by postponing their season until the fall of 2021.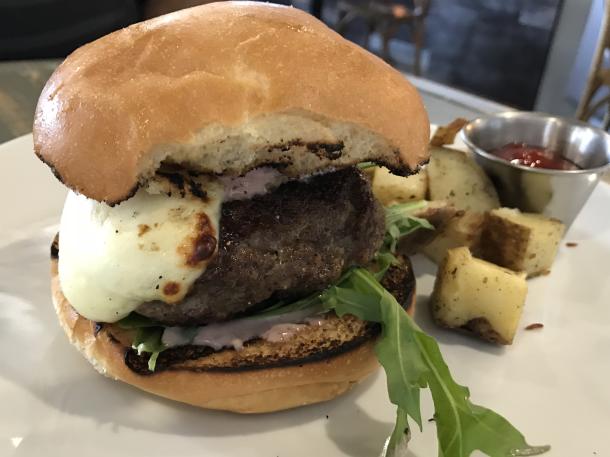 In the morning, we went to Craft Farmacy to have brunch before we headed out on the road. Craft Farmacy is an oyster bar with killer cocktails. For brunch, each table gets a basket of warm chocolate chip scones.  For brunch, we tried the craft lamb burger with black olive aioli, Monforte Fresco Cheese and home fries I had the Chorizo Hash with eggs, red peppers and braised beef cheeks.
Finally, it was time to bid London adieu. We'll definitely be back!