Flowing rivers, stunning shorelines, and city skylines are just some of the sites to see from Southwest Ontario's best patios.
Whether you're a resident of Ontario's Southwest looking for a little fun in your own backyard, or someone eager to explore our region in the future, these restaurant patios have some of the most beautiful views in all of Ontario. Before you head out to enjoy these stunning views be sure to call ahead as many are by reservation only, have limited capacity or may be still in the process of opening.
The Beach House
After a long day of soaking up the sun, walk over to The Beach House in Port Dover where you can sit on their patio overlooking the beach's towering palm trees and widespread shoreline. They will not be taking reservations but will welcome patrons on a "first come, first serve" format. They ask you to limit your dining time (2 hours) so that more people will be able to enjoy their unique Lake Erie experience with their new limited seating requirements. We advise visitors to check the weather conditions before coming as the restaurant might close for the day.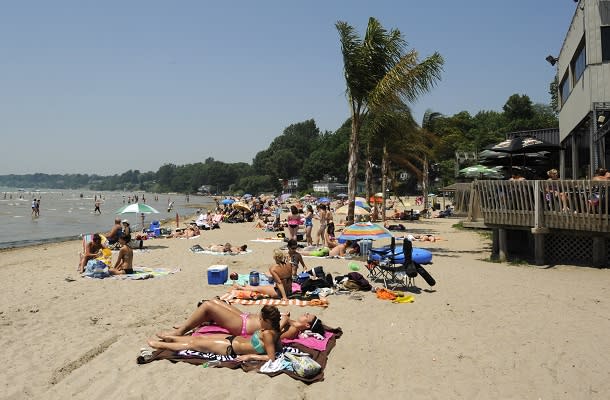 Bayside Brewing Company
If you're a craft beer lover, check out Bayside Brewing Company in Erieau where you can enjoy a refreshing pint on their patio that overlooks the beautiful Rondeau Bay. They love to recommend beer pairings for your fare. Their pizzas, which use local ingredients, are all hand-made and baked in their wood-fired pizza oven, but if that's not your cup of tea, test out the spicy sriracha cheddar balls or the fiesta burger. Call 519-676-8888 to book a reservation. They've also extended their hours to 11am - 9pm on Fridays and Saturdays and until 8pm the rest of the week. 
Alternate Grounds Dockside
At the Sarnia Bay Marina, Alternate Grounds Dockside has the best view in the entire city. As the only over water patio on this side of the St. Clair River, Alternate Grounds is a go-to stop for locals. With original breakfast options like the potato latke sandwich with poached eggs and brie cheese, or the lobster eggs benedict, your taste buds are in for quite the trip! This seasonal "hot-spot" will be closing on September 19th. After that date, you'll have to wait until next summer to visit.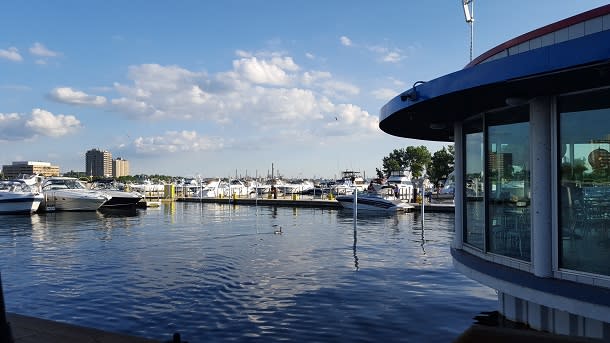 Viewpointe Estate Winery
As its name suggests, the Viewpointe Estate Winery in Harrow, Ontario offers a breathtaking view of Lake Erie's North Shore. Viewpointe offers seasonal fare that is thoughtfully prepared by resident chef, Jodie Brown, who uses local and sustainable products to make elaborate meals for guests to enjoy.  Their 26 acre estate provides optimum conditions for producing world-class VQA wines, so grab a glass, a tasty treat, and a seat on their patio where you can take in the beautiful skies and shoreline. If you are in luck, you might even get to enjoy a live music session at their patio! Seating is first come first serve. They encourage you to pack a blanket or lawn chairs, they have plenty of space to distance yourself.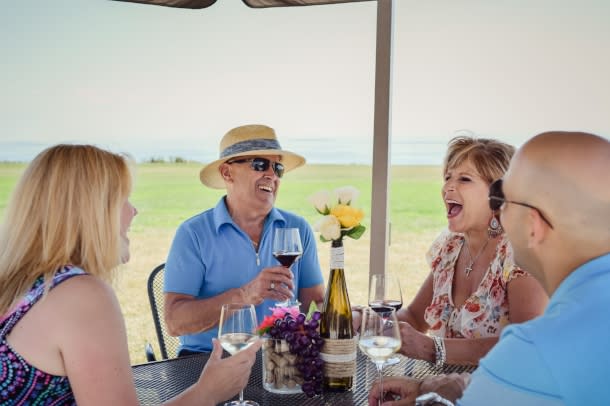 Bistro at the River
The Bistro at the River is just steps away from Windsor's beautiful riverfront trail and the impressive Detroit skyline. Their patio, located at the water's edge, is the perfect place to unwind and have a flavoursome meal with dishes like their Sweet & Spicy Citrus Calamari, which is tossed in a sweet orange chili sauce; the Eggplant Tower, cooked with basil and bocconcini; or the Roasted Garlic Avocado Burger, served with baby spinach, tomato, and red onion.
Hippo's at Mohawk Marina​
The patio at Hippo's at Mohawk Marina is the place to be to enjoy some perch and the summer breeze off of Lake Erie. This hidden gem is a must try for anyone near Dunnville. Orders are placed at a food truck window or you can phone ahead to place and skip that line. They are open until October 3rd this year. So, make sure to visit before they close for the summer.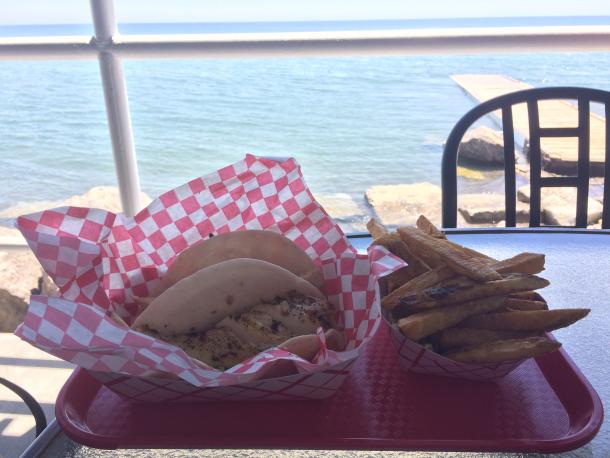 Looking for even more tasty local restaurants? We'll help you find some of the best spots to eat in Ontario's Southwest.