There is no substitute for seeing the passion of the people who produce the delicious eats we love. Showing that passion to you is the driving force behind our Next Stop: Taste video series. Watch and listen to what drives each of these producers and why they love sharing what they do with you.
Please follow posted public health guidelines at all times, wear a mask, and limit movement to your immediate area and limit contact with those outside your immediate household. Remember buying gift cards and shopping online is a great way to show your support for these local businesses while staying safe. To learn more about what you can expect from local businesses in Ontario's Southwest, click here. 
We know you'll be inspired to start planning right away and once you try the delectable creations straight from the source, you're going to be looking to fill your trunk. Here are our series starring producers that have retail options for eats to go!
Gunn's Hill Artisan Cheese
When your family runs a dairy farm, you go to Switzerland to learn how to make cheese. That's exactly what Shep Ysselstein did. At Gunn's Hill Artisan Cheese in Woodstock, Shep has built a reputation as one of the country's best cheese makers and uses milk from his parent's dairy farm to create an award-winning collection of cheeses. Gunn's Hill is open for retail and has online shopping options for pickup and delivery. Be sure to try Dark Side of the Moo - a creamy cheese that's soaked in Dark Side Chocolate Stout from Upper Thames Brewing Co. before aging.
The New New Age
Inspiring a stronger connection between humans and nature is what drives Stephen and Katie Hotchkiss of the New New Age who run the medicinal herb farm and nature sanctuary. They grow, forage and produce the highest quality medicinal, culinary and tonic herbs on the planet for the benefit of both human and environmental health, wellbeing, and resilience. Shop their collection of teas, herbs, coffee, seasonal offerings and more online with shipping all across Canada.
Munro Honey & Meadery
For five generations, Munro Honey, located just outside Alvinston, has been keeping bees and crafting honey products straight from the hive. This family owned and operated business is one of Ontario's largest producers of honey products and they pride themselves in offering as pure a product as possible. Plus, Munro is Ontario's first commercial meadery with a of collection high quality honey wines. You can order all of their products online and they ship to your door. Try their Gourmet Jalapeno Honey for a sweet treat with a bit of heat.
Slegers Greens
It doesn't get any fresher than the certified organic greens, micro greens, herbs, and lettuce you'll find at Slegers Organic Greens in Strathroy. Aside from their organic practices in everything they do, what sets them apart is that they sell their plants with the root systems intact. That live energy creates more vibrant flavour than anything you'll find at the supermarket. The flavours is why many restaurants like the Clock Tower Inn & Bistro choose Slegers as a key supplier. Their farmgate retail store is now open daily so you can bring the freshness home.  
Crazy 8 Barn
The centrepiece of this cafe and garden centre is the unique 8-sided barn that's been reconstructed from the original 1898 design. You'll dig the menu of made from scratch baked goods, many from family recipes. Try their famous buttertarts, everyone who tastes them calls them the best they've ever had. Crazy 8 Barn is open Wednesday to Saturday and their online shop features gardening items, preserves, and more. If you go for pickup on a warm day, order their Busted Buttertart Sundae which is made with chunks of their tarts that didn't turn out perfect mixed with Shaw's Ice Cream!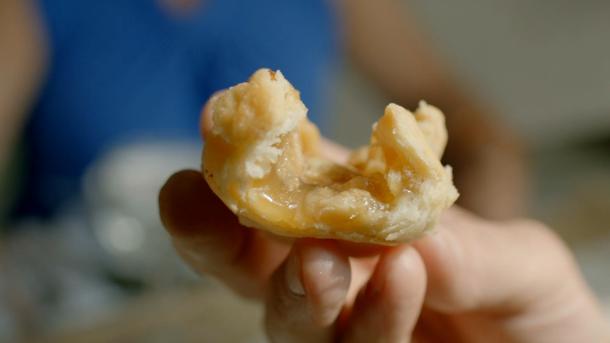 Shaw's
Speaking of Shaw's, you are going to love their ice cream. Since 1948, this family run business has been crafting delicious ice cream of the highest quality from fresh local cream and the purest flavourings. You can choose from over 50 flavours! The Dairy Bar is open daily in Port Stanley for cones, sundaes, milkshakes, cakes, and more. And you can find Shaw's ice cream at grocery stores all over Ontario too!
Richardson's Farm & Market
From their maple syrup sampled in the sugar bush in the spring to the juicy strawberries fresh from the fields, the Richardson family farm is all about sweet moments. The farm shop is open daily offering a variety of their own fresh produce, maple syrup, jams, preserves, and baked good. They offer an online store if you want to pick out a selection of fresh produce and other products ahead of time. The items can be picked on from the farm or they offer local delivery in their area.
Apple Land Station
Beginning as a simple orchard decades ago, Apple Land Station has transformed over time into a bustling experiential farm with an on-site bakery that is known far and wide in the area for its made from scratch pies, cakes, and more. Order online or call for pickups from the bakery on Fridays and Saturdays. You must try their signature apple pies - each one is piled high with 3.5 pounds of their apples!
Mancini's Italia Bakery
In Windsor's Little Italy, Mancini's Italia Bakery, committed to bringing Italian products, freshness, and quality to all. The third generation family owned and operated company offers a variety of breads, cookies, pastries, and cakes made from scratch daily and right on-site using their very own family recipes. Nothing is sold the day after. Only the freshest products await your arrival. The bakery is open daily and has curbside pickup for phone ordering.