Kids savour the flavours of culinary boot camp.
The Savour the Flavour Boot Camp was an Outrageously Rural experience that lead to great food, lots of fun and a few good laughs! This chef-led, intensive, outrageous culinary training demanded Junior students, from ages 11 - 14, to roll up their sleeves, dig in and take a fresh look at the foods they eat and how they are prepared. The event took place July 21 - 24 and each day was chronicalled by the students with BlogCasts; have a read, and view, of their experiences:
Boot Camp Day #1 – A Cool Beginning
When we first arrived for our first day of boot camp we had lunch that was prepared by Chef Gerry. We had tomato, fennel and sausage compote on herb crostini with a poached egg. It was delicious! We got the chance to meet all of our fellow boot campers and enjoy a delicious lunch. 
After lunch we went into the cookery and we all got our own chef hats and aprons to keep. The chef hats had our names embroidered on them. Chef Gerry taught us some safety and kitchen rules then he showed us the different styles of cutting and the different types of knifes. After the demonstrations we got to cut up carrots, celery, onions and garlic. The different types of cuts we used were baton, julienne, dice and much more. We saved the vegetables to use later on in the week.
When we got our cutting board to cut the vegetables we put a damp cloth underneath the cutting board to stop it from sliding. When we cut the onions and garlic there was a lot of crying, after all we cut a lot of onions and garlic.
We learned that at the end of the week we will be cooking a tasting party for friends and family. We are super excited for the rest of the week and we cannot wait to show off our skills to our family and friends on Thursday.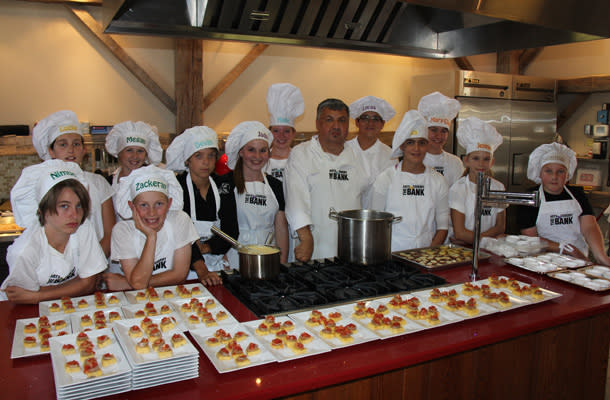 Boot Camp Day #2 – Say Cheese!
When we first arrived in the Cookery this morning Chef Gerry had a surprise breakfast for us. He made us a whipped cream cheese and peach parfait with granola and nuts.
After breakfast we made homemade whole wheat molasses brown bread. The bread was cool because we did not have to knead it and it also had molasses in it. It made it sweet. Every group got to make their own load of bread. We had to heat the flour, to activate the yeast. 
While the bread was baking, we prepared homemade tomato and basil soup. It had the onions, garlic and carrots that we cut up yesterday and lots of tomatoes. We also added basil. We added hot sauce and salt to season it and some lemon juice to add flavour.
While the soup simmered we got to do a cheese taste test. There was swiss cheese, smoked havarti cheese, parmesan, goat cheese, soft cheese and cheddar cheese. The best cheese was the soft cheese and cheddar cheese. The goat cheese was not our favourite one, this was because it was too mushy, and the texture was not good.
After we picked our favourite cheeses, we scooped our soup and sliced our bread to make cheese sandwiches for lunch. It was all very good. After we cleaned up from lunch, we made cookie dough. The first one to finish their dough won. We put it in the fridge to chill. We may have eaten some chocolate chips in the process, but that's okay. Now we are going on a field trip! We are going to Empire Valley to tour the farm and the greenhouses and seeing where our fresh, local produce comes from.
On our field trip we went to go see the greenhouses there was a lot of fruit and vegetables there like zucchini, tomatoes, carrots, watermelon and peppers. We brought some kale back with us to make kale chips later.
We then baked our cookies. The cookies turned out delicious! They had a lot of chocolate chips and nuts in them which made it great.
To make kale chips you break up the kale and put it in a bowl. Then you cover it in olive oil and salt then you put it in the oven. They were very good, they tasted like potato chips.
After we snacked for a little bit, Chef Gerry showed us how to cut a whole chicken the proper way. He told us how to make three to four meals out of one whole chicken. He also told us that when the chicken is purchased whole it is cheaper then buying all the parts separately.
Boot Camp Day #3 – Squawk!
This morning Chef Gerry made us a delicious breakfast. He prepared crispy bacon, scrambled eggs and garlic toast. He cooked the eggs in a big metal bowl over a pot of boiling water. This was so the steam could help the eggs cook evenly.
Then we cut up onions, zucchini, tomatoes, red and yellow peppers, and garlic for our stew. The stew was a chicken stew called "Poulet Basquaise". We added lots of bacon, rosemary, thyme and salt and pepper to season it. With the chicken we had roasted potatoes. We cut the potatoes into quarters and put oil, garlic, rosemary, chilli powder flakes, salt and pepper on the quarters and then we put it on the oven until they were tender and crispy.
We ate the stew and potatoes for lunch. While we were cooking Chef Gerry made some fresh pasta and now we are getting the chance to sample the pasta. All the food was fantastic!
After lunch we started making the tomato sauce for the pizza. Others were making the dough and some other were preparing the toppings. We were getting things ready for the big day tomorrow; some people learned how to make crème brulee, while others made lots of cookies to enjoy tomorrow. While the crème brulee was in the oven, the sauce was on the stove and the dough was resting we watched a movie about the life of chickens. We learned that some big companies use chicken coops that are not how a chicken should be raised. When the film was over we rolled out the dough and put it in the dough cast, and topped up the pizzas for the oven. We filled the deep dish pizzas with sausage, sauce and cheese. We took the crème brulee out and now we are letting it cool in the fridge.
Boot Camp Day #4 – The Big Day
So today was the big day, today was the Food and Flavour Extravaganza! We started bright and early this morning at 9am! There was a lot of stuff that had to get done, bread had to be baked, ice cream sandwiches needed assembling and polenta had to be cooked.
The night's menu went like this:
Saskatoon Berry Punch
Molasses Brown Bread with Green Apple and Cheese Fondue
Farfalle Pasta with Chicken, Peppers and Fennel in a Herb Cream Sauce
Caesar Salad Cups, "Brutus Style" with Smokey Bacon, Homemade Dressing and Homemade Croutons
Cool Summer Gazpacho with Seasonal Vegetables and Kale Chips
Homemade Polenta with Sweet Italian Sausage, Tomato Compote with Parmesan Shavings.
Mini Potato Cups with a Goat Cheese Filling
Salted Chocolate Chip Ice Cream Sandwich Cookies and
Saskatoon Berry "Hand Pies"
Each dish was as yummy as the next. We had lots of Saskatoon berries to welcome our special guest from Concentra Financial who came all the way from Saskatchewan.
The night was a great success and all of our family, friends and guests had a great time. It was a blast showing off our skills to everyone and everyone was surprised by what we were able to prepare for them. We hope to come back to the Savour the Flavour Boot Camps again.
Click Here to view more photos and videos.