An insider's guide to catching some of Ontario's tastiest fresh fish
While proponents of the 100-mile diet tend to look to the land for their farm-to-table fare, Ontario's Southwest has a reputation as one the province's best fishing destinations. Which means there are a boatload of delicious options for catching and enjoying fresh fish during your stay. Here are some great options for scoring your very own catch of the day in Ontario's Southwest.
Set off on your own
Home to Lake Erie, Lake Huron, Lake St. Clair and the Grand River, there is certainly no shortage of fantastic fishing in Ontario's Southwest. Pack up your tackle box and try your luck at some of these favourite fishing destinations:
Caledonia Dam on the Grand River
Rainbow trout, walleye, crappie, pike, catfish, largemouth and smallmouth bass and carp all call the Grand River home, and Caledonia is a great access point. Fly fishers will want to stay below the dam. There is a fishing platform in Caledonia that provides barrier-free access to the Grand River if you'd prefer to not pack your waders!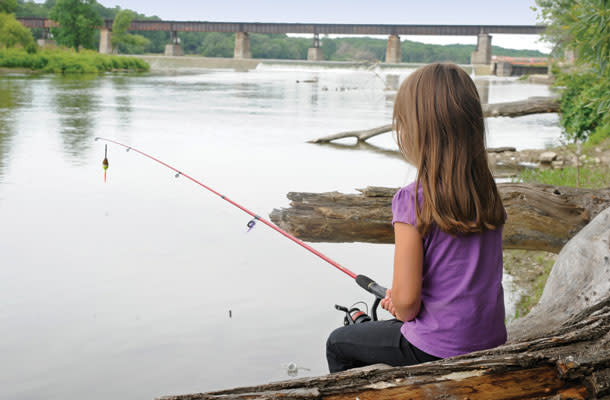 Long Point Bay on Lake Erie
When bass season opens in early June, anglers flock to Long Point Bay. The Bay's weed lines and weed patches make it a hotspot for bass, but pike and perch are also plentiful. For a truly one-of-a-kind experience, consider Baer Kayak Fishing's Long Point Bay fishing trips, where you use your feet to paddle a customized kayak out to fishing locations not accessible by larger boats.
Colchester Harbour
If you're looking to catch walleye, head to Colchester Harbour, a busy fishing destination that's been named the Walleye Capital of Canada.
St. Clair River
Anglers in the know will tell you that the area where the St. Clair river feeds into Lake Huron on the shores of Sarnia and Point Edward is the place to go for muskie, walleye and perch.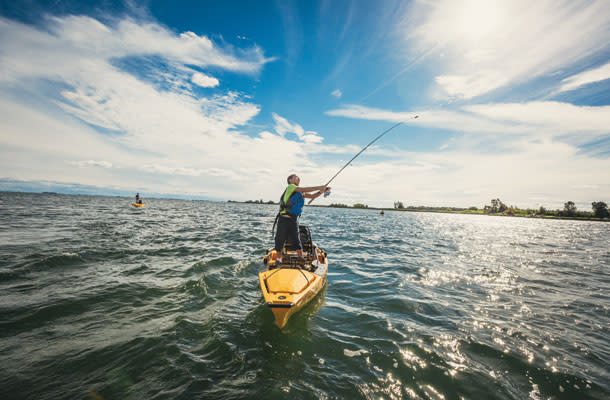 Upper Thames River
Enjoy a day of some of the best inland fishing by boat on the quiet, calm, and safe reservoirs at Fanshawe, Pittock, and Wildwood Conservation Areas.  Or, if you prefer to stay on land, why not try fishing from shore or using one of our fishing docks?  You won't be disappointed; game fish frequenting these conservation areas include bass, walleye, perch, and pike.
Ontario Family Fishing Week
Ontario Family Fishing Week, from July 2 through 10, is a great way for those new to fishing to try this fun sport. During this week, Canadian residents are able to fish Ontario waters without the otherwise mandatory Outdoors Card for fishing. Check our Events Calendar for all the family fishing fun.
Go with a guide
There's nothing wrong with getting a little expert assistance, and hooking up with a local charter is a great way to spend a day on the water. Wondering what it's like to set sail for a day of fishing with an expert guide?  Read about one Toronto blogger's first time fishing with an Erieau charter company here.
Lake Erie charters include Harpoon Charters, Chante Charters, Crooked Hook Charters, Prime Time Charters, Mitchell's Bay Charters, Trophy Taker Fishing Charters, Butcher Buoy Charters, Jimmy Riggin' Fishing Charters, South Coast Charters, J&P Fishing Charters, Deep Secret Fishing Charters, Wild Reels Sport Fishing and Reel Deal Guide Services.
Lake St. Clair charters include Can-Am Charters, Reel Happy Charters, Drifter II Charters and Rampage Sports Fishing Charters.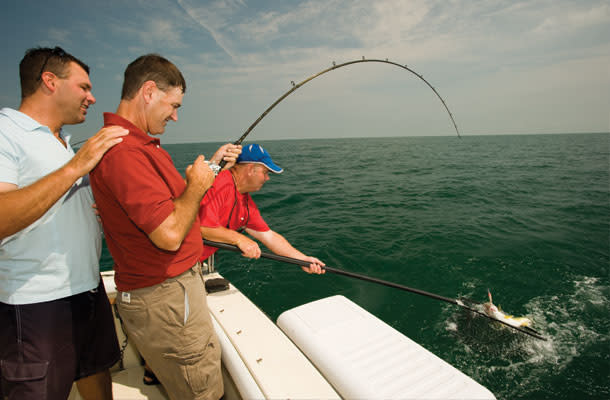 Detour to a derby
Passionate anglers will want to time their trip with one of the region's many summer fishing derbies. Great choices are the Colchester Walleye Derby, the Leamington Walleye Derby,  and the Bluewaters Anglers Walleye Derby in Point Edward. The Mitchell's Bay Open on Lake St. Clair is another popular choice.
Let someone else do the work
Of course, if you prefer your catch served up on a plate instead of on a hook, there are many fabulous options for savouring local fresh fish.
Every weekday morning since the turn of the 20th century the Purdy family has fished the waters of Lake Huron. Today, you can enjoy their fresh perch, pickerel and whitefish dinners, complete with Grandma Purdy's secret batter recipe at Purdy's Dockside Eatery along the shores of the St. Clair river in Point Edward as well as Purdy's at the Bend in Grand Bend.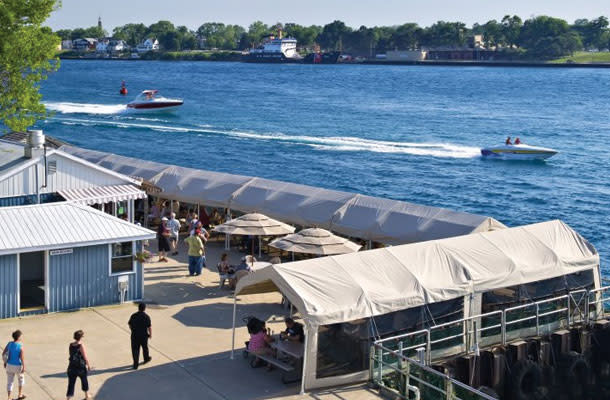 Birdie's Perch, just down the road from Point Pelee National Park, serves up fresh yellow perch from a vintage double-decker bus. It was named one of the ten best places to eat and drink in and around Canada's national parks by Canadian Geographic Travel magazine in March 2016.
For the ultimate feast of fresh perch with a side of great wine and live reggae music, head to Viewpointe Estate Winery's annual Perch-a-Palooza on August 13th.
If you've managed to hook a big one, but aren't keen on the cleaning and cooking part, Molly and OJ's in Erieau will transform your prize catch into a beautiful meal.
The Erie Beach Hotel in Port Dover offers a selection of Erie Beach Plates that showcase fresh local pickerel and perch. Be sure to save room for a few slices of their famous celery bread on the side.
Grab a table on the patio at The Thirsty Mate in Dunnville for a great view of the Port Maitland Marina and a plate of fresh Lake Erie fish with a heaping side of their secret coleslaw.
Whether you choose to catch a few of your own or simply dine on some of our region's amazing freshwater flavours, no trip to Ontario's Southwest is complete without creating a fish tale or two of your own.