The lakes, rivers, and land we love to explore in Ontario's Southwest were cared for by Indigenous Peoples who were here long before any settlers. Ontario's Southwest is on the traditional territories of the Anishnaabeg/Anishinaabeg/Anishnabek/Anishinabek, Haudenosaunee (Iroquois), Huron-Wendt/Huron-Wendat, Attawandaron (Neutral), Lenape, Ojibway/Chippewa, and Wendat Indigenous Peoples. This territory is covered by the Upper Canada Treaties. Please take the time to read about the Upper Canada Treaties and understand how they continue to impact Indigenous Peoples living in Ontario's Southwest.
We recognize and deeply appreciate the First Nations' historical connection to, and stewardship of this place. We also recognize the contributions of Métis, Inuit, and other Indigenous peoples have made, both in shaping and strengthening this community in particular, and our province and country as a whole. We're grateful for the opportunity to live and work here and we thank all the generations of people who have taken care of this land.
Heritage, Culture, and Celebrations Created by Indigenous Peoples
Due to COVID-19, many Pow Wows, festivals, and celebrations held by Indigenous Peoples have been canceled this year. But if you'd like to participate in the future, the Chippewas of Kettle and Stony Point First Nation Pow Wow is an annual event that respectful settlers are welcome to attend. If you are invited to participate in any traditional events by Indigenous Peoples in the future, please do your due diligence by researching prior to attending so that you understand the cultural significance.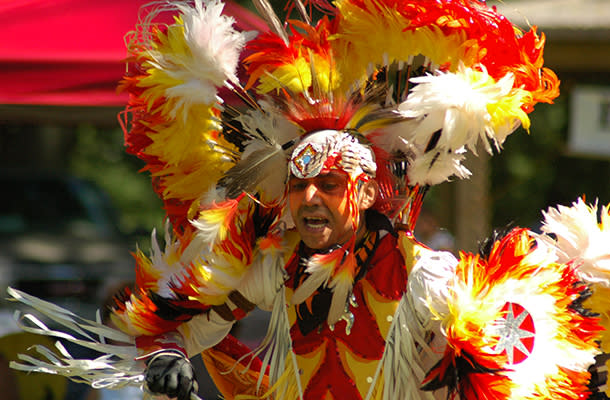 Historical records and history books often exclude Indigenous perspectives, which means there is a lot of history you may not be aware of. Indigenous Peoples lived in Southwestern Ontario long before settlers and there is a rich history that is often unknown to many that live in and visit Ontario's Southwest. Reading and watching content created by Indigenous Peoples fills knowledge gaps that you may have as a result of Indigenous voices historically being omitted.
Here are some examples of content created by Indigenous Peoples that we encourage you to look into:
Historical Tidbits by Darin Wybenga is an online blog with information about Indigenous Peoples and events in history that you should know about.
You can read about the unique Kettles found only in Kettle and Stony Point and learn about their origin story, here.  
Museums, Exhibits, and Historical Places
The following museums feature exhibits that were developed through consultation with the Indigenous Peoples. When the time is right, visiting these museums and exhibits will be a powerful way to explore the stories of those that came before us and gain respect and understanding for the perspectives of the Original People of this land.
Ska-Nah-Doht, located in the Longwoods Resource Centre, this Museum includes 18 outdoor exhibits that guests can explore to learn about First Nations Peoples and their culture. Included in this exhibit is a recreated longhouse village to symbolise what would have existed 1,000 years ago.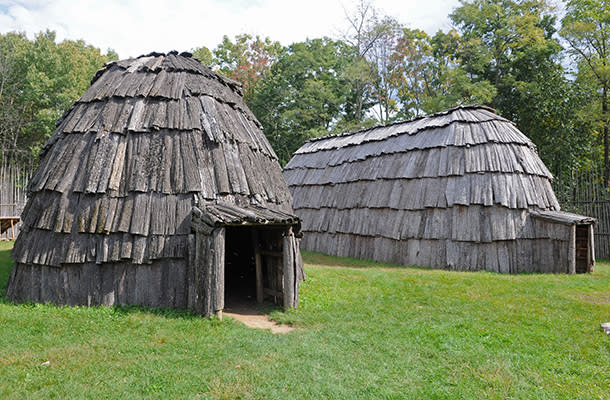 The Original Peoples Culture and Legacy Gallery is a permanent exhibit at the Chimczuk Museum in Windsor. This exhibit includes information on creation stories, treaties, residential schools and 60's Scoop, language revitalization, missing and murdered women, Medicine Wheel teachings, and cultural expressions. When this museum is open and it is safe to travel, it is a must see you'll want to add to your future travel list.
The Museum of Ontario Archaeology has many permanent exhibits that teach Indigenous heritage and culture, including the Oneida and Anishinaabe/Ojibwe Language exhibit that aims to revitalize and preserve Indigenous languages. When the time is right, make sure to check out the Lawson site at the Museum of Ontario Archaeology. This site includes a reconstructed longhouse which exists on the same footprint that a First Nations village existed on 500-years ago. This village was estimated to be the home of 2,000 First Nation Peoples year-round. Until then, the Lawson Site: Lifeways and Landscape exhibit will be available virtually.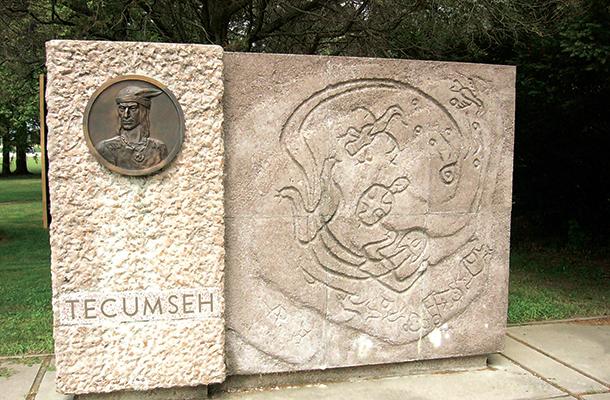 Authentic Indigenous Experiences and Indigenous Tourism Businesses
If you're looking for an authentic Indigenous experience, we've compiled a list of experiences available below. There are some experiences currently in development that we can't share yet but are looking forward to sharing with you soon, so make sure to check back for updates!
The Spirit Horse Encounter is a unique experience where people walk amongst the historic Ojibwe Spirit Horses and gather around the fire at the authentic Metis fur trade Tipi encampment.
This 3-hour experience allows people to experience the horses' incredible spiritual power, listen to oral stories passed down by generations of First Nations People and immerse themselves in the Metis culture through art and music. Call 519-354-7517 to book.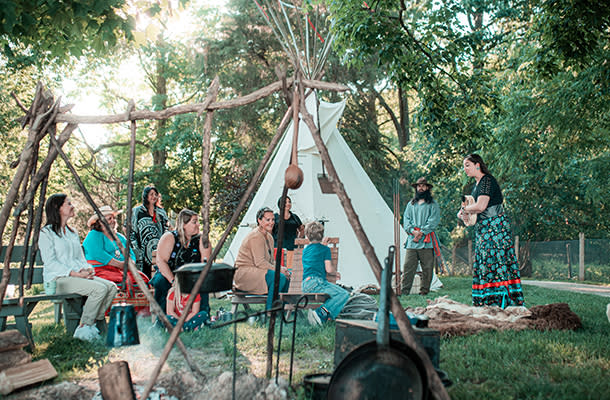 Indigenous Artists
Art is a storytelling mechanism. We encourage you to take in Indigenous stories by appreciating artwork made by Indigenous artists.
Paintings
Rhonda Snow's artwork documents the stories of the Ojibway Spirit Horses. She is a talented artist that has been gifting the world with stunning paintings and prints and using the funds raised from sales of her artwork to help care for Spirit Horses at TJ Stables.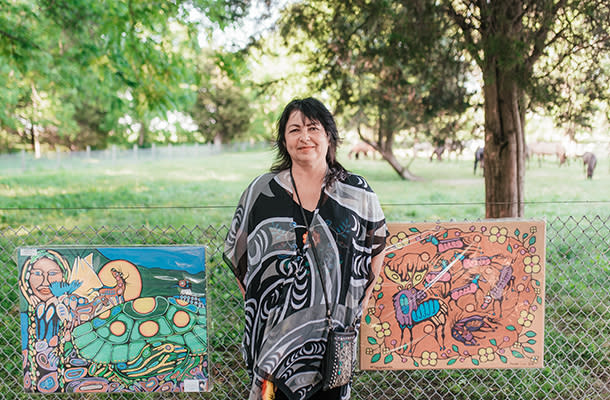 Multi-Media Art at Point Pelee National Park
Point Pelee National Park is leading by example and working with Indigenous partners at Caldwell First Nation and Walpole Island First Nation Council to tell the story of Point Pelee. This is often being done through art created by Indigenous artists to honour the land that was taken.
If you find yourself near Point Pelee, take some time to really appreciate the following art: 
The turtle sculpture at Point Pelee was designed by Teresa Altiman from Walpole Island First Nation.
The welcome sign in Ojibwe-Anishinaabemowin, English, and French can be viewed at the gates to Point Pelee and was created digitally by Darryl Van Oirschot from Caldwell First Nation. 
Madbin Jina, formerly known as Pioneer at the Point Pelee National Park day-use area, invites visitors to come "sit a while". A traditional expression for welcoming guests in Anishinaabemowin.
Murals
Visiting these murals in person will allow you to gain a better understanding of the story the artist is telling and fully grasp the beauty of their work.
The following mural was created by Josh Mangeshig Pawis-Steckley, an Ojibwe Woodland artist. It is named "Nwizhaagoojitoonmin" which translates to "we will overcome it". This hidden gem is tucked away in an alley in Simcoe that runs between Robinson and Peel. 
Hawlii Pichette (also known as Urban Iskwew) is one of the artists that contributed the Market Lane Murals in London. She is an Indigenous artist and beadworker who collects inspiration through traditional Indigenous artforms and patterns.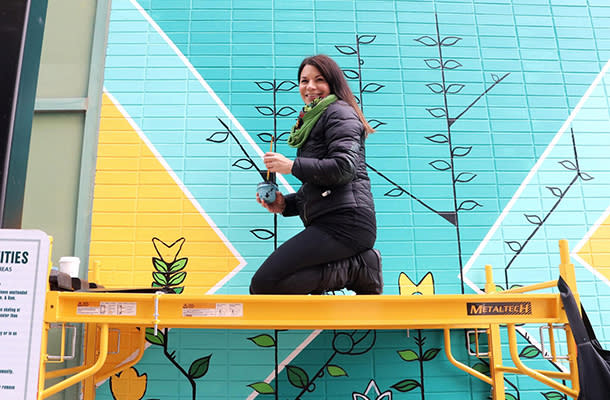 Acknowledgements and Resources
This blog post was written by a settler with the goal of amplifying the voices, art, and tourism businesses of Indigenous Peoples in Southwestern Ontario. We encourage our readers to hold us accountable as we work towards reconciliation and de-colonization. We recognize our responsibility to use our platform to promote information that is accurate and not harmful or offensive, but if we've fallen short in fulfilling that responsibility, we are grateful to anyone that provides us with feedback by emailing us at hello@swotc.ca.
We acknowledge and respect the following reserves that share territory within Southwestern Ontario: Chippewas of Kettle and Stony Point, Moravian of the Thames, Walpole Island First Nation, Oneida Nation of the Thames, Chippewas of the Thames First Nation, Munsee-Delaware Nation, Aamjiwnaang, Mississaugas of the Credit, and Caldwell First Nation. The information shared on their websites is a gift and helped inform this blog post.
Thank you to the Indigenous Tourism Association of Canada for sharing their Media Style Guide that informed this blog post.
To identify the traditional territory for land acknowledgments, the Traditional Territory Acknowledgements in Ontario as of November 13th 2019 was referenced. You may notice that there are multiple spellings for the names of Indigenous Peoples. This is due to Indigenous languages being oral languages until they were later written into English-Phonetics.
Additional resources and books that informed this blog post:
Thank you to Darryl van Oirschot for taking the time to consult with us on this blog post. 
---
---