Thursday, September 30, 2021 marks the very first National Day for Truth and Reconciliation. Please take this day to honour the lost children and survivors of Residential Schools, their families, and communities. If you are wondering how to respectfully participate and do your part in reconciliation today, and beyond, please keep reading. 
The National Centre for Truth and Reconciliation compiled a list of crisis/help lines for Indigenous Peoples. The emotional labour of walking the path of reconciliation is often traumatic for Indigenous Peoples. You are not alone in this. If you need help, please call the following numbers:
National Residential School Crisis Line: 1-866-925-4419
First Nations and Inuit Hope for Wellness 24/7 Help Line: 1-855-242-3310
Ontario Help Line: 1-888-301-6426
1. Learn about the traditional territories for the land you're situated on.
The lakes, rivers, and land we love to explore in Ontario's Southwest were cared for by Indigenous Peoples who were here long before any settlers. Ontario's Southwest is on the traditional territories of the Anishnaabeg/Anishinaabeg/Anishnabek/Anishinabek, Haudenosaunee (Iroquois), Huron-Wendt/Huron-Wendat, Attawandaron (Neutral), Lenape, Ojibway/Chippewa, and Wendat Indigenous Peoples. This territory is covered by the Upper Canada Treaties. Please take the time to read about the Upper Canada Treaties and understand how they continue to impact Indigenous Peoples living in Ontario's Southwest.
We recognize and deeply appreciate the First Nations' historical connection to, and stewardship of this place. We also recognize the contributions of Métis, Inuit, and other Indigenous peoples have made, both in shaping and strengthening this community in particular, and our province and country as a whole. We're grateful for the opportunity to live and work here and we thank all the generations of people who have taken care of this land.
You can click here to see what traditional lands you reside on.
2. Wear Orange as a symbol of support and reflection.
Click here for more information. 
3. Educate yourself.
Read the 94 calls to action and learn why they are so important. Click here to read them.   
Commit to reading a book; The Toronto Library has put together a great list of recommendations; click here for the list.  
Take part in Indigenous tourism. Visit IndigenousExperienceOntario.ca or read about Indigenous Tourism in Ontario's Southwest and support Indigenous owned businesses, artists, and creators. 
4. Donate to a verified Indigenous organization.
You may consider donating to Orange Shirt Day, the National Centre for Truth and Reconciliation, and the Indian Residential School Survivors Society.
5. Attend an event in your area outside or virtually.
Most First Nation Communities will be having a sacred fire and are open to everyone to attend. Please reach out to your local First Nation Community to see how you can get involved and support. We acknowledge and respect the following reserves that share territory within Southwestern Ontario: 
Virtual Events
You can join a virtual event via the National Centre for Truth and Reconciliation's YouTube page, here.
Visit Indigenous Tourism Ontario's social media on September 30th. They will be sharing a list of their suggested ways to observe.
In-Person Events
Locals are encouraged to join Caldwell First Nation by taking steps to honour and remember the lives and spirits of those who attended Indian residential schools. See flyer below.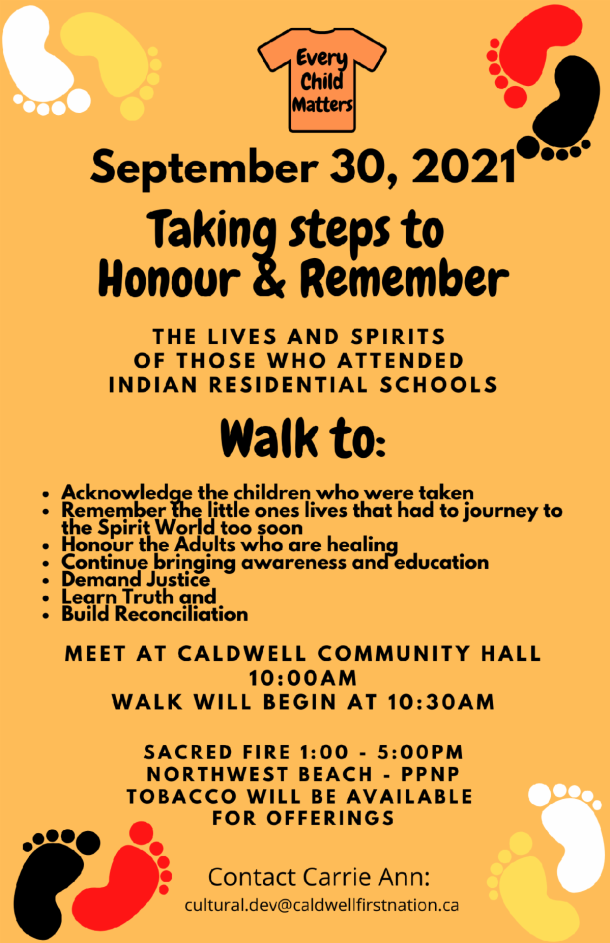 Join the Ska:na Family Learning Centre in Chatham-Kent and their partners at the new SFLC Centre in Honouring the Children. See flyer below.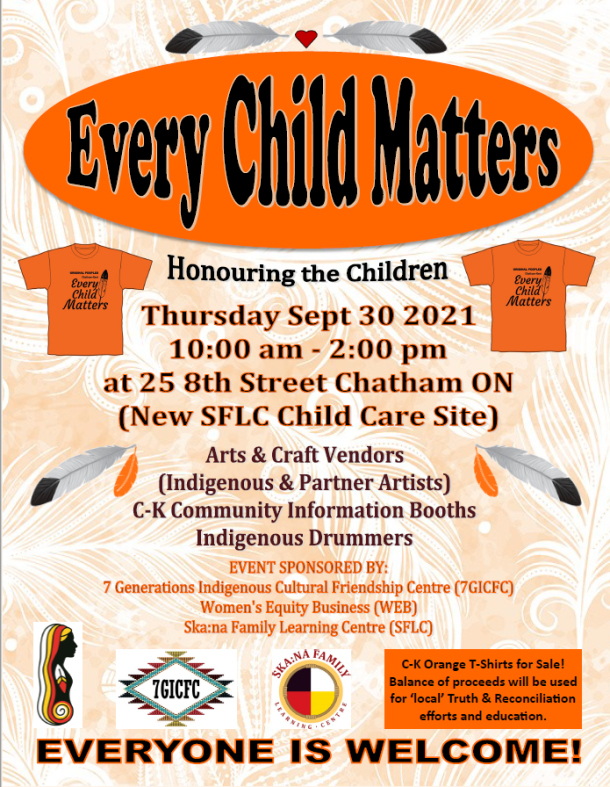 Join TJ Stables Open House on Thursday, September 30th to Remember the Children and recognize the National Day for Truth and Reconciliation.
​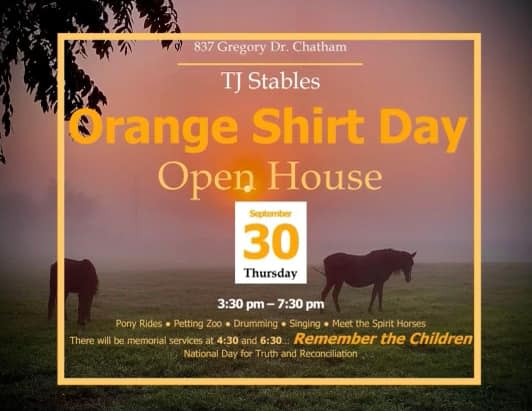 ---
To learn more about what you can expect when visiting Ontario's Southwest and how businesses are trying to keep you safe and following government guidelines, click here.