It's hard to beat small-town charm or beautiful waterfront scenery. If you're looking for both, then Haldimand County is a must for your next cycling adventure.The quiet country roads, friendly locals, and plenty of small-towns, shops & eateries make sure that no matter which route you take, you're bound to end up with a memorable ride.
There are multiple trails available throughout Haldimand taking you through farm country or along the waters of the Grand River and Lake Erie. Check out each of the trails below on the interactive map that highlights amenities, accommodations, restaurants, public washrooms, and more.
DISTANCE: 51 KM
TERRAIN: paved, mostly flat
START & PARKING: Grant Kett Park, 38 St. N., Hagersville
Take this scenic route through Hagersville and Townsend and experience Haldimand County's small-town charm. For a sweet treat, make a stop at Hewitt's Dairy for one of their 60 ice cream flavours.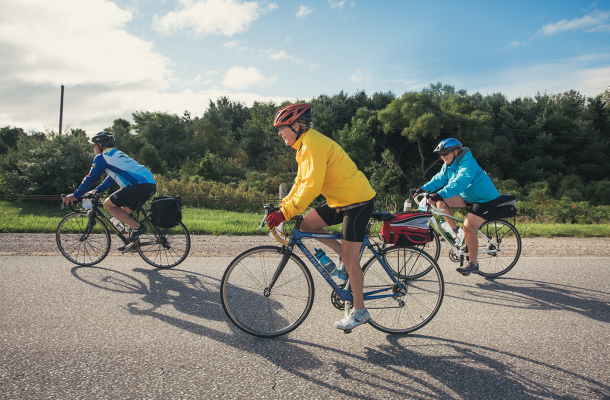 DISTANCE: 71 KM
TERRAIN: paved, rolling hills
START & PARKING: Mckinnon Park, 100 Haddington St., Caledonia
Journey along the Grand River and enjoy some of the best scenic back roads in Haldimand County. Want to visit even more nature on this route? Head to Selkirk Provincial Park on the shores of Lake Erie.
DISTANCE: 69 KM
TERRAIN: paved, mostly flat to rolling hills
START & PARKING: Cayuga Kinsmen Park, 61 Ouse St. S, Cayuga
Travel along the scenic banks of the Grand River and Lake Erie. Be sure to take a stroll along the pier at Port Maitland. For tasty eats along this route, you have to visit Twisted Lemon Restaurant in Cayuga or Debb's Cuisine on Queen in Dunnville.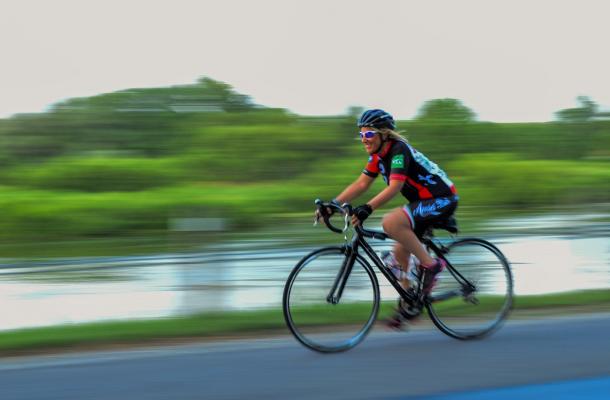 DISTANCE: 52 KM
TERRAIN: paved, mostly flat
START & PARKING: Dunnville Kinsmen Park, 985 John St., Dunnville
Ride by parts of the Feeder Canal and watch for birds and other wildlife. Explore the Carolinian Forest at Rock Point Provincial Park, you can even camp for the night or hit the beach.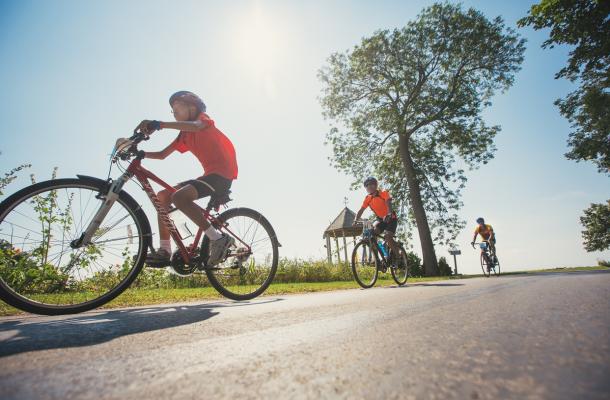 DISTANCE: 70 KM
TERRAIN: paved, mostly flat
START & PARKING: Selkirk Athletic Field, 17 Main St. W, Selkirk
Enjoy the many picturesque views along the lakeshore. Camp at the Haldimand Conservation Area, Selkirk Provincial Park, or relax at a local bed & breakfast.
DISTANCE: 6 KM
TERRAIN: paved & unpaved
START & PARKING: Seneca Park 651 Caithness Street East, Caledonia OR York Park 60 Front Street South, York
This beautiful trail takes you off-road to enjoy the sights and sounds of the heritage Grand River. A great option for family rides and provides many opportunities to access the river for other recreational activities.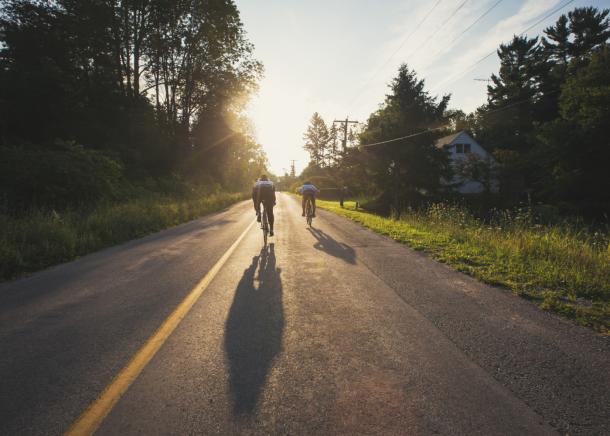 DISTANCE: 95 KM
TERRAIN: paved, mostly flat
START : New Lake Shore Road east of Port Dover at the Norfolk County border or on North Shore Drive west of the Regional Municipality of Niagara border
Stretching over 1600 KM along the Canadian shores of the Great Lakes, the Waterfront Trail connects 76 communities and over 405 parks and natural areas including wetlands, forests and beaches. The Haldimand County section of the waterfront trail provides opportunities to watch boaters, wildlife and will take you past the boardwalk and pier at Port Maitland, located at the mouth of the Grand River and Lake Erie.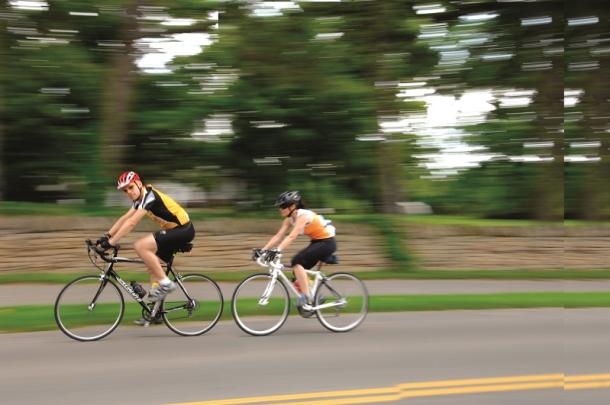 Looking for a multi-day cycling experience? 
Try the Lake Erie River Run! This two-day ride begins and ends in the town of Caledonia, taking riders through a mix of rural landmarks and riverside views.  This touring itinerary covers a total distance of 135km on paved roads and takes two days, with possible added trip extensions. Check out the full itinerary.
Please take a moment prior to your visit to confirm that the places you plan to enjoy will be operating when you arrive. The partner listings in our Things To Do section are a great resource to find operator websites and phone numbers.
---
We are so lucky to have beautiful natural areas in Ontario's Southwest to enjoy. Let's take action to protect our precious natural spaces. Click here to join the #ForTheLoveOfParks movement and learn 5 ways you can help keep parks clean and safe.