4 stops beer lovers won't want to miss.
The craft beer industry is growing quickly across the country and the province. It's easy to see why craft beer is booming, we as consumers are developing more discernible palettes when it comes to beer and demanding more variety in taste, flavour, and types of beer. While the established big breweries put out seasonal items, it's usually the same beers year after year with no real discernible difference in taste or quality compared to their usual line-up.  This is where the craft brewery industry sets itself apart.
Craft breweries are able to satisfy our hunger for bold new flavours and continuous innovation with hand-crafted brews in an ever growing variety of styles; plus, many of these breweries pride themselves in using only local sourced, and seasonal, ingredients wherever they can. Best of all, this innovation and growth in the craft brewery industry is happening right here in Ontario's Southwest too. In 2014 alone, a handful of new craft breweries have opened in the region.
Refined Fool Brewing Co.
Located in Sarnia, Refined Fool opened its doors in May of this year. What began as a group of friends brewing in their homes has evolved into Sarnia's first craft brewery in over 100 years.  The brewery is located downtown and has one my favourite features, a really big pick-up window. You can walk up, place your order, pay, and grab your beer right from the sidewalk.  The brewery offers a variety of tasty brews from their IPA, Antique Peepshow, and milk stout, Joe Sent Me, to my personal favourite, the bourbon porter, Ripsnorter.  Plus, there are numerous limited and seasonal releases throughout the year too.
Strathroy Brewing Company
Since opening its doors in early 2014, Strathroy Brewing Company, has received rave reviews and an ever growing fan base for its inaugural brew, the 1812 Independence Pale Ale and their brewing methods. The beer is brewed with a blend of the finest hops, non-GMO malts and bottle conditioned, like champagne, which allows the beer to mature and develop character. Additionally, the beer is unfiltered & unpasteurized to preserve delicate flavours & aromas and no preservatives are used aside from the hops.  The brewery also produces a wheat beer and will be releasing a lager in the near future as well. There is a retail location on site at the brewery and the 1812 pale ale is available at a number of local restaurants in Middlesex County in bottles and, in select locations, on cask!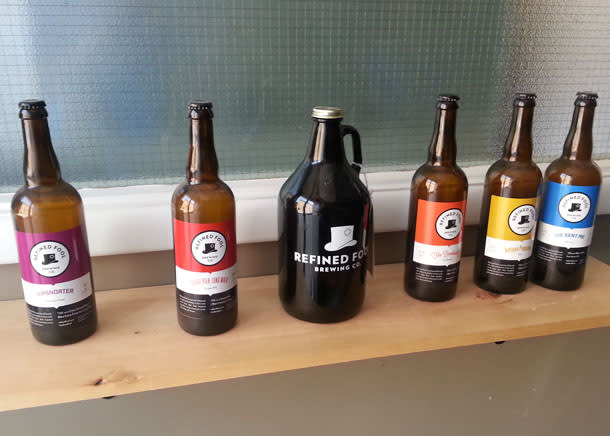 Brew
The newest craft brewery to open in Southwestern Ontario is Brew in Windsor. Located steps from Caesars Windsor and the downtown core, Brew has a fantastic on-site kitchen and tap room offering up great food and of course beers. Brew's first beer is called Proper Lager and it was created to be flavourful but most importantly, smooth. The goal with their product is drinkability, a brew that will satisfy the palates of seasoned craft beer drinkers as well as provide an easy drinking brew for those new to the craft beer scene.  In the coming months, Brew will expand their beer line-up and begin offering additional hand-crafted brews and seasonal choices.
London Brewing Co-operative
Organized as a worker's co-operative sharing space with the Root Cellar Organic Café and On the Move Organics, London Brewing Co-operative (LBC) is located in London's old East village. The brewery is owned by those who work there and it is the first co-operative brewery outside of Quebec in Canada.  LBC focuses on quality over quantity and crafting brews that are best served over conversation using local and organic ingredients.  Currently, the Root Cellar is the only spot you can enjoy the brews from London Brewing Co-operative as the brewers enjoy trying new recipes there is usually a changing variety of available beers.
Now this is just the beginning, this boom of new craft breweries is continuing to roll out in Ontario's Southwest. There definitely are more craft breweries, and restaurants with in-house brewing operations, on pace to open up in the region in the coming months. With the region's deep agricultural roots and fertile soil, Ontario's Southwest offers those looking to get into brewing a wealth of local ingredients to help craft new delicious new flavours and some of the best beer in Ontario.