Charming Chatham-Kent A Cool Part Of Ontario's Southwest
A beach town with charm to spare. A vital link to Ontario's black history. And a positively wondrous hotel in a town that will definitely surprise you.
I had stopped in the town of Erieau a couple years ago on a trip along the Lake Erie shoreline (sometimes called Canada's forgotten coast). It was only a brief drive-by, but I was charmed by the low-key yet vibrant nature of the town and beguiled by the beach and the cute waterfront homes.
This time, with the help of the folks at Ontario's Southwest I managed to squeeze in an hour-long boat ride, a brief walking tour of the marina and "downtown" area and a fabulous lunch at a busy waterfront café that also makes its own craft beer. If there's a finer way to spend a morning in Canada, I don't know what it would be.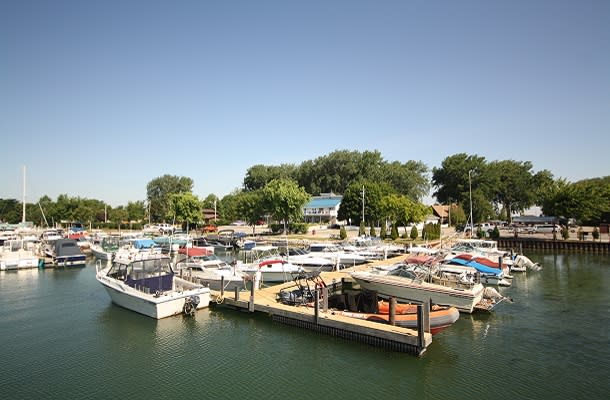 I started with a boat ride in Rondeau Bay with Dave Barnier, who runs the Erieau Marina. He knows the bay and the waters of Lake Erie as well as anyone, and it was one of those perfect southern Ontario days with a hot sun and a slight breeze that picked up nicely on the open water.
We cruised past Rondeau Provincial Park, admiring the broad, sweeping beaches and thick forests and also watched a young fellow (okay, it was his son) teaching kids to sail in the bay.
Out on the lake, Barnier explained some of the local geography and history to me.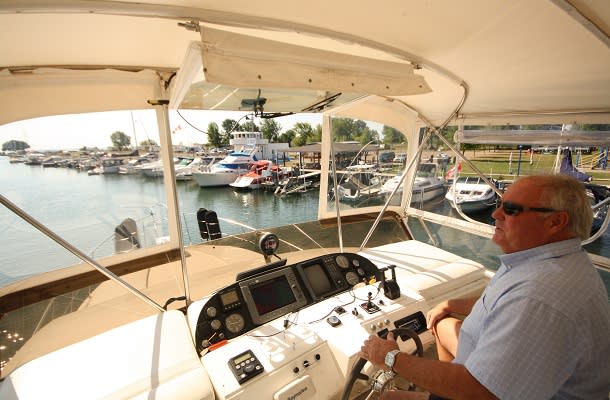 "The water can get up to 90 degrees Fahrenheit in Rondeau Bay in summer because it's so shallow," he says.
Lake Erie was a mess decades ago but he says now the water is clean as can be and that there aren't any limits on what fish people can catch or eat.
"We like to say visitors come for the lake but stay for the people," he said.
Folks in this part of Ontario are super-relaxed, for sure. Maybe it's the beaches or the summer weather, but it seems everyone is having a great time. And there's certainly no big-city attitude a half-hour south of Chatham on the shores of a great lake like this one.
It's a great stopping point for people doing Great Lakes tours, or longer. Barnier said the Eaton family has been known to stop in, as has Celine Dion.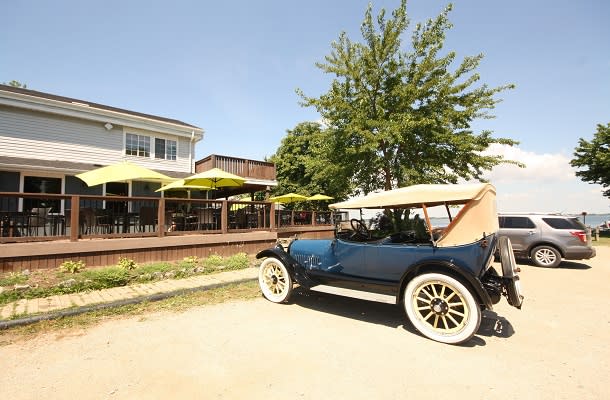 Back on land, we walked about admiring the pretty homes before heading over to Bayside Brewing, a craft beer maker that also has a fine café with a shady patio overlooking Rondeau Bay. They make a very good pizza, but I was also impressed with the calamari, which wasn't the usual tiny bits covered in acres of breading but instead large segments dusted with a Caribbean-style spice. Excellent, especially with their light but tasty Honey Cream Ale.
Nancy Cowan, one of the partners at the brewery, said the folks who run the place had very little knowledge about beer-making when they came in a few years ago. They seem to have caught on nicely, as you can find their beer at LCBO stores in southwest Ontario and at area bars.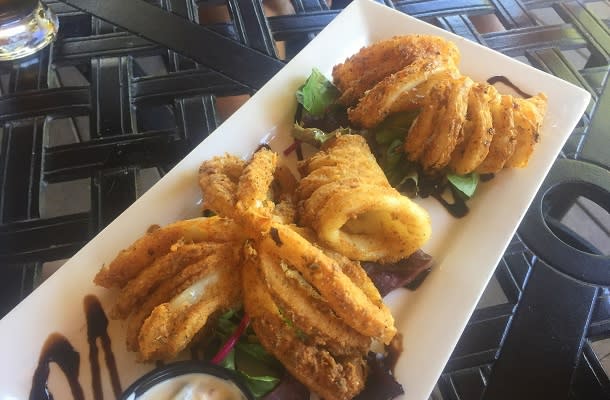 The town seems to have caught on a bit, too, with folks arriving all the time to check things out.
"We're kinda getting discovered now," Barnier said with a trace of wistfulness.
If you go inside the pub you'll find great photos from back in the 1960s (I believe), with boats loaded with coal on what was then a working, grimy waterfront. The contrast with today's gleaming white boats and clean water is amazing.
Cowan said the place was pretty run down back in the day and that at one point it was leaning so badly folks called it "The Tiltin' Hilton."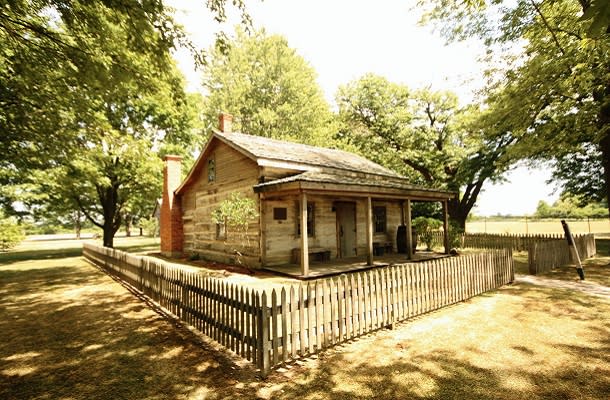 Up the road you'll find the Buxton National Historic Site and Museum, part of the 9,000-acre Elgin Settlement put aside for black settlers in 1849. It's a marvellous place to learn about Canada's and Ontario's black history.
I drive along roads in the town of Chatham-Kent that are ramrod straight as I head to Buxton from Erieau. The road to freedom for blacks escaping slavery in the U.S. was anything but straight and easy, I think to myself.
I was lucky enough to get a tour of the museum and grounds from Shannon Prince, one of the warmest and most engaging tour guides you can find. She was a true delight, and insisted after an hour tour that I give her a farewell hug.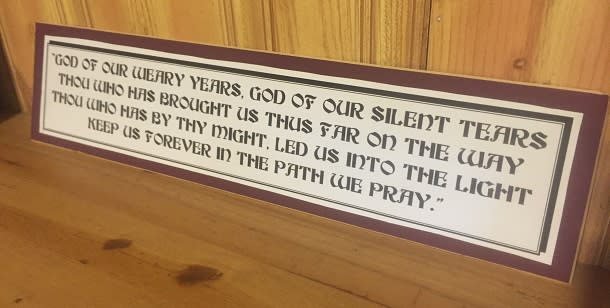 Prince, a sixth generation Buxton resident, shows me the awful wooden compartments (not beds, most definitely not beds) that some slaves slept in as they came to North America (Canada had slaves for more than 300 years and it wasn't abolished here until 1834). Prince said there sometimes three or four people to a tiny bunk and no washrooms. One can only imagine the conditions.
As we tour the museum, Prince slips a pair of heavy metal shackles around my ankle so I can get the briefest glimpse of what it might have been like, not that three seconds in 2016 gives anyone a real picture of a slave's existence 200 years ago.
I ask if there aren't times she feels just sick about the past she explains every day.
"I feel honoured to be able to tell the story," Prince answers. "If my ancestors hadn't survived I wouldn't be here. But it does get emotional at times, especially when you see things going on today.
The other day I was explaining the history to someone and I just started crying. Some people just can't pick up the shackles."
For slaves who escaped the U.S., Buxton must have seemed a paradise. They had log cabin homes of reasonable size (mandated at 18 feet by 12 by 24) and with a kitchen, main-floor bedroom and upstairs loft for the kids. There was a one-room school next door, which Prince attended as a little girl and which you can tour
In addition to the terrorizing images at the museum, there are displays of hope and courage. I was particularly taken with a display about Mary Ann Shadd Cary, the first black woman in North America to operate a newspaper, called the Provincial Freeman. I think I'd have liked her.
"There are only three black farmers left in the entire Buxton Settlement area," Prince tells me. "My Mom is still here and the family farms soybeans, wheat and corn right there, across the street."
From Buxton I'm off to Chatham and a night at the Retro Suites. I didn't know much about it except that they had a new series of themed rooms.
To be honest, I expected a certain level of cheese. Instead, I found a fantastic modern and stylish hotel with a real story to tell.
They have a sports room with a green floor marked with yardage stripes like a football field, boxing gloves hanging on the wall and chairs in the colours of the Detroit Red Wings, Edmonton Oilers and other teams. There's a Paris room with images of the Eiffel Tower, and a Pop room that looked the sort of place Andy Warhol would've loved. I had a log cabin-style suite with a huge fireplace, a lamp fashioned from a dozen pairs of enormous antlers and plenty of knotty pine.
It had a good coffee maker and a mini-fridge and a huge bathroom with a great shower and nice bath products. I found the antlers a bit disconcerting hanging over my bed at night, but it didn't stop me from getting a good night's sleep in a quiet room.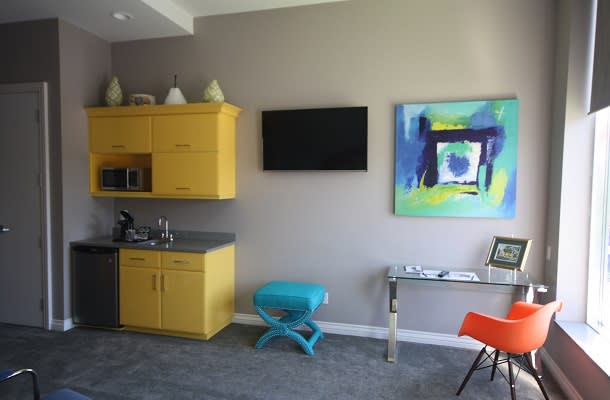 They have great, old-time neon signs on the brick walls out front. The lobby has an old fridge, a cool juke box, giant toy soldiers and nice works of art (two apparently painted by Ronnie Wood of the Rolling Stones). It's funky but super-fun.
The hotel was built by Rob Myers, who's based in Chatham and is one of the top car restoration folks in the world. They say he built the place as some of his clients, including former Tonight show host and car freak Jay Leno, wanted a cool place to stay when visiting or buying cars.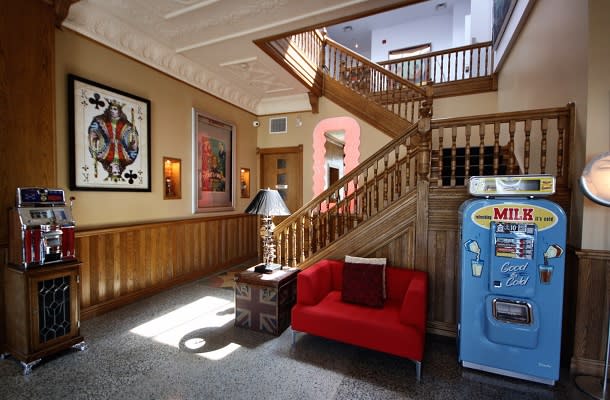 Cool it certainly is. And reasonable, with prices starting at just $139 Cdn. per night.
They have a lovely restaurant called the Chilled Cork. My waiter at dinner, Mauro, served us a magnificent steak thinly sliced with a drizzle of not-too-strong bleu cheese and local mushrooms, as well as a sensational chicken dish with a tasty orange-ginger glaze I'd happily rub on my morning Cheerios.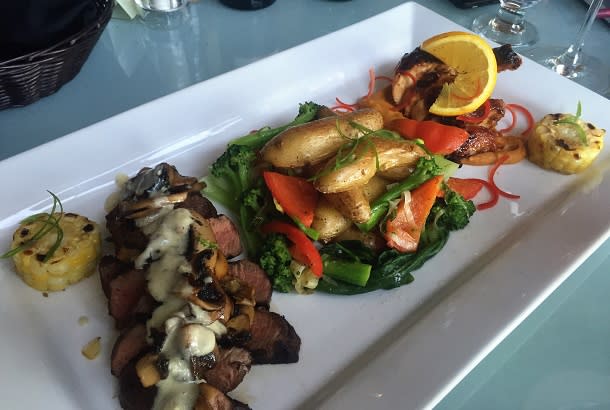 Speaking of which, I had a wonderful breakfast in Chatham at Chatham Breakfast House and Grille, which also serves as a Churrascaria place. It was too early for their famous roast chicken (I understand it's hugely popular) but I did manage a massive plate of eggs, toast and slightly spicy (just the way I like it) Portuguese sausage; always a favourite for me. It's a casual, neighbourhood kind of place that's quite attractive but completely unpretentious. I'd love to go back sometime for the chicken.
So there you have the first part of my Ontario's Southwest trip.
Beaches. History. And fabulous beds. A pretty fine combination in Ontario's surprising southwest, for sure. With more posts to come on great beer, wine and food, as well as the lovely village of Amherstburg.
Catch more of Jim Byers' adventures at JimByersTravel.com.