You may have heard of the rapidly expanding craft beer scene and about the three distinct wine growing regions of Ontario's Southwest, however did you know craft cideries are also booming with bubbly goodness here too?!
These cider makers across Ontario's Southwest are turning their crops into bushels of award-winning hard ciders that are sure to please:
Twin Pines Orchards & Cider House in Thedford in Lambton County is the largest cidery in the region and the most award winning one too having won countless medals at the annual Great Lakes International Cider and Perry Competition including Best in Show. This family run cidery does everything right on site, from growing the apples & hand-picking to blending & bottling - the first time the apples leave the farm is when you take the bottle home with you!
Another great cidery in Lambton County is the Shale Ridge Estate Winery that serves premium handcrafted hard ciders. Their fresh peach apple cider deserves to be in a country song and is perfect to enjoy on a hot summer day.
Norfolk County is home to the second largest apple growing region in Ontario so it's no wonder it's home to the largest concentration of cideries in Ontario's Southwest. Bonnieheath Estate Lavender & Winery in Waterford has had apples growing on the family farm since 1982, making it the most mature orchard out of the Norfolk County cideries. Their Folkin' Hard Ciders lineup are a 100% Norfolk product, made from their own fresh apples as well as local ingredients such as cherries and strawberries. Their Cherry Pickin' cider has even won top prize in the specialty cider category at the Ontario Craft Cider Competition.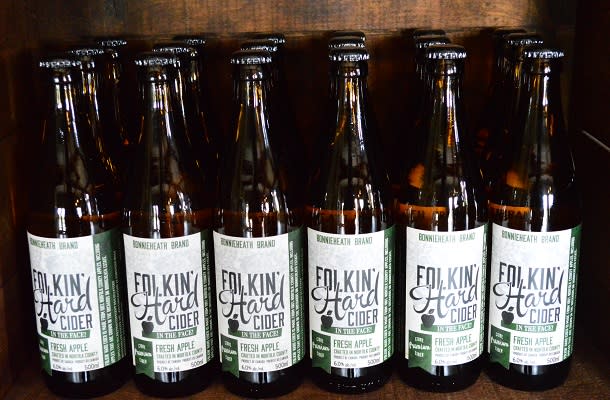 Blueberry Hill Estates, located close to the shores of Lake Erie in St. Williams, has a great collection of ciders with options all cider lovers will enjoy. From an easy drinking all apple cider and a blueberry vs blackberry mix to one that was fermented in old Chardonnay barrels and one that fermented in a former bourbon barrel, Blueberry Hill has a number of unique flavours waiting for you.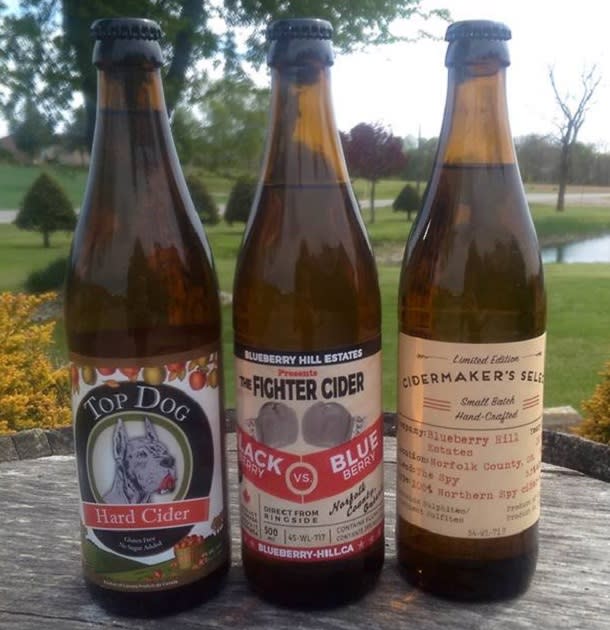 The newest cidery to open to visitors, Hounds of Erie Winery grows 22 different types of heritage hard cider apples on 23 acres farm that's also home to a vineyard. These apples are used to hand craft their cider lineup and best of all, there's no additives, no added sugar, just pure excellent, fresh hard cider.
The final cider stop in Nofolk is Wooden Bear L Winery. Their speciality is their Bear Claw Hard Cider, a refreshing traditional English-style cider. The clear and dry is made right on site from their own seven acre apple orchard. It doesn't get any more local than that.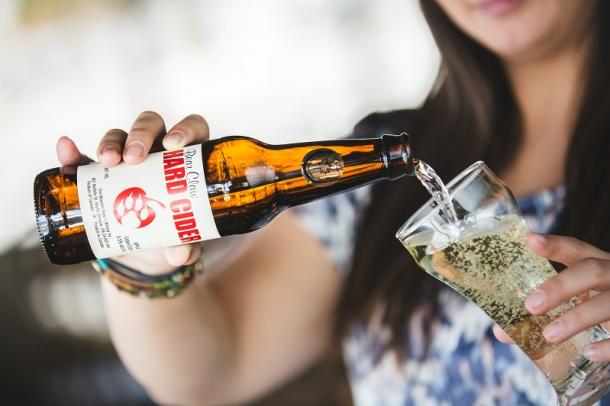 Nestled on a quiet gravel road in South Cayuga in Haldimand County, the McDonald family own and operate Haldimand County's only winery and cidery. Using their own grown apples, plus fruits from neighbouring farms, Bains Road Cider Co. makes a line of unique, tasty, and locally sourced line of ciders.
Heeman's has been suppling London with fresh, locally grown fruits since 1963. Now, they are offering speciality, small batch hard ciders. These ciders are created using Heeman's Ontario grown apples and fruits! From the blue berry to Ambrosia apple, there's always a delicious Heeman's Hard Cider to try.
Are you ready to head to the orchard and get bubbly?