If you're looking for more travel ideas this year, consider going on a quest to find the best culinary experiences in our region just like Arienne Parzei. From farms to local businesses, Oxford Country will satisfy your soul and appetite!
Culinary experiences like the ones you are about to see are not only important for the community's well-being, but also for the visitors looking to experience first-hand the flavours that characterize each town. So don't let this blog go unnoticed and book your favourite culinary experience today!
1. Freshly Picked Produce in Innerkip
Thames River Melons farm offers all kinds of fruits and vegetables. Pick your own or get one of their pre-selected baskets full of delicious produce, preserves and baked goodies. If you want to take your farm experience to the next level, take advantage of their Harvest Brunch, where you will have the opportunity to cook your meal using products picked right from the farm. Gather your ingredients, learn from experienced chefs, and enjoy your sit-down brunch out on the farm.
2. Top Tier Crafted Coffee in Woodstock
For those who can't go a day without a cup of coffee, the Early Bird Coffee roasting experience will be the perfect complement to their weekend getaway! Watch Master Roaster, Elio J. Caporicci, take the beans from green to a decadent rich brown with his refined roasting skills, while sipping some freshly crafted coffee from their tasting menu. Just before you leave, pick up a half-pound bag of your favourite coffee to enjoy at home.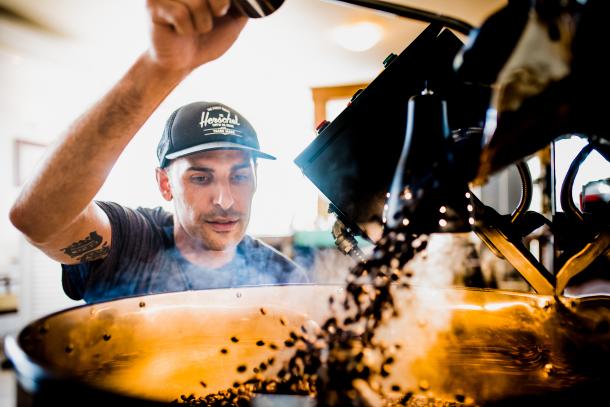 3. The Unmatched Goat Milk Ice Cream From Udderly Ridiculous
There are never too many variations when it comes to ice cream, which is why we encourage you to add Udderly ridiculous goat milk ice cream to your list of things to try ASAP. For the behind-the-scenes of their manufacturing process, sign up for their farm life experience to spend some time with the animals and engage in all sorts of activities, including goat yoga! How exciting!
4. Lots of Berries to Pick at Burgessville
With over 75 acres of farm, Berrylicious is the perfect spot to pick up fresh fruits including blueberries, raspberries, elderberries and more! When you're done, grab a picnic snack basket and enjoy the rest of your afternoon at the blueberry patch. 

5. Home of the Largest Bean-to-Chocolate Maker in Canada!
If you're looking for a chocolate fix, head over to Habitual Chocolate for a one-of-a-kind handcrafted chocolate bar made with no additives. Not a fan of chocolate? Get yourself a sample pack of their artisanal ice cream made with ingredients from local Oxford County businesses.
6. Say Cheeeese! On the Cheese Trail!
Known as the dairy capital of Canada, Oxford County has a rich cheese-making history that dates back to the 1800s. Learn about the history of cheese in the region at their most popular culinary experience, the self-guided Oxford County Cheese Trail, which starts at the Ingersoll Cheese and Agricultural Museum! More than 25 stops featuring cheesemakers, restaurants, hotels, and local businesses that use cheese and local dairy products. 
Did we make you hungry enough to make you want to visit Oxford County right away? Share your favourite culinary experience on socials by using #OntSouthwest.
Check out more Small Town Getaways from SeeYouSoon Travel.