There is so much to do in Ontario. Not only are we host to the country's capital city, we have so many different types of scenery, flora and fauna. One of my favourites has to be Ontario's Blue Coast with sparkling crystal clear waters and long, white sandy beaches. 
Ontario's Southwest can feel like you're on a Caribbean getaway without even getting on a plane. Paired with unique and engaging family attractions, Ontario's Blue Coast is perfect for a family getaway. Why You Need To Visit Ontario's Blue Coast.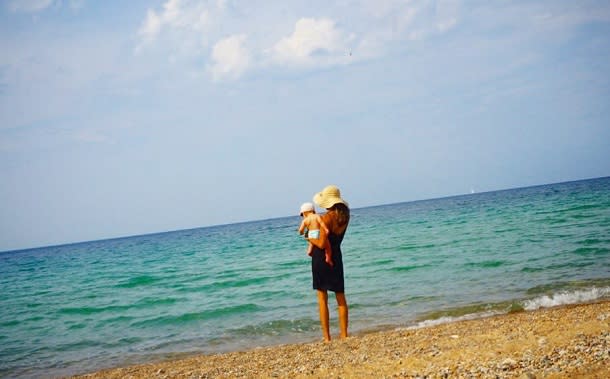 Last week, my son, C, and I went on a road trip to explore more.
We started out adventure at Canatara Park in Sarnia, Ontario, a place that I used to visit when I was a kid. I remember visiting the Children's Animal Farm and taking the train through the park with my Grandparents.
Although the place has been updated since I was a kid (which as awhile ago, I'll admit), it still has the same charm that it did lo' those many years ago.
My son loved looking at the sheep, goats, mini horses and ducks, and laughing at Mummy while she practiced her animal noises.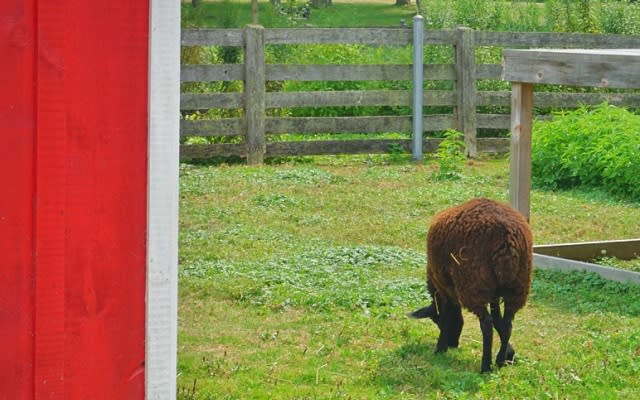 After some animal time, we headed over to Canatara beach on Lake Huron. The water is the crystal clear and we can see right to the bottom. C and I splashed in the water and play in the sand. I see some stand-up paddle boarders in the distance and wish that I could head over to Beach Bumz rentals, hire a board, and spend some time out on that gorgeous blue water. Next time maybe?
Since I last visited downtown Sarnia, there seems to have been a gentrification of sorts. It was very trendy with independent coffee shops, microbreweries and cafes focusing on fresh and organic produce: It was very cool. Equally as cool was the Stones 'N Bones museum, a collection of animals, dinosaurs and artifacts that touch on history, culture and nature. Visually enticing for babies and educational for older kids.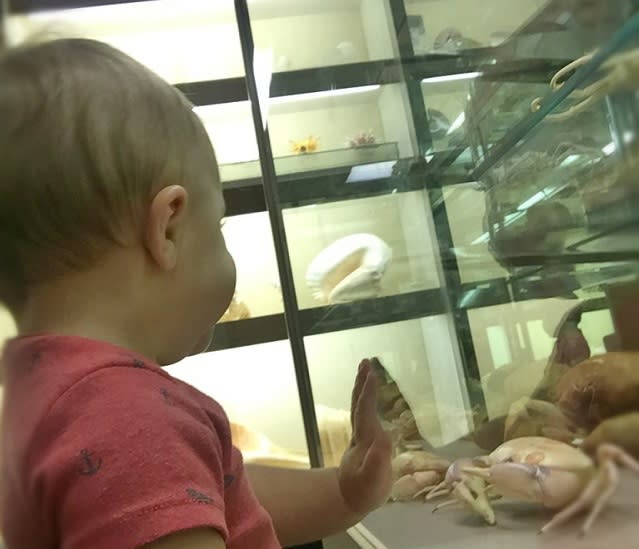 While in Point Edward, we stayed at Hampton Inn which was the perfect distance to the lake, downtown and great restaurants like Alternate Grounds Dockside.
We were able to enjoy a morning activity, head back for a nap, explore the afternoon, nap and discover the early evening before an early bedtime. On our first night, we enjoyed a delicious dinner at Alternate Grounds Dockside right on the water by the marina as the sunset. It was very romantic. Especially with a baby.
The next day we packed up and drove to beautiful Grand Bend, a beach on the same lake as Canatara. We checked into Oakwood Resort, a family destination that I had heard of before. My mother (a newly retired principal) went to conferences at Oakwood and had always sung their praises.
Oakwood had a great golf course on the property. I would go there again just to golf. The whole resort was family oriented with a kids playground, an indoor pool, movie nights and of course, a private beach.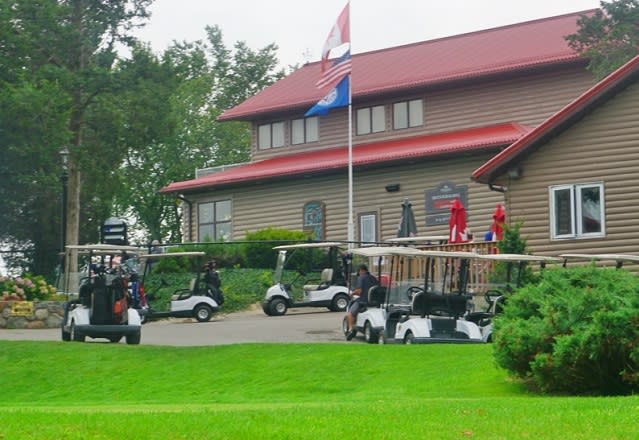 We felt welcome and included as soon as we arrived, like we were joining a family.
We had dinner at Dave's Pub & Grill on the resort grounds and I loved it! Again, we were treated like family and they also had a special box of books and toys for kids who were too young for crayons and colouring…like C…who still eats crayons. I was so impressed that they had thought of everything.
Dave's also had local wines and produce on their menu. The wine list was listed by proximity to Grand Bend instead of price which I loved. This obviously meant that I needed to sample a few glasses.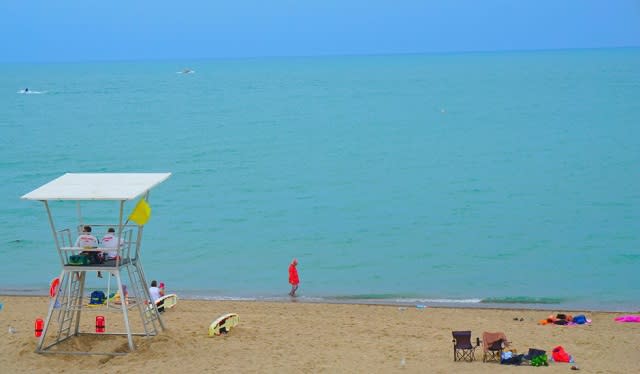 We headed to the main Grand Bend beach to take a look. The Grand Bend beach is a Blue Flag beach meaning that they have received a certification from the Global Foundation for Environmental Education (FEE), and meet the FEEs stringent standards for water quality, safety, environmental education and information, the provision of services and general environmental management criteria. That makes me feel good about my son swimming here and all the people populating the beautiful beach seem to agree.
Grand Bend beach also has a flashy splash pad for kids, playground equipment, a meandering boardwalk and a main stage where they host concerts and other fun community events. Shops and restaurants line the the main drag down to the water, where C and I sat on a patio sipping our cider/sippy cup.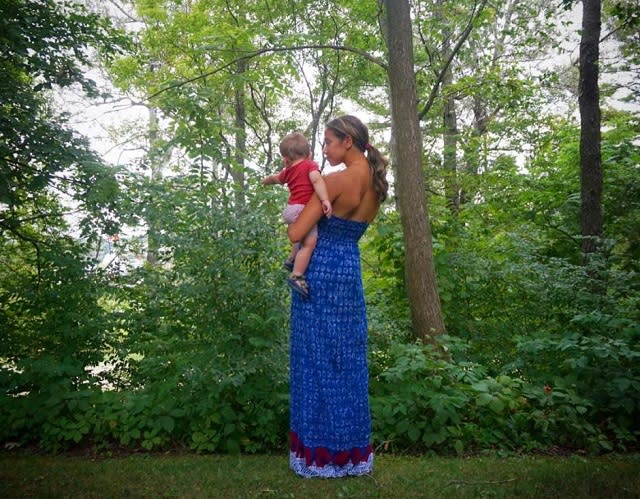 It was a fantastic few days away. I'm lucky that my son is pretty laid back and easy to travel with. He has such a great personality, makes me laugh and smiles at everyone. He likes to play, sing, dance and explore. He is a great travel buddy.
Our final morning away, we stopped at Schoolhouse Restaurant, literally an old converted schoolhouse in Grand Bend. Class pictures from 1891 don the walls, old desks decorate different corners and school work, signed 'Anna – 1892' makes Schoolhouse an enchanting step back in time to a charming era of Grand Bend full of history and lore. The food was mostly made in-house by a passionate chef and his love of hearty, nurturing, very yummy food. The food fit the venue and even though half of his food ended up on the floor, I know C loved everything he devoured. It helped that we had the most wonderful waitress, Bridget, full of energy and excitement and with a smile almost as wide as C's! He was definitely smitten.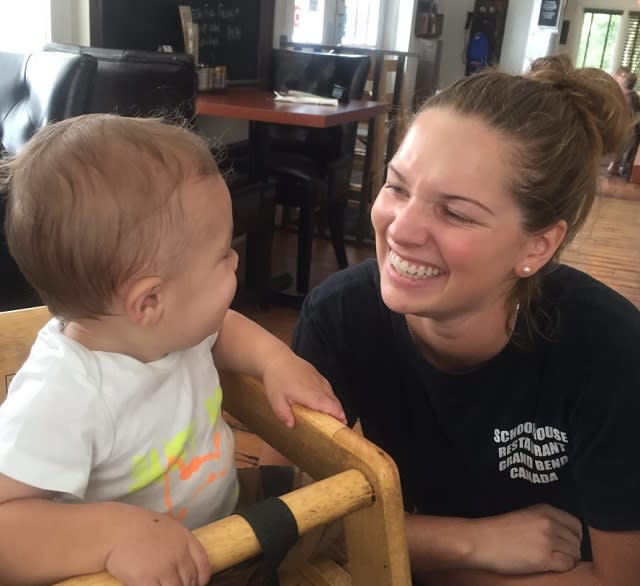 C and I had a wonderful weekend away on Ontario's Blue Coast. We love exploring Ontario and this area of the province is without a doubt, one of our favourites. We can't wait to head back and discover more that Ontario Southwest has to offer.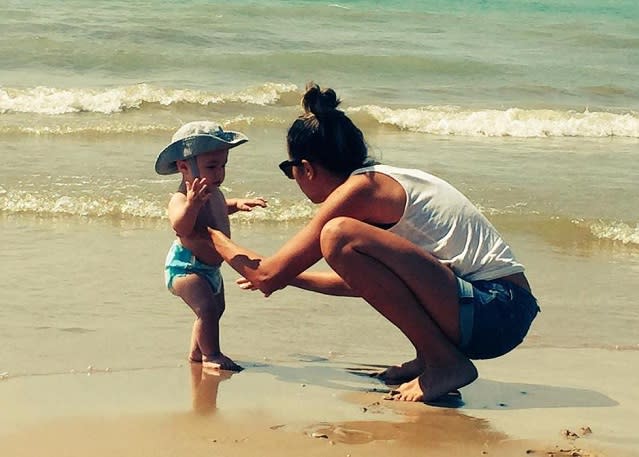 Read more of Natty P. & Co.'s adventures here.