An insider's guide to best birding bets for experiencing the spring migration.
Did you know you're just a short drive away from one of the world's best locations for experiencing the spring migration of over 270 species of birds? Ontario's Southwest is such a favoured flight zone among our feathered friends that it attracts birders from around the globe each spring and fall. If you want in on some of the excitement, there's no need to wing it. The Canada's South Coast Birding Trail has been created to help visitors to the region easily find amazing birding experiences. While the trail identifies over 70 places for spotting birds, here are what we consider the best-of-the-best birding bets for making the most of the spring migration.
Point Pelee National Park, Leamington
This world-renowned birding hotspot in the southern-most point of Canada draws 275,000 visitors a year and has recorded more than 390 species. The Visitor Centre features exhibits and a theatre as well as a shuttle service to the Tip of Canada. Extensive trails allow visitors to tour through the park's forests and savannahs and there is a boardwalk with an observation tower at the marsh. Time your visit and join in the fun at the park's annual spring Festival of Birds.
WATCH FOR: Warblers of all kinds. This is THE WARBLER CAPITAL OF CANADA, after all!
Pelee Island Heritage Centre, Pelee Island
Some 310 species have been spotted in Canada's southernmost community. Lighthouse Point Nature Reserve is a jumping off point for migrants heading to the mainland. While you're there be sure to plan a visit to the Pelee Island Bird Observatory's Research Station, which is open to visitors during the spring and fall migration. Time your visit and join in the fun during the Centre's annual Springsong Celebration. 
WATCH FOR: Yellow-Breasted Chat and Orchard Oriole
Ojibway Prairie Complex, Windsor
This Hub offers over 15 km of woodland and prairie hiking trails close to Windsor and Detroit with 247 recorded species and the largest protected tall-grass prairie and oak savannah in Ontario. There is a state-of-the-art nature centre staffed by wildlife experts that have feeders, wildlife exhibits, and interactive programs.
WATCH FOR: Titmice and Nuthatches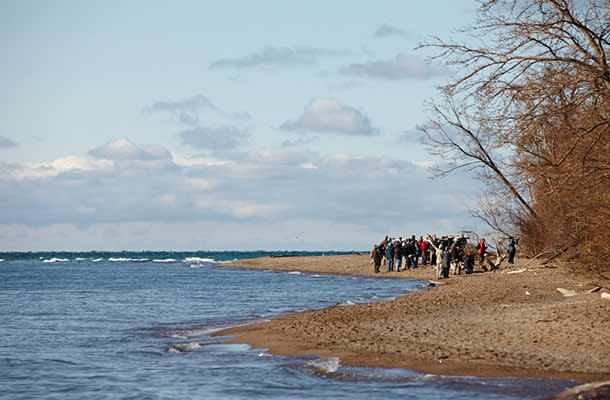 St. Clair National Wildlife Area, Chatham-Kent
Located within an extensive marsh along the southeast shore of Lake St. Clair, this Hub is dominated by wetland habitat with patches of tallgrass prairie. Visitors can view a wide range of wildlife from an observation tower and walking trails.
WATCH FOR: Herons, Bitterns, and Puddle Ducks
Rondeau Provincial Park, Morpeth
Ontario's second-oldest provincial park boasts excellent hiking and biking and premiere birding events. Time your visit and join in the fun of the Wings of Spring Festival in March or the Festival of Flight in May.
WATCH FOR: Prothonotary Warbler and Townsend's Solitaire
Pinafore Park, St. Thomas
Pinafore Park has a wildlife sanctuary with a mated pair of Trumpeter Swans, hiking trails and a lake that provides year-round access to open water.
WATCH FOR: Northern Saw-Whet Owl, Eastern Screech Owl, Great Horned and Long-Eared Owl and many types of Warblers
Port Burwell Provincial Park, Port Burwell
Located in a mature Carolinian forest between the renowned birding areas of Long Point and Point Pelee, this park is one of the best locations to see hawks, vultures, and eagles during the spring and fall migration.
WATCH FOR: Broad-Winged Hawks, Peregrine Falcons, Turkey Vultures and Bald Eagles
Bird Studies Canada National Headquarters, Port Rowan
This not-for-profit organization dedicated to bird conservation provides a habitat for a number of species on 32 acres that includes walking trails, an observation deck, interpretive displays and owl banding that visitors can observe.
WATCH FOR: Semipalmated Plover and Greater and Lesser Yellowlegs
Long Point Bird Observatory Old Cut Research Station, Port Rowan
This epicentre for birding in Long Point attracts some 325 recorded species and features paths that take visitors to a number of mist nets, a visitor centre, and a banding lab. During migration, banding demonstrations occur from 9 am until noon daily, weather permitting.
WATCH FOR: Bewick's Wren, Varied Thrush and Western Tanager and skulkers like Ovenbirds and Waterthrushes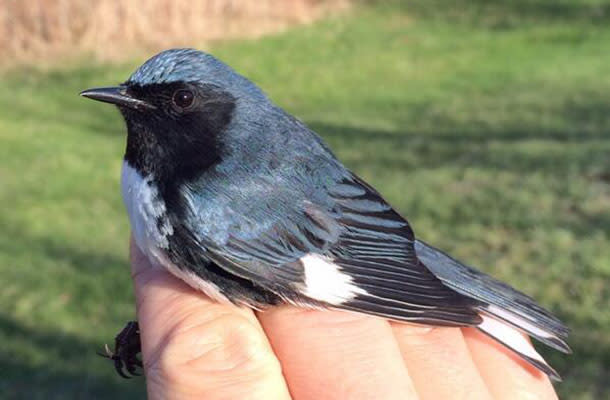 Rock Point Provincial Park, Dunnville
On Lake Erie at the mouth of the Grand River, just an hour from Niagara Falls are walking trails through wooded areas, marshes, and beaches ideal for viewing shorebirds and warblers and 260 recorded species. A banding station and platform above the sand dunes also offer special viewing opportunities. The banding station at this provincial park operates from April 15 to June 1 from sunrise until 6 hours later, from August 15 to September 1 from sunrise until 10 a.m. and from September 1 to November 4 from sunrise until 6 hours later.
WATCH FOR: Magnolia Warbler, Whimbrel, Lesser Yellowlogs and Willet
Ruthven Park, Cayuga
Located along an inland river corridor and set in Carolinian forest, this site features over 10 stations with mist nets and a special banding lab that provides the opportunity to see birds up close and join expert banders as they record data. The banding station at this National Historic Site operates daily from the beginning of April until early June, and from early September to early November. Typically, migration monitoring and bird banding run from sunrise until about noon.
WATCH FOR: Prothonotary Warbler, Cerulean Warbler, Yellow-Breasted Chat, Golden-Winged Warbler, Louisiana Waterthrush, Hooded Warbler and Acadian Flycatcher
Pittock Conservation Area, Woodstock
In addition to birding, this 850-hectare park offers fabulous camping, hiking, biking, and paddling.
WATCH FOR: American Black Duck, Mallard, and Common Merganser
Wildwood Conservation Area, St. Mary's
The park's 30 km of trails amidst rare flora and fauna offer great viewing. This 3,500-acre park also offers camping, hiking, biking, kayaking, and canoeing.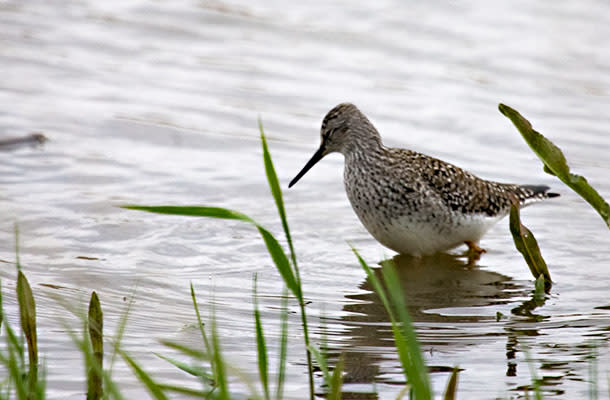 WATCH FOR: Lesser Yellowlegs, Least Sandpiper and Warblers such as the Yellow Warbler and Pine Warbler
Fanshawe Conservation Area, London
Beyond excellent birding, this 3,000-acre outdoor playground provides camping, boating, canoe rentals, 28 km of hiking trails, mountain biking, and fishing.
WATCH FOR: Kingfishers, Herons and other Waterfowl
Komoka Provincial Park, Komoka
This low-intensity, self-interpretive park provides recreational opportunities for visitors including hiking and nature appreciation, wildlife viewing and photography.
WATCH FOR: Eagles and Eastern Blue Birds
Pinery Provincial Park, Grand Bend
In addition to having sunsets ranked by National Geographic among the "Top 10 Best in the World," this park offers a sandy beach, fragile oak savannah and coastal dune ecosystems and is home to over 800 vascular plants and 319 species of birds, 124 of which have nested in the park.
WATCH FOR: Hooded, Pine and Cerulean Warblers
Canatara Park, Sarnia
This 200-acre park boasts 3,000 feet of sandy Lake Huron shoreline and nature trails for hiking and cycling.
WATCH FOR: Warblers, Sandpipers, Ducks, and Falcons
Holiday Beach Migration Observatory, Amherstburg
Holiday Beach is ranked as the top hawk watching site in Canada by Audubon Magazine and the third best in all of North America. The large wooden observation tower located within the Holiday Beach Conservation Area makes it easy to see why.
Download a copy of Canada's South Coast Birding Trail to bring along on your next trip.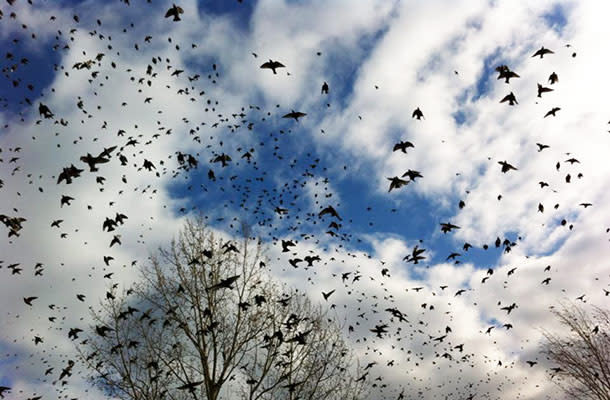 ---
---