The town of Kingsville is excited to be a part of the Tall Ships Ontario Challenge 2019. This exhilarating event will be one to remember this summer! Taking place from August 16th-18th, 2019, the Tall Ships Challenge will bring to port some of the most historic vessels in the Great Lakes. Kingsville is the only Canadian stop on Lake Erie, making this a must-see event! 
Organized by Tall Ships America, this annual series brings together nautical heritage, sail training, and an environment of cultural exchange. Fostering conservation stewardship, childhood education, leadership, and character building are all elements that this organization promotes. This year six famous ships will sail their way into the Port of Kingsville. The ships included in this event are: Bluenose II, Empire Sandy, Picton Castle (pictured above), SVT Jeanne, HMCS Oriole, and a Canadian Coast Guard ship.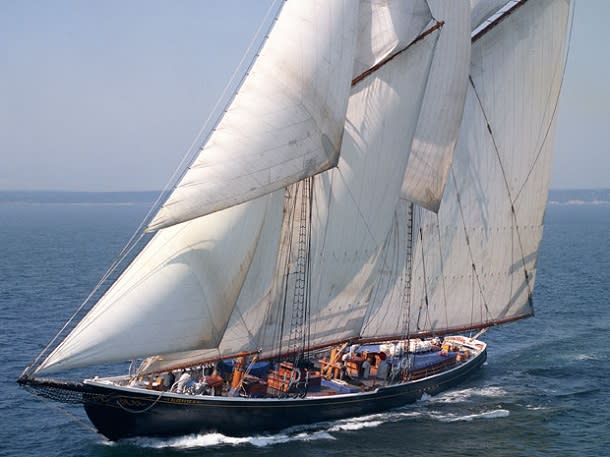 Photo of Bluenose II
Daily Ship Tours
Not only will the beauty of each ship be on full display at the Kingsville dock, but they will also host tours that showcase the complex structures that go into the frameworks of these incredible ships. Explore these remarkable ships with guidance from experts who know the ships themselves! Tours will take place Friday (noon-5pm, 7pm-9pm), Saturday (noon-5pm), and Sunday (noon-5pm, 7pm-9pm). 
Sail Excursions
Set sail from the shore! Located on the Empire Sandy, one of the largest Canadian Tall Ships, these sail excursions are an adventure for everyone. This ship will set sail in Lake Erie and provide an educational experience for those who have an interest in these Tall Ships. These excursions will take place on Friday (1:30pm), and Saturday and Sunday (11am-12:30pm and 1:30pm-3pm).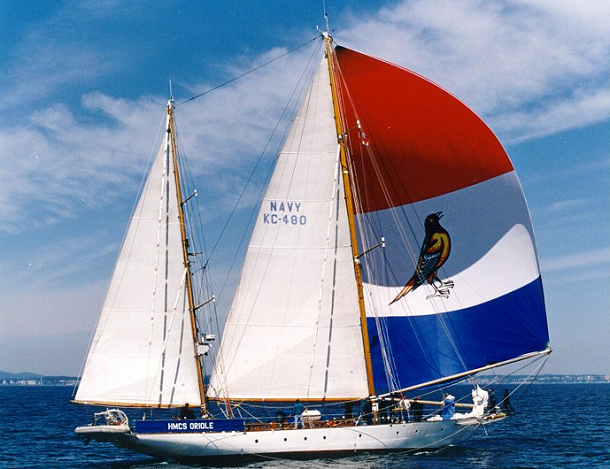 Photo of HMCS Oriole
Dinner Cruises
Experience a wonderful dinner aboard the Sandy Empire, as you enjoy amazing food while gazing at the views of the Kingsville harbour front. Don't miss out on this adventure! Dinner cruises take place from Friday-Sunday, from 6pm-8pm.
Captain's Hop on Hop off Party
Have the opportunity to visit the Bluenose II, Fair Jeanne, HMCS Oriole, and Picton Castle. You'll also be able to meet their Captains! This experience will also include sampling some of the area's best food and beverage from local businesses, such as 86'd Catering, Pelee Island Winery, The Grove, and Banded Goose Breweries. To complement this evening event, each ship will have entertainment (eg. Windsor Symphony Brass Quintet) to further highlight this maritime voyage.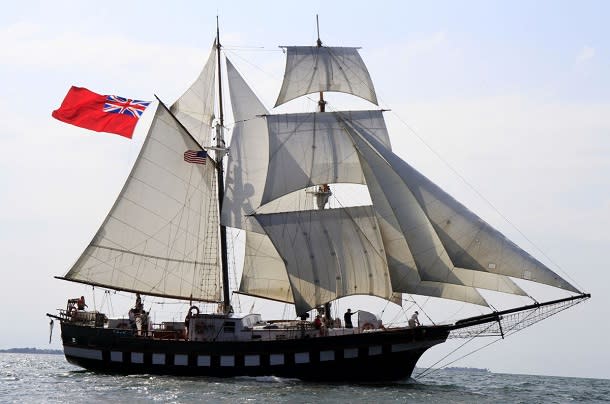 Photo of SVT Jeanne
Artisan Alley and Captains Galley
Are you an avid shopper? Lucky for you, the Artisan Alley and Captains Galley will be located dockside for your shopping needs. There will be delicious food, unique art pieces, and handicrafts that any nautical-lover will appreciate.
After Party—Toast to Kingsville
On the evening of August 17th, 2019, come out to the Grovedale House for an after party you don't want to miss. This event will feature "The Flying Dutchman" performance by Erin Armstrong and the Abridged Opera's. This one-act opera sequence is composed by Richard Wagner. It tells a riveting story of a sailor and his daughter who get swept away by a strong storm. The narration of this story will embark you on an adventure of its own! In addition to the performance, select drinks from Pelee Island Estate Winery, The Branded Goose, The Grove and food from 86'd Catering will pair perfectly with the event.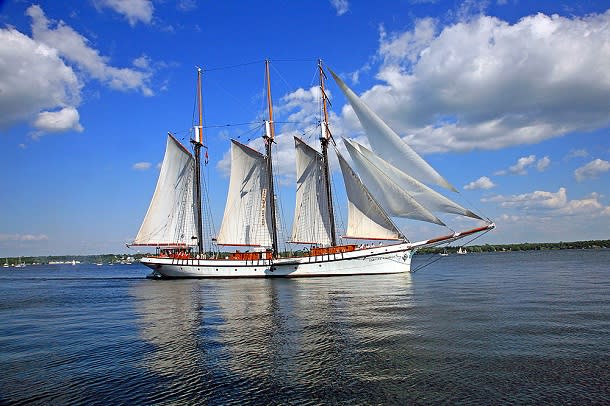 Photo of Empire Sandy
You won't want to miss "the event" of the summer. This incredible initiative will grace the shores of Kingsville for three days full of maritime history and education. This event will also include licensed beverage areas, shoreline entertainment, local vendors, and incredible shore displays. Make sure you come out this August to witness the beauty these Tall Ships have to show. The Tall Ships Ontario Challenge is a remarkable opportunity for the general public to appreciate the influence of exploration and learning aboard a ship.
Tickets for all events are available for purchase here.
For more information on the Tall Ships Festival Kingsville, please click here.