Enjoy the solitude of nature and distance yourself from the city and crowds on these top trails in Ontario's Southwest. 
Haldimand
Distance: 6 km
Access Points: Seneca Park in Caledonia or Stone Church Rd. at Dartnall Rd. if you're travelling from Hamilton
This 6 km on-road and off-road trail links the Chippewa Trail from Hamilton to Caledonia. With flat plains, the trail is perfect for all travellers whether you're a walker, runner, or a cyclist. Anyone can enjoy the quiet countryside as you pass by farms surrounding the trail.
Haldimand County
Distance: 6 km
Access Points: Begins at the Seneca Park parking lot on the east site of the Grand River
If you're looking to discover the Grand River, The Rotary Riverside Trail is the perfect place for you! This is another 6 km trail that begins at Seneca Park just outside of Caledonia. Running directly alongside the Grand River, the trails offers a picturesque views. while you walk or cycle your way to York.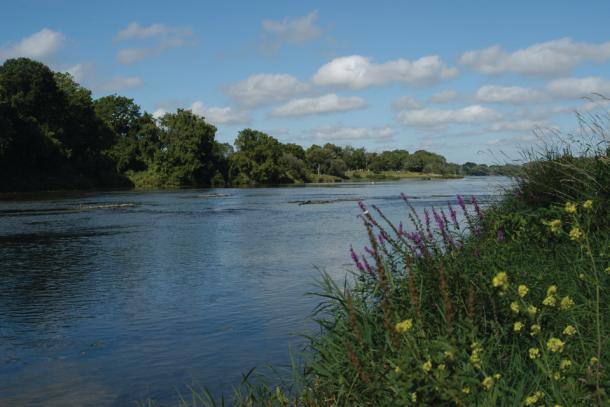 Lawson Nature Reserve with the Ingersoll Nature Club
Ingersoll, Oxford County
Distance: 0.15 km to 1.4 km
Access Points: Located on McBeth Rd. just past Greenwood Farms on a roadway
Also known as "The Lawson Tract", this 14.71 hectare parcel of land is rich in biodiversity, with over 300 plant species and numerous amphibians, birds, and mammals spotted throughout the trail. The terrain is varied and features several types of vegetative communities including mixed hardwood forests, pine and spruce plantations, some open meadow and treed swamp.
Woodstock, Oxford County
Access Points: Throughout Pittock Conservation Area
Pittock is split into two sections that run through the North Shore and the South Shore. Access the North Shore through the Day Use area and travel west where the trail loops below the dam and back to take in the open meadows. The South Shore is comprised of pitted path trails that travel under the CPR Railway Bridge and Highway #59; travel through the Pittock Reservoir and Dam to see spectacular Eastern views, or head through the parking lot to reach Roth Park.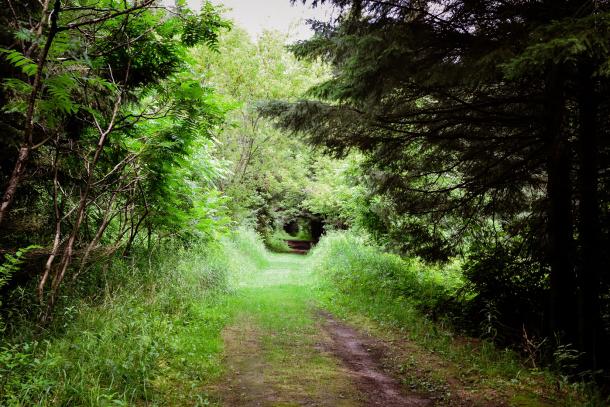 Walsingham, Norfolk County
Distance: 3 km
Access Points: 1267 2nd Concession Rd RR # 1, Port Rowan
Backus Woods is one of the highest quality old growth hardwood forests in all of Ontario and the best remaining example of the Carolinian Life Zone. You'll find several species to view in the Backus Woods, including Prothonotary Warblers, Jefferson's Salamanders, and Woodland Voles. So head out and trek through maintained walking trails that guide you through numerous different habitats.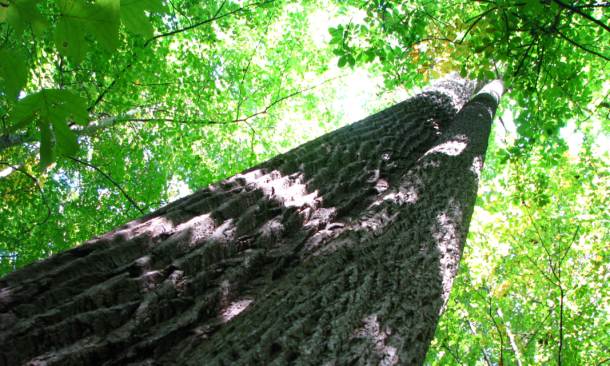 Turkey Point, Norfolk County
Distance: 1 km to 4 km
Access Points: 194 Turkey Point Rd., Turkey Point
At Turkey Point you'll find diverse ecosystems with marshes, bluffs, and oak savanna. The hiking trails throughout the park lead to a fish culture station, a hatchery pond, and panoramic views of Lake Erie. There's also an amazing collection of mountain biking trails too!
St. Thomas
Distance: 12 km
Access Points: Dalewood campground, public parking lot across the road
Dalewood Conservation Area goes around 25 hectares of Provincially Significant Wetlands. It is an urban conservation area that maintains its wilderness appeal, as it's located on the "doorstep of St. Thomas." You'll find 12 km hiking trails and treed areas perfect for all nature lovers.
Aylmer, Elgin County
Distance: 1.7 km to 2.5 km
Access Points: 47719 Conservation Line, Aylmer, Ontario
At Springwater Conservation Area, you'll find three main trails to discover that cover eight kilometers in length through the Carolinian Springwater Forest. Look at the interpretive signage throughout to understand and appreciate the unique beauty of the forest and lead you to the large pond.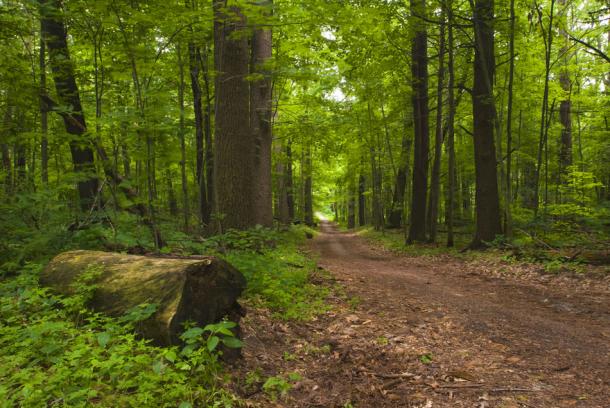 Fingal Wildlife Management Area
Fingal, Elgin County
Access Point: from the parking area at 34469 Fingal Line, Fingal
With 293 hectares and 27 km of scattered trails, this site consists of natural habitats including forest, deciduous and coniferous plantations, tallgrass prairie, ponds and hedgerow. The purpose of the land is to provide habitats making it perfect for nature appreciation.
Medway Valley Heritage Forest
London
Distance: 10.6 km
Access Points: Museum of Ontario Archaeology and the Elsie Perrin Williams Estate
This series of trails is the perfect destination for all nature lovers as it's home to many different species of wildlife. Experience the scenic rolling terrain and immerse yourself in the plush vegetation. Bring your beloved pet for a walk or grab the family for a great way to stay active. 
Komoka Provincial Park
Komoka, Middlesex County
Distance: 12.5 km
Access Point: Gideon Drive (County Road 3)
Come visit this hidden gem and take in the breathtaking views of the Thames River valley. This vast trail system offers the opportunity to partake in all of your favourite trail activities like hiking, dog walking, running, bird watching, sport fishing, and nature photography. Just a short ride outside of London, it's a great way to relax and take a break.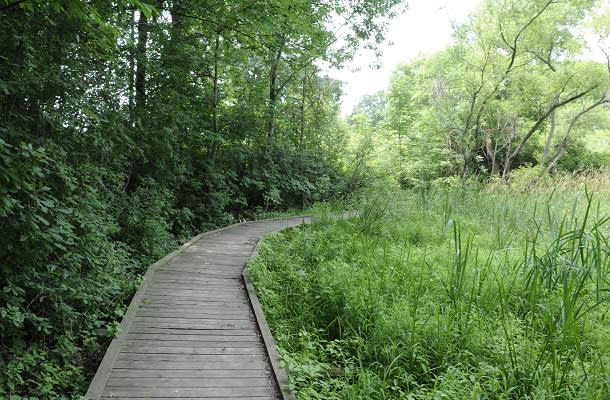 Dorchester Mill Pond
Dorchester, Middlesex County
Distance: 3.5 km
Main Access Points: Mill Road, Byron Avenue
Hike around the pond and enjoy the plush Carolinian forest. The Dorchester Mill Pond is a unique natural area located right in Dorchester. Visit the look-out with a panoramic view to experience all of the beautiful vegetation. The pond itself is home to many different wildlife, you may even be lucky enough to spot a beaver!
Rock Glen Conservation Area
Arkona, Lambton County
Access Point: Rock Glen Road
This 27 hectare conservation area is historically and geologically significant. Come walk to trails, enjoy the conservation museum or visit the Rock Glen Waterfall. Don't forget to keep your eye out for fossils! The museum, washrooms and some trails are wheelchair accessible making the scenic views accessible to everyone.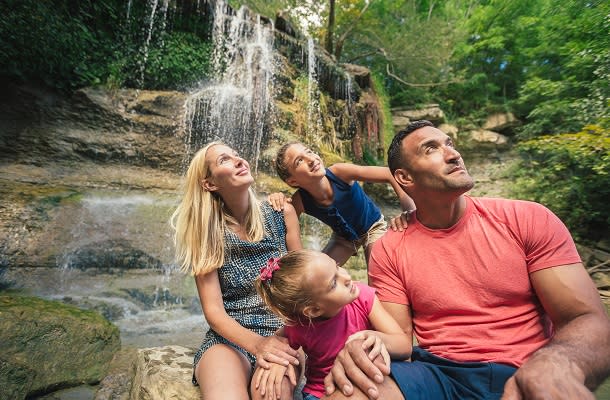 Rotary Eco-Trail
Chatham
Distance: 800 metres
Access Point: Thornhill Crescent
The Rotary Eco Trail is the perfect spot for a short hike or bike ride through the O'Neill Nature Preserve. This moderate trail is a great opportunity for all ages and an easy way to enjoy the outdoors within city limits.
TREES Memorial Recreational Trail
Ridgetown, Chatham-Kent
Distance: 1.75 km
Access Point: Marsh Street
This scenic trail guides you through a Carolinian forest and tall-grass prairie. Winding through the TREES memorial forest, this is the perfect location for a casual walk or hike, a run or even off-road cycling.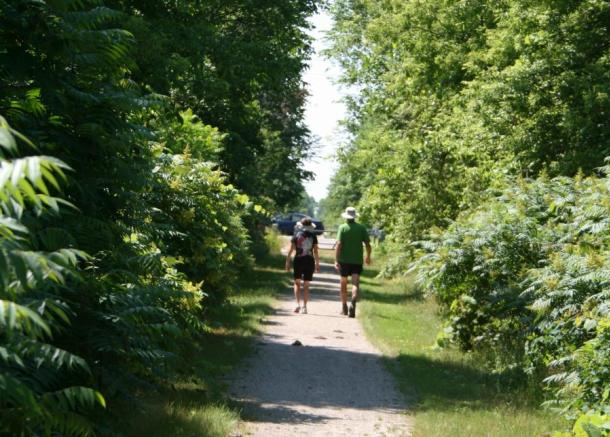 Chrysler Canada Greenway
Essex County
Distance: 50 km
Access Points: Harrow Rotary Community Entrance, Schwab Farms, Kingsville Train Station, Colasanti's Tropical Gardens
Come travel through natural areas, rich agricultural lands, and the award winning wineries of Essex County. The Chrysler Canada Greenway connects 25 separate natural areas and three watersheds making it a destination for hiking, biking, bird watching, horseback riding and more. Slow down and reconnect to nature and culture and appreciate the beauty surrounding you.
Please take a moment prior to your visit to confirm that the places you plan to enjoy will be operating when you arrive. The partner listings in our Things To Do section are a great resource to find operator websites and phone numbers.
We are so lucky to have beautiful natural areas in Ontario's Southwest to enjoy. Let's take action to protect our precious natural spaces. Click here to join the #ForTheLoveOfParks movement and learn 5 ways you can help keep parks clean and safe.