You don't need to stick to the same familiar trails, get out and explore some of these top trails from the westerly part of Ontario's Southwest. 
Medway Valley Heritage Forest
London
Distance: 10.6 km
Access Points: Museum of Ontario Archaeology and the Elsie Perrin Williams Estate
This series of trails is the perfect destination for all nature lovers, especially bird watchers! Home to many different species of wildlife, this valley is a stop on many birds migratory route. Come experience the scenic rolling terrain and immerse yourself in the plush vegetation. Bring your beloved pet for a walk or grab the family for a great way to stay active. Don't forget to experience the spectacular fall foliage.
Westminister Ponds/Pond Mills
London
Distance: 10 km
Access Points: Wellington Road Tourism Information Centre, Pond Mills Road at Bradley Ave., Southdale at Adelaide St.
Westminister Ponds/Pond Mills is the largest publically owned Environmentally Significant Area in London. With a great variety of nature habitats and gently rolling trails, this is a great route for people of all ages and skill levels. Don't let rainy days defer you, put on those rain boots and head down for some jumping-the-puddles fun in some of the lowlands!
Komoka Provincial Park
Komoka, Middlesex County
Distance: 12.5 km
Access Point: Gideon Drive (County Road 3)
Come visit this hidden gem and take in the breathtaking views of the Thames River valley. This vast trail system offers the opportunity to partake in all of your favourite trail activities like hiking, dog walking, running, bird watching, sport fishing, nature photography and even horseback riding. Just a short ride outside of London, it's a great way to relax and take a break.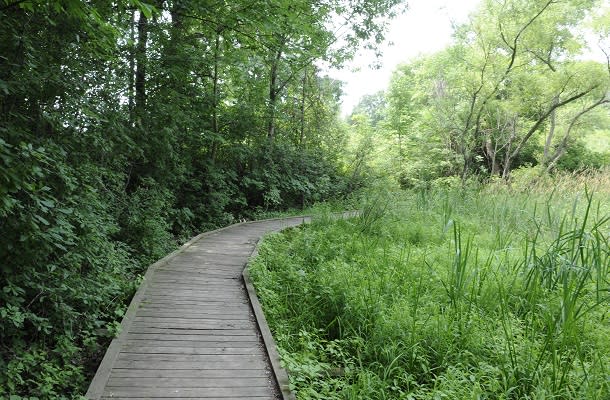 Dorchester Mill Pond
Dorchester, Middlesex County
Distance: 3.5 km
Main Access Points: Mill Road, Byron Avenue
Hike around the pond and enjoy the plush Carolinian forest. The Dorchester Mill Pond is a unique natural area located right in Dorchester. Visit the look-out with a panoramic view to experience all of the beautiful vegetation. The pond itself is home to many different wildlife. Bring your camera, you may even be lucky enough to spot a beaver!
Bluewater Trails
Sarnia, Lambton County
This waterfront walkway stretches from downtown Sarnia all the way to Sarnia Bay. It is compiled of both on-road and off-road trails linking the Howard Watson Nature Trail, the Waterfront Walkway and Canatara Park. Bring your bike or embark on a waterfront walk, the choice is yours.
Rock Glen Conservation Area
Arkona, Lambton County
Access Point: Rock Glen Road
This 27 hectare conservation area is historically and geologically significant. Come walk to trails, enjoy the conservation museum or visit the Rock Glen Waterfall. Don't forget to keep your eye out for fossils! The museum, washrooms and some trails are wheelchair accessible making the scenic views accessible to everyone.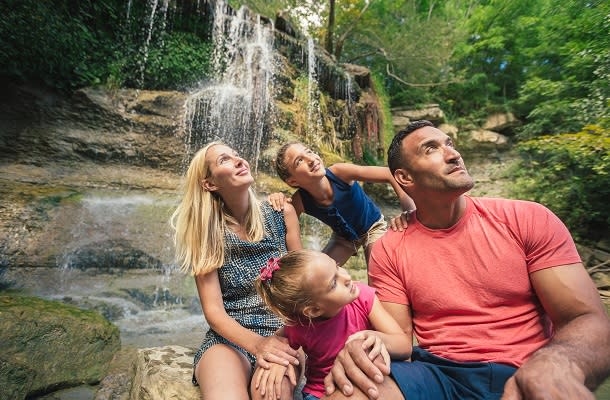 Rotary Eco-Trail
Chatham
Distance: 800 metres
Access Point: Thornhill Crescent
The Rotary Eco Trail is the perfect spot for a short hike or bike ride through the O'Neill Nature Preserve. It is also an opportunity to become inspired and learn various ways to maintain nature in your own backyard. This moderate trail is a great opportunity for all ages and an easy way to enjoy the outdoors within city limits.
TREES Memorial Recreational Trail
Ridgetown, Chatham-Kent
Distance: 1.75 km
Access Point: Marsh Street
This scenic trail guides you through a Carolinian forest and tall-grass prairie. Winding through the TREES memorial forest, this is the perfect location for a casual walk or hike, a run or even off-road cycling. Located in Ridegtown, "the friendliest town in Ontario", visitors should not miss out on the opportunity to explore this quaint historic town.
Chrysler Canada Greenway
Essex County
Distance: 50 km
Access Points: Harrow Rotary Community Entrance, Schwab Farms, Kingsville Train Station, Colasanti's Tropical Gardens
Come travel through natural areas, rich agricultural lands, and the award winning wineries of Essex County. The Chrysler Canada Greenway connects 25 separate natural areas and three watersheds making it a destination for hiking, biking, bird watching, horseback riding and more. Slow down and reconnect to nature and culture and appreciate the beauty surrounding you.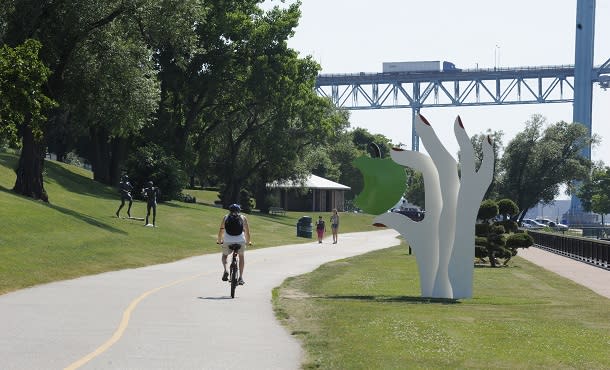 Riverfront Trail
Windsor
Within the comforts of the city, come enjoy the scenic views of the Detroit River on this Riverfront Trail. Travel through the Windsor Sculpture Park and take in amazing local art or stroll through the naturalized garden at the Clifford and Joan Hatch Wildflower Garden. This easy route is perfect for all ages and can be done in full or shorter lengths at a time.
Please take a moment prior to your visit to confirm that the places you plan to enjoy will be operating when you arrive. The partner listings in our Things To Do section are a great resource to find operator websites and phone numbers.