The advent of a new year brings resolutions that are often sparked from becoming more active or learning a new skill. There is no reason to suffer from cabin fever this winter season with so many safe outdoor activities to enjoy right here in Elgin County.
As the cold of winter settles across Ontario, take time to marvel at the picturesque snow-covered haven that can be found in your own backyard.  Whether you are looking to snowshoe, toboggan, ice skate, cross country ski, fat bike, or just downright frolic through a white blanket of fluffy snow, there are several conservation areas and Provincial Parks that dot Elgin's sprawling countryside.
The Spicer Trail and John E. Pearce Provincial Park, just south of Wallacetown, are the perfect paths to begin your 2021 outdoor adventures. Whether you want to take it easy on the gravel loop at John E. Pearce Provincial Park, or trek the natural landscape of The Spicer Trail, don't miss out on the views of the frozen Lake Erie waves crashing against the cliffs at John E. Pearce Provincial Park from the fenced-in bluff.
Looking for more flat grounds to snowshoe, fat bike, or even take a leisurely stroll? Bundle up and gander through the winter wonderland at the Fingal Wildlife Management Area. With over 724 acres of crown land to explore, spend the day or afternoon marvelling in the historical features of the former World War II air force training base. Be sure to get there early to ensure you get a parking spot, as this is a popular spot for many outdoor enthusiasts.
Get back to nature at Solitude Nature Reserve, a 35-acre nature reserve just 4kms south of the historic village of Sparta. This small slice of heaven is as serene and peaceful as they come!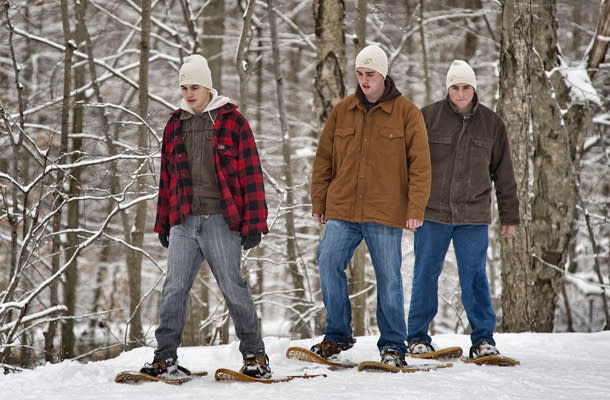 The ever-popular Springwater Conservation Area is the perfect spot to hike, snowshoe, cross country ski, or even fat bike. In the heart of Carolinian Canada, get lost in the 600-acre forest while admiring the snow dappled mature trees that hover above.
Although the weather conditions may get too frigid to explore outside, discover the warmth of comfort foods like hearty chilis and soups at one of Elgin's many fabulous diners or cafes. Support your local restaurants by dining in or ordering take out to devour in the comfort of your own home.
No matter where you trek this winter, let the crisp Elgin County air take your worries away and allow you to reflect and connect with nature. Discover the vast array of trail systems available in Elgin by visiting www.elgintourist.com/outdoorrecreation.
---
To learn more about what you can expect when exploring in Ontario's Southwest and how businesses are trying to keep you safe and following government guidelines, click here.