Combine some sun, summer music, and sand to make the perfect beach day getaway in Grand Bend.
Looking for a fresh take on your typical beach day? Check out these spots in Grand Bend where you can listen to some summer tunes as you splash through beautiful Lake Huron.
Grand Bend is the perfect blue flag beach location in Lambton County where you can listen to summer music while relaxing in the sand. Many restaurants and venues in Grand Bend have performances on their patios on certain nights of the week where you can take a break from the hot summer sun, grab a bite to eat, and listen to a variety of talented local singers and musicians.
Summer Sunset Sounds is an entire series of music on the Main Beach in Grand Bend that runs every Sunday and Holiday Monday in July and August at the new Rotary Community Stage. The free concerts begin at 7:00 pm and they host artists like Stacey Kay, who was featured on America's Got Talent and Breakfast Television; Twin Fin, a high energy band with a repertoire that ranges from Janis Martin to Tarantino soundtracks; and Sweet Alibi, who combines powerful vocal harmonies with delicate folk instruments. Check out the extensive summer lineup here.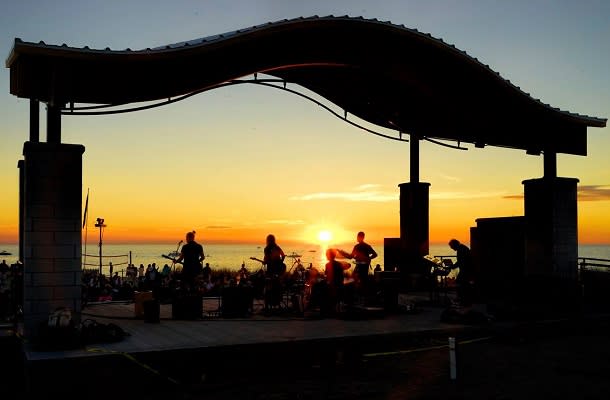 If you're in the mood for a bite to eat, head over to Midori Sushi to enjoy some of their specialty sushi rolls that you can't get anywhere else like the One Love, the Kashmir, or the Optimus Prime. While you're there, you can listen to solo artists that add their own twist to popular music. Sit outside on their beautiful, quaint patio to hear Brian Dale, a folky singer-songwriter with a fanbase from around the world, on Wednesday evenings or Jaime Baldwin, who plays both contemporary and traditional tunes on his electric violin that's hooked up to a loop pedal, on Thursday evenings. Midori also features special artists and other local talent on select days of the summer season. Or, if you're heading to Grand Bend on a holiday, grab a fish taco and listen to some tunes on the patio of Smackwater Jack's. Their own bartender, Madison Bell, plays on the May 24, Canada Day, Civic Holiday, and Labour Day weekends.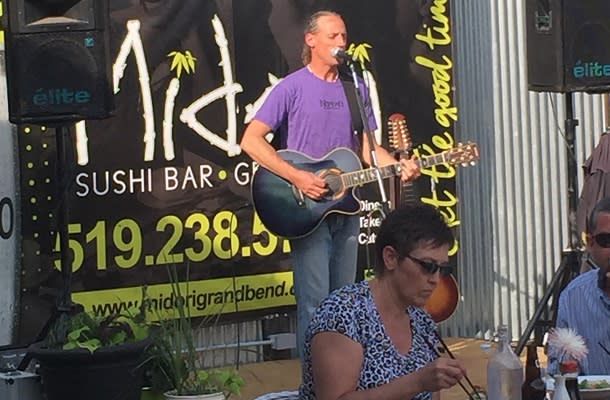 Gables in the Bend provides daily live entertainment that ranges from DJs to live bands to classic favourites. Join Jam Nights with Brian and Friends on Mondays where musicians and singers are invited to join Brian and the Jam Night Band on stage to sing or play an instrument, or you can check out Country Night on Thursdays where you can break out your cowboy boots and hats while showing off your country style dance moves. Also, there are live bands and DJs every weekend on the patio in June, July, and August. Check out the full schedule here to see what kind of summer sounds you can soak up under the sun at Gables.
If you're interested in doing a little bit of bargain hunting on your day at the beach, there's Pinery Antique Flea and Farmer's Market where local musician Brian Dale plays every Sunday from 12:00 – 4:00pm. The show takes place behind a 1930's style gas station, Tuck's Gas Bar, which has an indoor and outdoor licensed area. So, you can take a break from shopping, grab an ice cold drink, and listen to the contemporary sounds of solo acoustic performer, Brian Dale.
Looking for more things to do on your trip to the beach? Visit Grand Bend Tourism for more information about Grand Bend, or check out their 2016 visitor guide, It Starts At The Beach. You can also check out our Grand Bend Beach Cheat Sheet to find local accommodations and excursions to you're your perfect beach day.