To be Rainbow Registered is to be a nationally accredited 2SLGBTQI+ friendly business or organization. And that means so much, to so many. Because when you see a Rainbow Registered symbol, you know that business or organization meets a stringent set of standards to ensure the safety, welcoming, and acceptance of all people in the 2SLGBTQI+ community. 
Rainbow Registered Businesses We Love to Visit
Below you'll find some awesome accredited Rainbow Registered businesses within Ontario's Southwest that are ready and excited to welcome 2SLGBTQI+ visitors! Looking for more suggestions? Check out this map for the full list of Rainbow Registered attractions, restaurants, accommodations, breweries, experiences, and local products in the region. 
HoriZen B&B - Leamington
At HoriZen, owners Shelby and Mike Foster honour the heritage of their turn-of-the-century Victoria Farmhouse — maintaining many historically significant features throughout the home, by perfectly melding in modern luxuries and personal touches to create a sense of hope, wellbeing and joy for all guests who pass through their hallways.
From the moment you step onto their beautiful wrap-around porch and wooden entrance, you will feel at home in their home. As hosts, Shelby and Mike strive to create not just a stay, but an experience of connection.
Book your stay at HoriZen B&B, here!
90 Seacliff Drive West

12269244495
These packages were created to make it easy for their guests to connect with the ones they love with as little planning as possible. To help take the stress of planning your special getaway, they've done it for you! All you have to do is say YES! Say yes to connecting with your loved ones and give…
Twisted Lemon - Cayuga
Located in the picturesque village of Cayuga, Haldimand County, Twisted Lemon is described as a hidden gem, attracting a faithful following of 'flavor junkies' and experienced diners from far and wide. Twisted Lemon features a lively open-concept kitchen and eclectic ambiance indoors and two patios: one partially covered, and one fully covered.
Twisted Lemon offers seasonal and locally inspired cuisine, including Chef's Blind Tasting menus, Chef's Tables in the private kitchen, demonstrational and hands-on cooking classes, exciting monthly features and house-made desserts. Book a reservation, here!
You don't have to go far for a good nights rest after an amazing meal as Twisted Lemon is now home to a cozy boutique inn! Click here to book a night, or two, and enjoy a cozy and comfortable stay. 
3 Norton St. W

19057726636
A Chef's Table night with Chef Dan, where he cooks exclusively for ONE TABLE all night long in the private kitchen. The format is a custom Tasting Menu with usually 6 -9 courses. No two menus are alike. There will always be a beverage pairing option available if you choose to take your hands off the…
Walnut Grove Bed and Breakfast - Harrow
The Walnut Grove B&B, a farmhouse built in 1902, is located about 5 km north of Harrow in the heart of Essex County on a 10-acre treed property.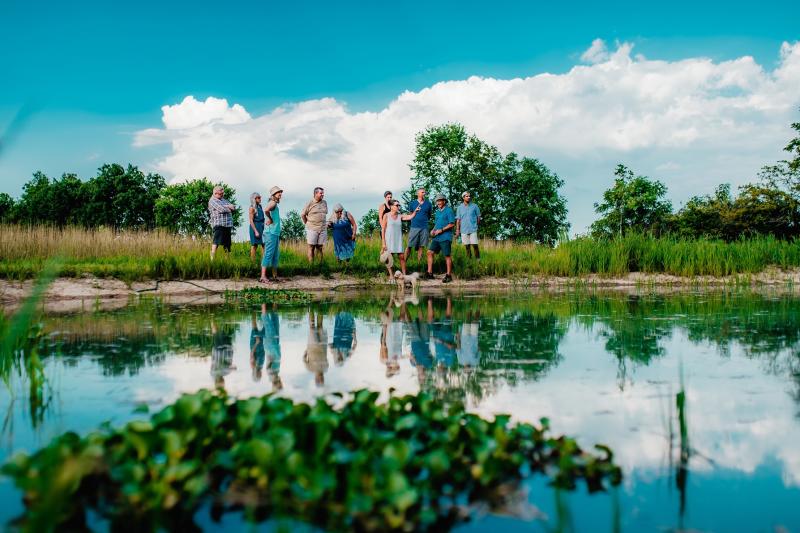 A true 'farm to table' experience, they know the chickens who lay the eggs, make their own sausages from local ingredients, offer in-house made granola and have a large garden. They also use only local coffee roasters and local soap makers. Leslie is a Sommelier and Chef who does the cooking while Bob acts as sous chef and jack of all trades.
Each of the three rooms have been thoughtfully and carefully renovated to provide a spa-like setting for your visit with their property offering several areas to enjoy the tranquil country setting. The central location allows convenient access to Point Pelee National Park, Holiday Beach Conservation Area, John R Park Conservation Area to name a few.
"Having recently attended a Rainbow Certification seminar, it is our goal to offer an inclusive setting to all guests regardless of their gender identity. All guests are treated equally and we expect our guests to act civilly to each other including any pets of guests. Improper behavior to a fellow guest will not be tolerated and we reserve the right to remove or demand apology for any ill actions." - Bob & Leslie Meloche, your hosts.
Click here to book your stay at the Walnut Grove B&B. 
Get in touch with the nature around the property with their interactive experience - The Buzz about Pollinators. This 2 hour experience will find you strolling through our 5 acre meadow on a guided tour where you will discover many species of pollinators hard at work. Learn about native species, gardening tips, pollinators' needs and more. Wander through a patch of Carolinian Forest then into the chalet in the woods where you will enjoy locally sourced charcuterie & taste walnut syrup while decorating your own bee bowl or bee house to take home.
Offered every Saturday at 2:30PM May through September. 1st and 3rd Wednesdays 6:30PM June, July & August. Book on the website under 'add-ons'.
4000 McCormick Road

15199821112
The Gourmet Getaway Package includes a charcuterie board; a dinner voucher for Elite Steakhouse, PepperCat or North 42 Bistro; and a lunch voucher for The Beerded Dog, The Vines Restaurant (Cooper's Hawk Winery) or Oxley Winery.  Click the "Visit Website" button above to redeem this offer! More…
Turns & Tales - Chatham
Turns & Tales is a board game cafe and bookstore located in the heart of downtown Chatham owned primarily by Terence Johnson and Chandra Clarke. They have a vast board game library of games that you can rent to play in their facilities, a nibbles menu full of old favorites and new surprises, a wide variety of beverages, and loads and loads of books.
Whether you're on your own, or bringing your crew, you'll always be welcome. Come play a game, browse the latest books, or just sit and chill with your favorite drink.
Click here to check out what Turns & Tales has to offer. Can't make it in to the shop today? Order online for in-store pickup.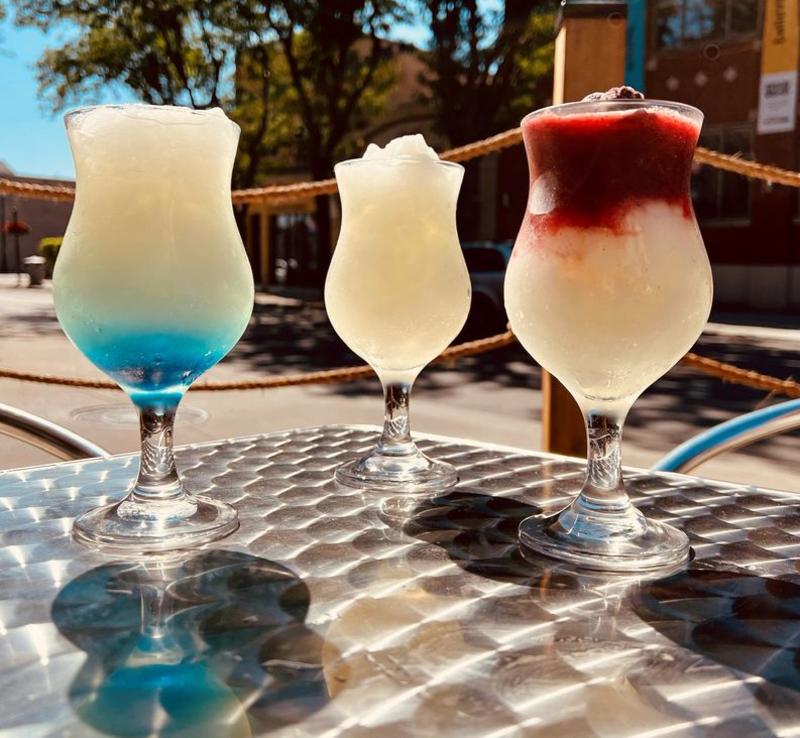 Photo courtesy of Turns & Tales Facebook Group.
Blackfriars Bistro & Catering - London
This is the place to visit to enjoy gourmet food items with some of your favorite made-from-scratch dishes and seasonal items crafted weekly by their talented team with handpicked, seasonal ingredients from small, independent farmers, producers, and artisans. 
A celebrated farm to table restaurant situated close to the Blackfriars Bridge offering seasonal menus, dining, pop-ups & experiences, such at the Italian-Inspired Gastronomic Tasting Experience (see details below).
Experience London's iconic Covent Garden Market and surrounding area with a friendly local insider. We'll meet at Market Square. You'll have a personal introduction to London's Covent Garden Market food and drink offerings and its passionate vendors. These vendors may include a chef, cheesemonger…
The Woodstock Art Gallery - Woodstock
The Woodstock Art Gallery (WAG) occupies three floors of the former John White Building, located in the heart of downtown Woodstock opposite Museum Square. The WAG is Oxford County's largest municipal public gallery with a permanent collection of over 1,900 works.
The WAG celebrates the talent of local, regional and national artists and conducts classes, workshops, and programs for all ages. The Gallery gift shop supplies unique items made by local artisans. The WAG has free admission, is fully accessible and has free parking located nearby.
Udderly Ridiculous Farm Life - Bright
Udderly Ridiculous Farm Life provides unique experiences designed to reconnect you with land, animals and food. Play or snuggle with miniature goats. Take in a Goat Yoga class to infuse calm and laughter or center yourself through a walk in the farm fields with an Alpaca. Why not indulge in an Ontario made picnic lunch in the pasture joined by their Alpacas!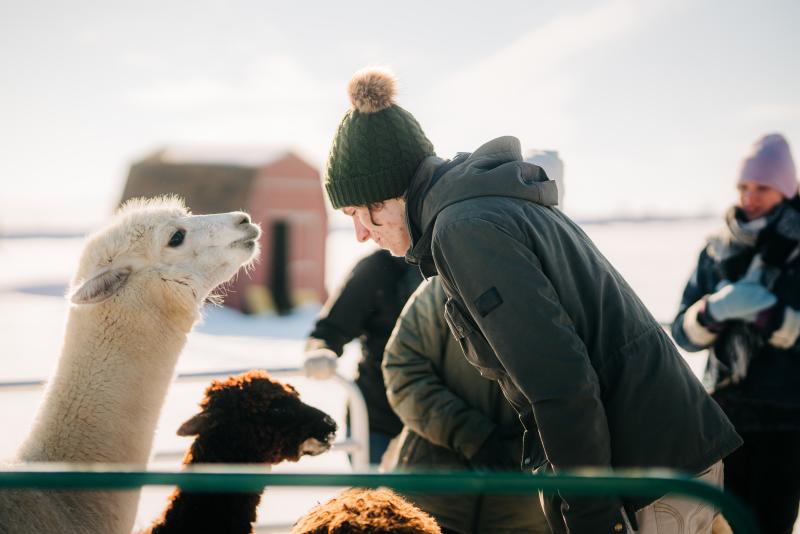 More in the mood to shop? The Udderly Ridiculous farm market store is stocked with their award winning goat milk ice cream, cheese, caramels, soaps, lotions and a full lineup of unique Ontario Made products.
906200 Township Road 12

5482251005
An OSW Signature Experience!  Join Cheryl on their third generation farm and the birthplace of her company Udderly Ridiculous- producing award-winning goat milk ice creams. Learn the zany stories of life on a farm as you do agility training with a lively pack of goats, get up close and personal…
Products Made by Rainbow Registered Businesses
You can't visit these Rainbow Registered locations in person, but you can support them by purchasing their products and know that you are supporting a local business who is leading by example.
Ontario's Southwest: A Proudly Rainbow Registered Organization
Did you know that Ontario's Southwest is also Rainbow Registered?
Our staff is working with a number of other tourism businesses in our region to support their accreditation. Our mission is to create a vibrant and inclusive tourism sector that is inclusive, diverse, and equitable. 2SLGBTQI+ visitors are encouraged to contact us at hello@swotc.ca with any feedback on your experiences travelling within Ontario's Southwest; both good and bad.
Although not Rainbow Registered, the following businesses deserve honourable mentions for actively working to make Ontario's Southwest a safe place for all: