Lake Erie's Big Creek and the Grand River offer sights, sounds, and serenity
If you think going for a scenic paddle requires a long drive north, it's time to think Big and Grand. Big Creek and the Grand River offer fantastic paddling that's close to home with excellent opportunities for spotting wildlife.
Big Creek, which is a meandering waterway that winds south through Norfolk County toward Lake Erie's Long Point Bay, is surrounded by Carolinian forests so thick, and so filled with wildlife, it's affectionately referred to as the Canadian Amazon.
As you follow Big Creek through the forest, you'll eventually reach extensive marshes at the mouth of Big Creek that are a protected National Wildlife Area. The marshes are a major staging area for waterfowl and more than 200 bird species use the area during their spring and fall migrations, but winged wonders aren't the only wildlife to watch for here. Turtles nest in the marshes in June and Monarch butterflies migrate through the area in August and September.
Big Creek is such a treasure that area outfitters now offer guided paddling trips.
Long Point Eco-Adventures offers a four-hour Big Creek paddling experience that is suitable for novices as well as seasoned paddlers. Experienced guides will share their knowledge of the geology, ecology, and culture of this exceptional ecosystem. Grand Experiences offers a five-hour guided Big Creek paddle that includes a final stop at Ramblin' Road Brewery Farm.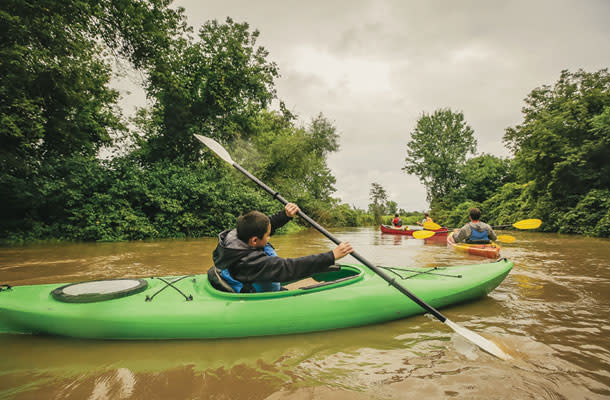 If you have your own canoe or kayak, there are numerous put-in locations along Big Creek. The starting point if you wish to paddle the creek in its entirety, which will take about 12 hours, is on McDowell Road. For a shorter paddle, use the Rowan Mills Conservation Area or Lower Big Creek Conservation Area as your starting point. Access a map.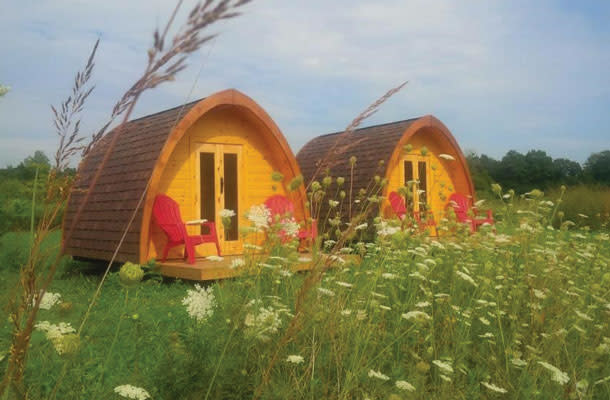 After your paddle you'll want to spend some time exploring the area, so plan to spend a night or two. Nearby accommodation options include the Palm Trees and Polar Bears Bed and Breakfast and Wood Bed and Breakfast in Port Rowan. Long Point Eco-Adventures also offers comfortable glamping options. You'll work up a big appetite after a day of paddling on Big Creek. Make the quick trip to Simcoe for a delicious meal at the Blue Elephant, Serafina or Ritzy Cakes and Eatery.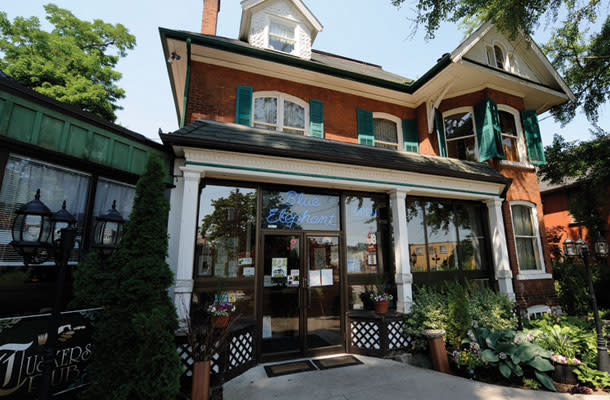 To the east of Big Creek, the Grand River runs south, emptying into Lake Erie south of Dunnville at Port Maitland. This river has such a storied past its been designated a Canadian Heritage River. The area surrounding the Grand River has been a home to Canada's Native peoples for more than 10,000 years and attracted waves of immigrants to farm its fertile lands in the 18th and 19th centuries. In addition to its significant history, the Grand attracts a diverse range of wildlife. More than 300 bird species have been recorded in the Grand River watershed.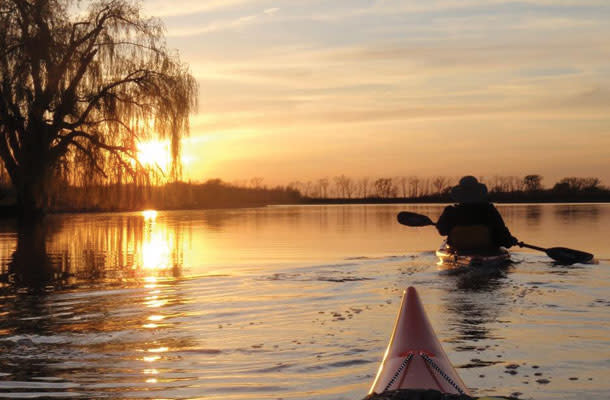 If you'd prefer a private tour, gather some friends and contact South Coast Watersports to set up a customized tour.
If you're comfortable paddling on your own, but don't have the equipment, head to Grand River Marina to get outfitted. They offer rentals for recreational, touring, tandem, and even fishing kayaks.
If you have your own canoe or kayak, there are some scenic sections to paddle on the southern section of the Grand River. The paddle from Caledonia to Cayuga is a three to five-hour ride where you can spot remnants of the 19th-century Grand River canal, including old locks and large ditches. Access points are at Kinsmen Park in Caledonia, mid-way at York Park on Highway 54 and in Cayuga at Bob Baigent Park.
Paddling from Cayuga to Byng Island in Dunnville will take between five and seven hours and will require a portage around the Dunnville Dam at Byng Island Park. Access points are Bob Baigent Park in Cayuga, Byng Island Park in Dunnville and Wingfield Park in Dunville.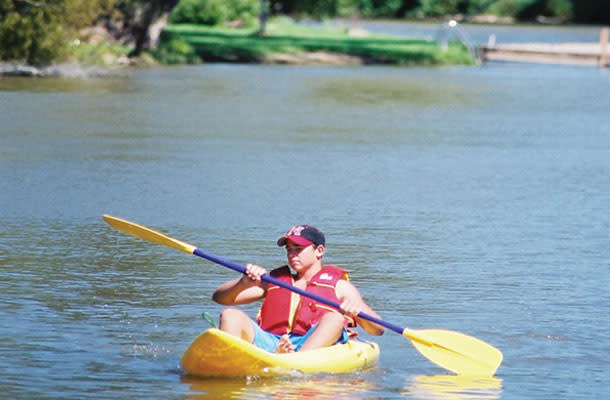 The paddle from Byng Island Park to Lake Erie takes between two and three hours. Access points are Byng Island Park in Dunnville, the Dunnville Boat Club and the boat ramp in Port Maitland. Get maps of these Grand River route access points.
Dunnville is a convenient location to stay during your Grand River adventure. Spend the night at the homey Evanspoint Bed and Breakfast. Great local dining options include Debb's Cuisine on Queen and Argyle Street Grill in Caledonia.
Whether you bring your own boat, rent one while you're here, or tag along on a guided tour, Big Creek and the Grand River both offer simple, scenic floats that will earn two paddles up from novice and seasoned paddlers alike.
Please take a moment prior to your visit to confirm that the places you plan to enjoy will be operating when you arrive. The partner listings in our Things To Do section are a great resource to find operator websites and phone numbers.