Motorcycle lover or not, this event is can't-miss.
This month marked the 23rd annual Friday the 13th, so naturally Port Dover was packed with motorcycles of all types and motorcyclists from all walks of life. A tradition originally started by Chris Simmons who had a great time with his 25 biker friends in 1981 on a Friday the 13th. On that day, he decided they would congregate there every year henceforth. Little did he know at the time that in 2014, over 100,000 people would make their way to Port Dover for the event. I got to Port Dover a little after 10am, by means of a shuttle service who picked visitors up from parking outside of town, cars aren't permitted to drive into Port Dover during this day, and it was already packed. A few clouds threatened with rain, but besides a little drizzle, the day was sunny. My vest tan-lines could attest to that.
I had made it to my first Friday 13th to help distribute the new Cruise the Coast maps with our friends from Norfolk Tourism, so I made my way down the main strip to do just that. Due to the large volume of people I was walking quite slowly. The road was occupied by moving motorcycles and rows upon rows of parked bikes. On the sidewalk, countless vendors had set up their booths/ tents. The delicious aromas of BBQ cooking along with Lake Erie perch that the area if famous for filled the strip. Not a single soul seemed to have a care in the world; it was fantastic. I finally made it to our Cruise the Coast tent; we had a great location, right on the harbour. I quickly grabbed my brochures and Cruise the Coast bags and got right to work. As it was my first visit to PD13, I was surprised at how popular our maps were; people even came to our booth seeking them out themselves. It was quite astounding. I mean, they are pretty fantastic, considering they're waterproof, tear-proof maps and had updated routes along the north coast of Lake Erie that bikers could go riding along. Additionally, everyone was so nice! Literally everyone!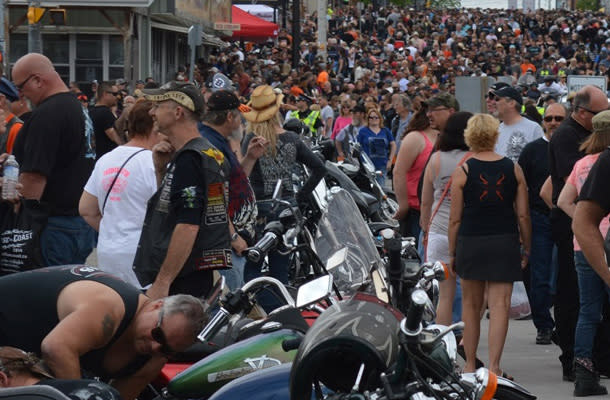 A few hours later, I decided to go check the place out, so I set my maps aside, grabbed my camera and started exploring. I began on the main strip. By now there was barely any room on the roads, let alone the sidewalk. The place was just packed. I made my way through the crowd and scoped out the motorcycles that were riding together and being directed by a few traffic cops. Never in my life have I seen so many bikes. It was definitely a sight to see. I snapped a few pictures of the different types of bikes. There were standards, cruisers, scooters, mopeds, sports bikes, choppers, everything. There were huge bikes and little infant bikes. All of the colours of the rainbow in bikes were present. Lots was being sold including; all parts belonging on a motorcycle, bike accessories, shirts, Friday the 13th souvenirs, and so much food. There were a number of different street shows going on as well- a great time for all.
I headed home mid-afternoon, knowing I was going to miss a number of evening events. There was talk of two different live bands playing later that night, some more beer tents being raised, and one heck of a good time. If you've never been to Friday 13th in Port Dover before, whether you're into motorcycles or not, it is definitely a must see event.