An insider's guide to one of the region's most flavourful parties.
Last weekend, I was lucky enough to attend the London Wine & Food Show. I was amazed at all of the delicious things to eat and drink at the show…and in London itself!
The London Wine and Food show happens once a year, and it showcases the best food and wine in the region.
First up, I met with EPIC Wine Country. EPIC stands for Essex Pelee Island Coast. (Awesome, right?) This region of Ontario has been producing wine since the 1860s. During prohibition, the value of grapes dropped so farmers decided to sell tobacco instead. Luckily, tobacco demand declined and in the 80s, people in the region started making wine and growing grapes again. Due to their location, wine made in EPIC Country is a little sweeter and not as acidic as wines made elsewhere in Ontario. The region is known for Riesling, Chardonnay and Cabernet Franc.
There are 18 wineries in the area, and the wine route is very compact and easy to do in a weekend.
I loved talking with all of the passionate wine makers and tasting their delicious wines! I definitely found a few favorites. Here are my top 4.
Colio Estate Winery
Colio Estate Winery was the second winery to set up shop on the island. I liked their labels, specially the Bricklayer label.
I enjoyed their Bricklayer Wine, which is a homage to the Italian bricklayers that immigrated there. This wine is Pinot Grigio mixed with Chardonnay. It's a 0 but comes across as a 1 because of the Pinot Grigio.  Goes well with pasta with a white sauce or seafood.
Pelee Island Winery
Pelee Island Winery has vineyards located on…you guessed it, Pelee Island! Visit the island, the Southern most inhabited point of Canada and have some wine to boot!
Visitors can enjoy the summer in a very relaxed atmosphere and can even BBQ their own food from their deli hut.
Pelee Island Time was my absolute favourite white wine. It has a bit of videl ice wine with a dry fruit finish, almost cooked. It was sweet and oh so good.
Bonus! It's available at the LCBO.
Sprucewood Shores Estate Winery
Sprucewood Shores is right on the shore on Lake Erie. Visitors can enjoy gourmet picnic baskets with a glass of wine down by the lake. In the summer they host Sips Sounds and Bites every Sunday with local food and live music.
My favourite rosé of the day was their 2011 Rosé. It was clean and crisp with overtones of strawberry. It's currently only available at their winery- a great reason to visit!
Cooper's Hawk Vineyards
Cooper's Hawk Vineyards has lots of wildlife and there are lots of hawks on the property. The owner also happens to be a cooper- someone who makes barrels- so their name fits more ways than one!
Their winery is a LEED property and is on conservation land. They've only been open for 2 years, but many of their 2012 whites are already sold out!
Their 2012 Rosé was my second favourite rose of the day. It was nice and sweet but not overly so. They paired it with dark chocolate and it was amazing. It is available on direct delivery and at the LCBO!
I drank a lot of great wine to get to those favourites! Of course, there was more than just wine…there was also beer!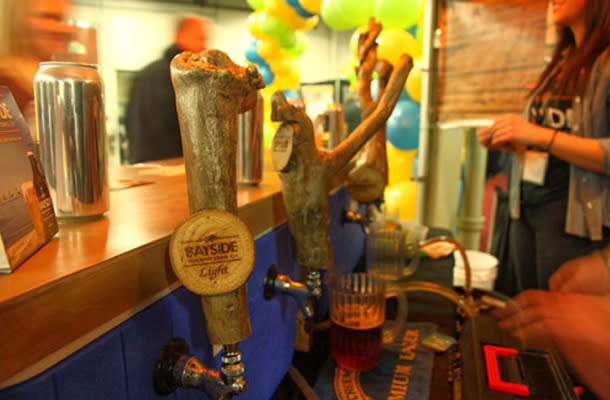 Bayside Brewing Co.
I'm not a beer drinker, but was won over by Bayside Brewing's Bayside Light Lager. It was refreshing without being weak. It's 4% ABV with a well balanced finish. Check out their cool, custom driftwood taps.
They're location in Erieau, ON includes a micro-brewery, retail area, tasting room and BrewPub.
Now onto the food!
The Arts & Cookery Bank was there serving up spiked homemade marshmallows! So good. They are actually a digital photo gallery (cool, huh?) in Elgin County housed in a converted 1914 Bank of Montreal and an 1883 timber frame barn! The barn houses a kitchen and you can take cooking lessons!
Of course, you can't have a Food & Wine show without cheese! Gunn's Hill had some fab cheese out to try. All of their cheese is made with milk from their family farm!
My favourite was their Oxford's Harvest, a  mild, creamy Swiss style cheese with cumin inside. 5 Brothers is a mix of Gouda and Swiss and is aged for 8 months.
I also sampled some delicious sheep milk Gouda from Blyth Cheese.
I had such a fun weekend visiting London and this show. Thanks to Ontario's Southwest for giving me a taste of what the region has to offer!
To read more of Heartless Girl's adventures, check out her blog here.