In these challenging times it is important to stick together and support each other. Which is why a bunch of communities have come together, to create local boxes that create an opportunity for everyone to bring a piece of their community home. These boxes are jam packed with a different variety of items from businesses around each community.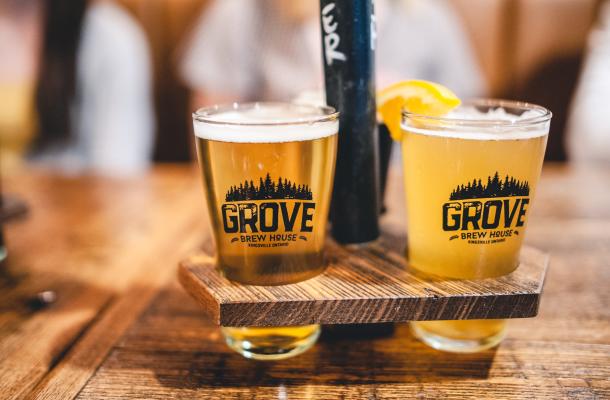 Bevy Box from WindsorEats
In the Windsor-Essex area and feeling thirsty? This Bevy Box from WindsorEats should do the trick. This weekly box offers support to local breweries, distilleries, and wineries.  There are multiple boxes to choose from like the 6-pack craft beer mixer, wine trail 2, and the spirits mixer.  Deliveries happen just in time for the weekend (every Friday) and are only available for the Windsor-Essex area.  FYI each order needs to be placed by the preceding Tuesday.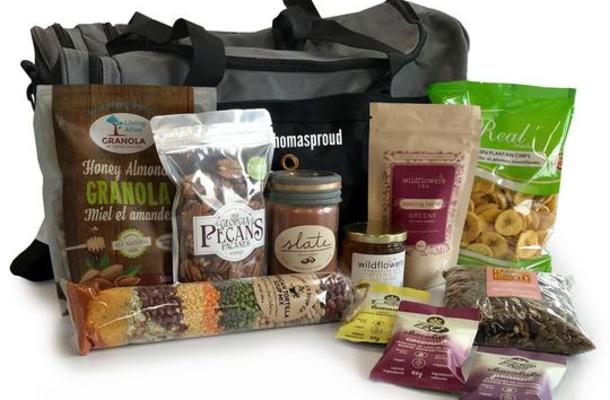 St. Thomas Proud
The #stthosmasproud packages are jam-packed with local goods. Choose between the Quarantine and Chill or the Pack the Pantry packages. The Quarantine and Chill pack includes various items such as coffee from Las Chicas del Café, a glass from Railway City Brewing Co, and more. The Pack the Pantry pack features items from Wildflowers Farm, Thompson Foods, and lots more! All items are packed in a custom #stthosmasproud backpack.  Shipping is available throughout Canada. Get your bag today and support local.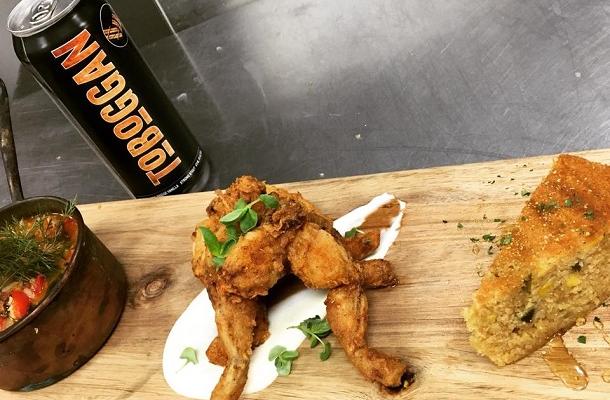 London Local Meal Box 
In London and looking for a delicious meal? Locorum London is offers a new meal option each week. You'll get a drink, meal, and dessert featuring three local businesses. They deliver only within London and Thorndale. Deliveries happen every Wednesday. Make sure to check in weekly to see the new menu. Discover your new favourite meal here.
Contactless Grocery Shopping in London
Tired of waiting in line for your groceries? Kool Groups Groceries has made grocery shopping easy by offering local contactless pickup.  Online you can purchase various items ranging from poultry, beef, dairy, and even Joe Kool's T- shirts!  You can also get some craft beers from Toboggan Brewing Co. All you have to do is browse their online grocery catalogue and add your desired items. Order and pay online, then chose one of the pick-up times.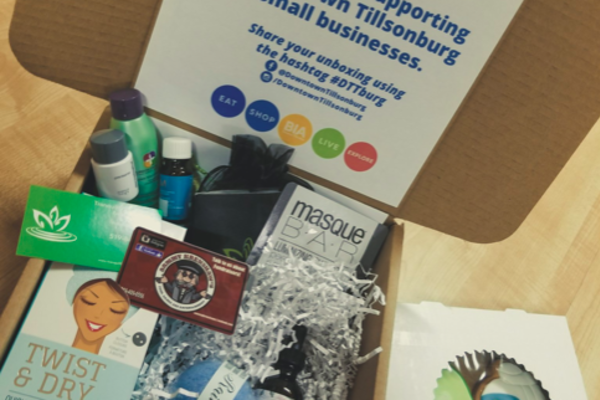 Photo:@DTTillsonburg
Tillsonburg Box
Do you like treats, gift cards and supporting local businesses? Then the #DTTburg boxes are right for you. Shops in Downtown Tillsonburg have teamed up to create three boxes, each with a different theme such as: Family Fun, Personal Wellness, and Treats & Eats boxes.  These boxes were so popular that they are currently sold out, and in the process of restocking.  Once available these boxes can be picked up or delivered (within Tillsonburg.) 
Dover Box
The Dover Boxes support a bunch of local shops that truly make Port Dover a great place to live. Just released are the summer editions of the Dover Boxes. Pick between Summer Box A, Summer Box B, or build your own box! Items in the boxes can range from ciders from The Cider Keg, Baked goods from Urban Parisian. You won't want to miss out on these popular boxes.
---
---