There's nothing quite like rising early in the morning and enjoying a warm cup of tea and something to read. This is even more true if you take pride in your own garden oasis. Now more than ever, Ontarians are spending a little extra time at home, basking in nature which is literally in their own backyard. 
If you're passionate about your garden, but you're looking for a little extra local inspiration, or if you're trying to plan for your own ideal backyard garden and you're looking for the excuse to get out and see what else is growing in Ontario's Southwest, here are some great ideas for public gardens you can enjoy this summer. 
Local Gardens That Will Leave You Inspired
Each of these gardens brings something a little different to the table. From scenic pack-your-own picnic backdrops to the truest farm-to-table dining experiences, Southwestern Ontario has you covered for public gardens.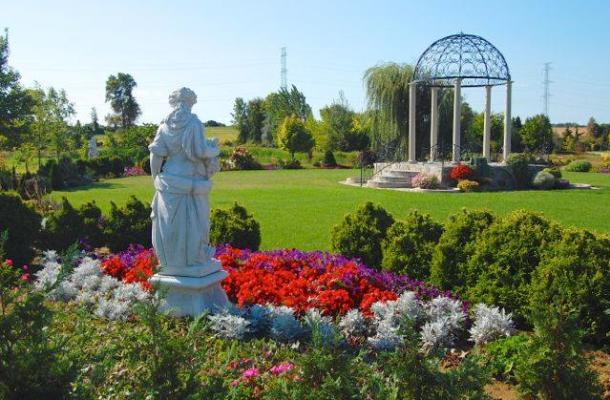 Whistling Gardens
Wilsonville, ON
Perfect to walk through or to take a picnic, Whistling Gardens Botanic Gardens & Garden Centre is home to a vast number of plants, flowers and varietals. 
They are known for being the home of the largest public collection of peonies in North America, and they have over 2000 conifer species in their gardens. Be sure to visit their website for more information on admission and planning your trip there.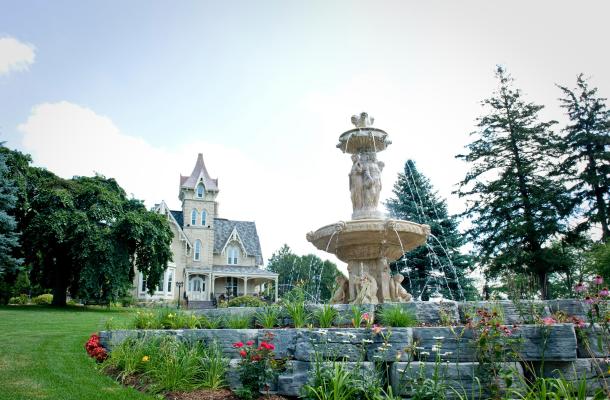 Elm Hurst Inn & Spa
Ingersoll, ON
You can come to the Elm Hurst for a charming night's stay or a meal on their charming terrace, but make sure you stay for a walk around their award-winning grounds. 
The inn itself has been an Ontario landmark since 1872. When you visit, you'll see a vast variety of colourful flowers surrounding their charming fountains. Surrounding the inn are expansive, lush lawns with Adirondack chairs, perfect for taking it all in during your walk around.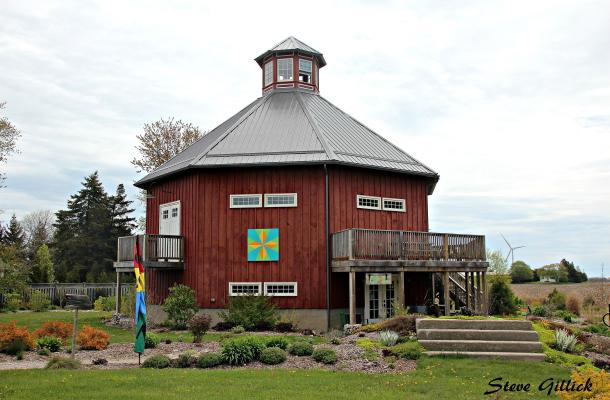 Crazy 8 Barn
Palmyra, ON
Crazy 8 Barn has some beautifully manicured gardens on their grounds. If your dream is to have a garden that is as beautiful as the garden at Crazy 8 Barn, you can shop for garden décor online and pick it up for curbside pickup.
Check their website for updates, virtual gardening workshops, or in person bubble experiences when it is safe to do so.
Thrive Norfolk
Simcoe, ON
This unique farm-to-table dining experience in Norfolk County celebrates the beauty of edible gardens, brought right to your table. If you aren't convinced, their scenic and bright eating area is placed right in the middle of their garden.
At Thrive, their motto is "Six Courses from One Acre", which pretty clearly sums up their garden-dining experience and philosophy. When it is safe to do so, a meal here will certainly be a highlight of your summer plans.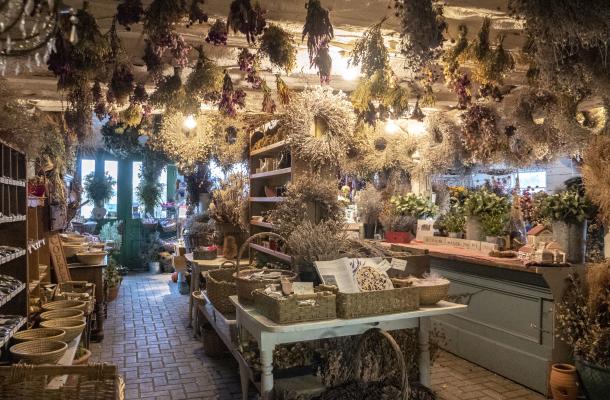 Forest Glen Herb Farm
Lambton Shores, ON
The impressive Forest Glen Herb Farm sits on a large property, with opportunities for bird watching at the large pond, hikes throughout the garden and property or spending time at their private beach. Their on-site shop offers a variety of goods for sale, including facial and bath products, potpourri and sachets as well as culinary ingredients. 
The attached Lavender House B&B on the property itself is a 19th Century Edwardian home. Coming to stay overnight at the B&B means that your breakfast and optional dinner will be cooked with plenty of home-grown herbs and edible flowers in mind.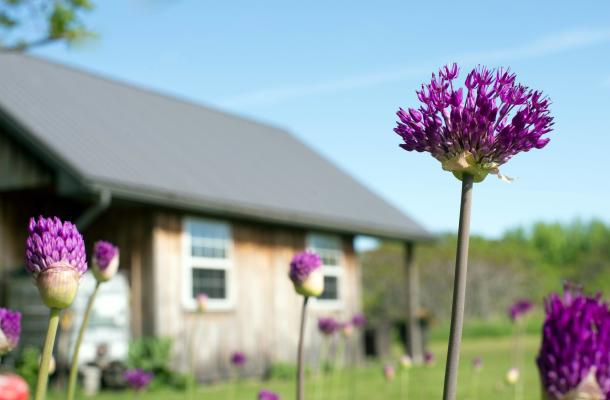 Wildflowers Farm
St. Thomas, ON
This beautiful 9 acre, family-owned farm places great emphasis on the natural healing qualities of the land. Its owners are herbalists, ayurvedic yoga teachers, passionate beekeepers and garden tenders. Their backgrounds and passions truly lend themselves to what Wildflowers Farm is all about. 
You can visit this farm to see the gardens, or visit their Farm Store which is nestled near the apiary and amongst the flowers. Their Farm Store is the home of their hand crafted loose leaf teas and honeys. Consider planning to visit on a Friday in the summer and fall months for one of their Farmers Market days.
Makkink's Flower Farm
Tillsonburg, ON
Owned and operated by the Makkink family, Makkink's Flower Farm is a great place to come with someone else from your household to enjoy. Their flower farm boasts a variety of beautiful blooms on the premises.
They also offer a great opportunity to walk through their gardens and "Cut Your Own" flowers, so that you can bring home a bouquet of your own. This experience is done in a way that complies with physical distancing and safety regulations, which makes for a unique and personalised experience. 
Be sure to keep an eye out for their notorious sunflower season. Makkink's is well-known for the abundance of these large beauties that grow on their grounds in late summer.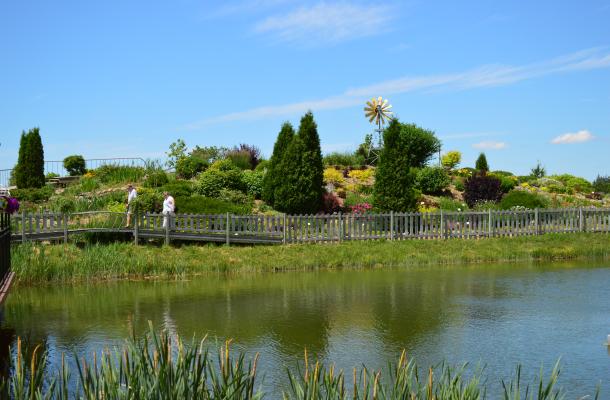 Heeman's
Thorndale, ON
A visit to Heeman's makes for a great one-stop-shop for your garden tour of Southwestern Ontario. This garden centre and strawberry farm offers a variety of things to keep you busy and occupied during your visit. 
With everything from pick-your-own strawberries to buying your own plants to bringing one of their dry hard ciders home to enjoy, the options are endless at Heeman's. Make sure you try one of their sundaes, milkshakes or locally roasted coffees during your visit.  
Don't Forget Southwestern Ontario's Lavender Season
I'd be remiss to share this list if I left out the lavender farms, of which this neck of the woods is blessed to have so many. If you're looking for that perfect lavender farm for some photos, or if you're looking to indulge in hand-crafted lavender products, then make sure you check out these spots, too.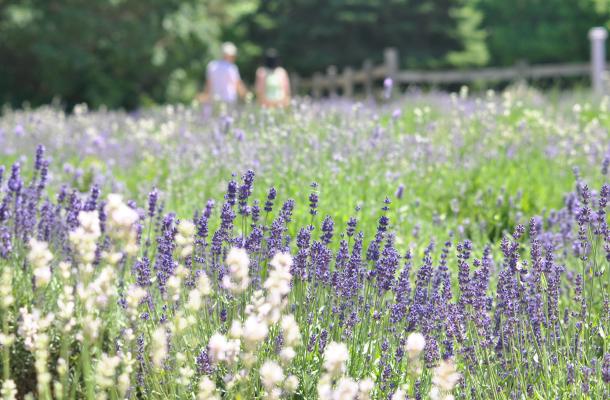 Steed & Co. Lavender
Aylmer, ON
This picturesque Lavender farm sits on a corner of the grounds of a 45 acre horse farm. Stepping out of your car, you'll feel immediately transported to the French countryside. 
A visit to Steed & Co. should involve a walk through their Lavender gardens and a stop at their shop. They've brought their shop outdoors for the summer months, to ensure proper physical distancing for patrons.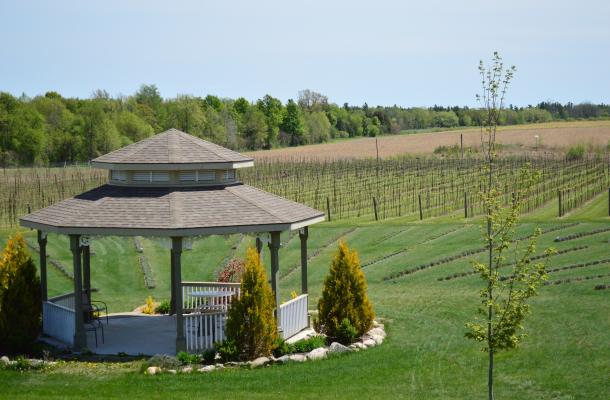 Bonnieheath Estate Lavender & Winery
Waterford, ON
Located in picturesque Norfolk County, Bonnieheath makes for a great place to stop and smell the lavender while keeping a distance, or sampling their wines and ciders. They also have a variety of essential oils and other lavender products available for sale in their shop. 
Serenity Lavender Farm
Harrow, ON
This charming farm is the perfect place for a self-guided stroll of seasonal lavender near the shores of Lake Erie. Serenity Lavender boasts beautiful grounds and a variety of delicious lavender delicacies for you to enjoy, such as their homemade lavender honey or blueberry lavender white chocolate cheesecake. 
Check to see the best way for you to enjoy their lavender products, whether you'll shop online, order curbside pickup or plan out buying on site.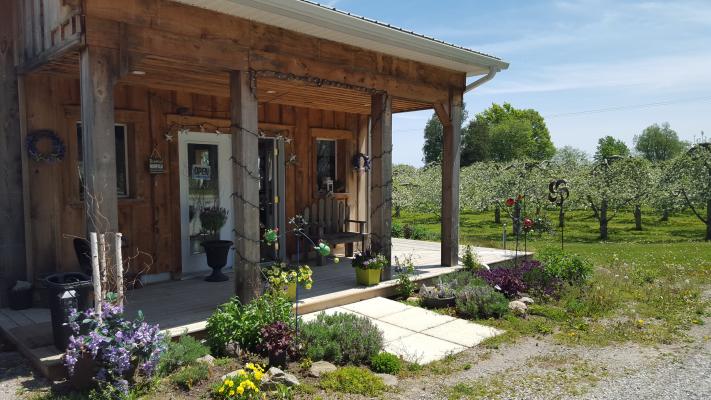 Apple Hill Lavender
Windham Centre, ON
Apple Hill has one of the larger scenic farms of lavender on this list. This generations-old apple farm is filled with rolling fields to enhance the feeling that you're surrounded by lavender. Let me tell you, it doesn't get much better than that! It's also located in Norfolk County, so you can connect your visit with several other gardens on this list.
They are currently closed but in previous years, you could visit their charming Carriage House Boutique, that offered a variety of small-batch, hand-crafted lavender products. Finally, if you were looking for a slightly longer visit, you could pack a picnic lunch and enjoy it at one of their picnic tables under their apple trees.
Check their website to see when their farm and grounds will be open to the public.
---
To learn more about what you can expect when exploring in Ontario's Southwest and how businesses are trying to keep you safe and following government guidelines, click here.
---
Bri Mitchell Bio
Bri is an Ontario native who has spent many years living abroad, but has been happily rooted back in this beautiful province for the past three years. She loves writing about travel experiences to discover in Ontario, including all things nature, food and culture. You can find her canoeing, swimming and visiting farmers markets across Ontario in the summer, and snowshoeing or curling up with a good book and an Ontarian Pinot Noir in the winter. You can follow along with her journeys on Instagram @mstravelingmitch.